Architecture is a great course for practical people with an artistic incline for design: stretching your imagination and mind whilst retaining a sense of focus in the real world. It is definitely a superb option for those torn between the field of Humanities and STEM. Sounds appealing to you? Allow me to go one step further and show you a typical day in my life as a first-year undergraduate architecture student at Bath. 
Wake up/ start of the day 8:30-10:00
The uni schedule is more flexible than your schedules at school. Architecture is also studio-based, which means that my schedule is even more flexible compared to my fellow peers. This semester I only have lectures on Friday, so for the rest of the week, I could wake up and plan my day however I wish. I am definitely one for sleeping in, so when I don't have a lecture in the morning, I would usually not wake up before 9.
Studio Time 10:00-16:00
For architecture students, the majority of our work is done in the studio. Even though work can be done in our own rooms or elsewhere, we are actively encouraged to work in the studio as it is a different environment from our living space. More importantly, we can use the opportunity to spend time chatting with and learning from our peers. The design process of architecture is a journey of refinement, and through discussions with our peers, we can often improve upon our own designs and sometimes even be inspired for better ideas.
The art of architectural design is not a set path and is different for everyone. Some of us prefer to be more traditional and present ideas physically by hand drawing, collaging etc, whereas others prefer the use of technology. Though most of us use a mixture of both, it is the ways in which everybody presents ideas that make us unique individuals.
The path to a polished design is anything but linear. We often get told by our tutors and Head of Department that there will never be a finished design and that it could always be improved upon. For that reason, we, as architects in training, are taught to explore many different options and paths before settling on one which we believe to be the best. We never know exactly what we will achieve at the end of each studio day: many times our designs don't come out exactly how we want them to be, and other times we can discover a better one along the way.
Studio time is the most flexible and is tailored for everyone. Everybody works at their own pace. Sometimes there will be a couple of days where I focus on research or take a short break away from the studio; other times if I have a great idea and just want to keep going, I'll stay for the entire day including breakfast, lunch and dinner. The Architecture and Civil Engineering Studio is open 24/7, 365 days a year.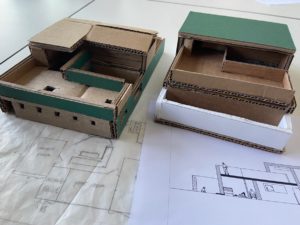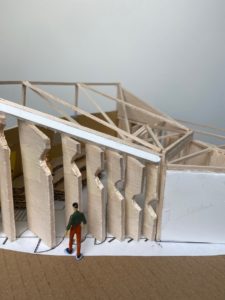 Meals in a day
Depending on what my mood is for the day, I will either have coffee and a small breakfast, or I will go to the cafe in the Student's Union to get a full English breakfast as my brunch. There are many food outlets on campus and lots of different options to choose from.
For lunch, sometimes I'll go back and cook in my accommodation; other times I'll simply get a sandwich or toastie at one of the food outlets on campus and eat in the studio whilst working on my project.
Normally I cook my own dinner, but since my accommodation is right next to the Lime Tree, it is also an option for me if I don't feel like cooking that night. On weekends and special occasions, I would also go out to town for dinner with my friends, or order food.
Clubs /activities
At uni, you can participate in many clubs and events. They are completely optional and are usually commitment-free. The University also offers skills classes, such as modern languages, extra maths support etc. During semester 1 I took Spanish classes every week. I have participated in fencing, Mahjong, dance and choir at university, some more regularly than others. I find clubs to be a relaxing change from my academic study, fulfilling my uni life on top of my studies.