The second year of university has finally come to an end and looking back, I am honestly quite proud of how much I've grown compared to my first year here. Especially being able to find a balance between all the craziness that gets thrown at us university students. Partly due to last year's lockdown, I wasn't able to experience university education and life 'normally' and finding my way into normal university life as a second-year student was in reality way more challenging than I thought.
In this blog, I share my personal advice on approaching university. These are some lessons I have learnt along the way that have made my university life more fun, productive, and meaningful.
The Importance of Planning – Having Visibility
I truly believe that planning is one of the best things you can do to make the most of your day. Though most of us are afraid to do so because we fear responsibility! Planning not only gives you structure, but it makes you feel organized and in control so that you can be the best version of yourselves and work smartly towards your goals.
During the first semester, I wasn't good at organizing my time. I didn't have an overwhelming number of tasks, but I had a LOT of time. I believe that most university students especially first years will find themselves in a similar place. However, once you begin to lose track of what is in front of you, things begin to pile up, and suddenly, you find yourself stuck at sea with too many responsibilities and too little time!
What has worked extremely well for me is using a calendar system, and that can be an online one too (I use Google Calendar as it syncs up with all my devices). I would note down all the important dates for my assessments, give myself an early deadline, and estimate how much time I would need to complete them. But people ask, how will I know this? This is one of the most crucial points. For me, it was using non-assessment time as a form of self-discovery to design a flexible and productive routine. Routine is important as it gives us structure, and this gives our days meaning!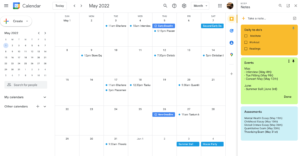 Triage Method – Prioritizing Tasks
I write down a massive list of tasks and responsibilities I have, then prioritize them by evaluating their deadlines. Once I have an idea of what needs to be done, I then move on to the more 'nitty-gritty' part, which is to put a MAXIMUM of 5-6 tasks in my Triage Chart. There are three columns – the first one titled: 'Need to Do, the second: 'Should Do, and the third: 'Would Like to Do. You can then schedule tasks around your day and begin to formulate a flexible routine.
However, a single task can appear enormous, to begin with. That's why I break it into smaller tasks. Completing tasks makes us feel rewarded and more motivated (this is true and is backed up by research), and since tasks are broken down, they are way easier to complete. This way, you ensure that you are making a little progress every day, and importantly, you have visibility and security of the progress.
This method has helped me further evaluate my priorities and decide what I'd like to achieve in a day and in the long term. This not only includes university work but hobbies and exercise as well for a good work-life balance! At the end of the day, you are able to reflect on what you've done and decide if changes need to be made.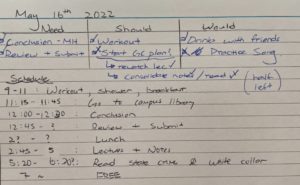 Being Realistic
However, we must be realistic and embrace the fact things do happen at times, and we cannot always be on top of our work in the way we'd hope to be. That is why I suggest always starting your assessments early. But how do we prepare well enough to start them early? Back again to the Triage Method and planning, it has helped me tremendously with helping manage my time and keeping track of my daily progress. This has prepared me for unforeseen circumstances, and even in the worst cases, it will not set me too far back as I have made things less overwhelming for myself.
Support
The University's Skills Centre offers many workshops and courses to enhance your digital and academic skills to perform even better and prepare you for the future. Check out this link to see what types of services they offer.  I took a Spanish course, and I was able to enhance my language skills as well as meet like-minded people to develop my network.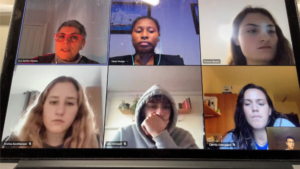 Finally, one thing I haven't stressed enough is to engage with your lecturers! Remember to book office hours and visit them, as they really enjoy speaking with students and highly encourage you to do so. This has helped me majorly with my studies and with understanding my course content. Also, it really helps you stay motivated and eager to learn.
During my first year, transitioning from high school to university was a massive change, and it took me till now to understand the dynamics of higher education to be able to perform well, and I wish I had known this before I started university. I am grateful for all the support I have received, but mostly, I must thank myself for taking the initiative to want to improve. Discipline and initiative are equally important because after all, it makes your university experience a lot easier and therefore more enjoyable.
To prospective and current students, I hope you find this advice useful as I would like for your experiences to be as meaningful and enjoyable as mine!