Bath may be a small city, but it punches well above its weight when it comes to amazing places to eat and drink. No matter what cuisine you're looking for, or what drinks you want, Bath is very likely to have somewhere that works perfectly for every occasion. Equally, the many restaurants in Bath also cater for all different budgets.

The good thing is that most of the restaurants are all within walking distance of the city centre and the train station and if you're staying in accommodation in the city as opposed to campus you'll be able to walk to almost everywhere.

All of the places I mention do at least some vegetarian options too. My boyfriend is vegetarian and we have no problem finding places to eat out. The problem is finding the time to visit them all.

I've loved eating out in Bath, and for a foodie it's been the perfect place to study. There are so many places I could recommend, but below I've put a few good options that hopefully cover a wide variety of tastes. Enjoy!

And do let me know your own recommendations in the comments below.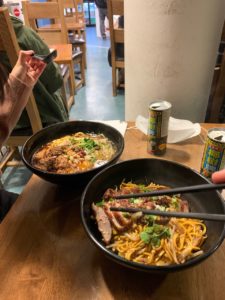 Chilli Family

This is one of the most popular restaurants in Bath, particularly among Chinese students. But also just with anyone wanting good value and tasty Chinese food. It's extremely authentic!

They do really good hot and sour noodles and they do it to varying degrees of hotness too, so everyone can try it. It's not as scary as it sounds! They also do a really mean crispy duck, which is only an extra pound or so. You can usually get a good meal for about £10, and it's just so good.

Don't be put off by the location (right by the bus station) or the interior (basic) – the food is amazing!

Lj Hugs

Another great place is Lj Hugs, it's the chicken booth right outside McDonald's in the middle of the city. It's far better than the famous fast-food joint!

They set up their stall most days but often at varying times, so you have to be a little lucky to catch them. But you can always smell the food cooking from miles away and it's always very, very popular, particularly with the lunch crowd. The Bell For great pizza, you can't really beat The Bell. It's in a little garden behind the pub, and you can get a brilliant homemade pizza. The guy who makes them is oblivious to the world, he just cares about making pizza! It's so fun to watch him work. That's like his life and passion. My personal favourite is their Somerset pizza which comes with local cheese and olives.
Bath Brewhouse

Bath Brewhouse is probably my favourite pub, and they definitely do a great student discount on most drinks too. It's got such a great vibe and a really nice big sunny garden and outdoor bar at the back too. They also do regular pub quizzes.

There's a huge choice of beers if that's your thing and it's a perfect space for larger socials too.
The Botanist

For a more upmarket and fancier bar, the Botanist is great. It has such a beautiful interior with a big round bar and a balcony level, I think it used to be a bank.

It's definitely a place for a special occasion or for just one drink before you go out for the night. It's also a good place to bring any visiting relatives, as the age range is really mixed. They do so many cocktails, you're bound to find something you love.
The Hideout

This is a really cool place, it's kind of a secret bar just off the main street. They do such creative menus, and they change all the time. They specialise in Whisky, but they make all sorts of innovative drinks.

The staff are so helpful too. One of my favourite drinks wasn't on the menu once as it all rotates, but they gave me the recipe so I could make it at home.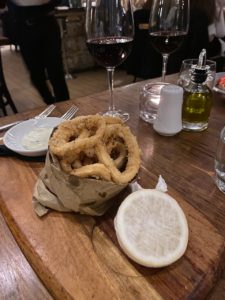 Sotto Sotto

This Italian restaurant is usually pretty difficult to get into as it's so popular, but if you can it's well worth booking a table. It's great for celebrations and birthdays. Their food is so fresh and really authentic.

It's also won a lot of awards and has a unique atmosphere as it's below street level in a vaulted room.

Extra tips

· Always ask about a student discount. Some places advertise it quite clearly, but others don't. If you don't ask you don't get

· Take time to explore the alleys and back streets away from the tourists, and you'll find loads of great local places

· Most places are card only now, so no need for cash

· Look out for special deals and cheaper days and times to eat when restaurants do offers or special menus.