Hi everyone, I have just completed my first year studying Architecture here at the University of Bath and I can't wait to write this blog to share the exciting experience I had during my first year.
Course Structure
Firstly, I would like to introduce the course structure of Architecture at Bath. What I find amazing about the course's structure is that the final degree classification is determined by your final (fourth) year marks only.  So grades in the first three years don't count.
But this isn't about making our uni life any easier. This is to encourage students to try everything and break their limits. I remember the tutor in our very first lecture told us that architecture is all about making mistakes and learning from them. Please bear in mind you must pass every unit (>40%) to progress into the next year so you do have to treat every task with care.

Semester One
The first project we had was a joint project co-taught with Civil Engineering students. We were given 8 weeks to produce a large installation piece on the theme of levitation. From the initial phase of design to the physical construction, each group would follow the guidance of their tutor and delegate work carefully among architects and engineers. Apart from group cooperation, the first project taught us that our design on paper could be a very different challenge when turning it into reality. Things are not as simple as they seem on paper!

In semester one alongside the design project, we also had lectures on building environment, structures, history, and law. The building environment and structures were exam based. We were also given history and law coursework to complete. You might think that written assignments are less important than design projects but actually, when you come to design projects, you will find the knowledge you learned from written courses can be adapted to the design process.
Semester Two
After completing semester one's exams and coursework, we had a completely new start in semester two. We were introduced to our first personal design project. This first design project does not form part of the overall Design Studio 1.2 unit mark. Its purpose is to prepare us for our Semester 2 Design Project 2 and to serve as the vehicle for the development of our architectural design skills. 
You don't need to worry about being unfamiliar with the design process. As this first project is your playing field where you can learn every new skill and try different things. I was completely new to architectural projects. I remember I messed up so badly on line weights and basic rules about architectural plans. I even forgot to add a door symbol on the front door of my building!
Now when I look back on my first project, I can see so many silly mistakes. But that really is nothing to worry about. The tutors were all very patient and highlighted my errors. After the completion of the project and written feedback from the tutors, we had a better idea of how to approach the next project.

The second personal design project represents 100% of the Design Studio 1.2 Unit Grade. For the purposes of the brief, we had to imagine the clients to be a couple of artisans and design a live-work house on an abandoned island. The house would serve as a stimulus for a new community and island-based economy.
The project made us think about design considerations such as the client, the site, environmental strategies, materials, layout and scale of each space, and functional and emotional needs of the house. Every design detail is a practice run for designing real houses in the real world which was more than exciting for me.

The second design project ran for 11 weeks including the two-week Easter holiday. I can see a clear difference between the first and second project reports and my progress gave me more confidence in my future studies in architecture.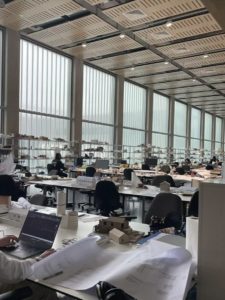 Workloads
Talking about workloads, I would say the first semester was quite relaxed and not much pressure. I enjoyed group work and had a nice time with my groupmates. Exams and coursework loads depend on how much you have learned throughout the semester. If you did not work hard from the beginning, you will pay for this when it comes to your revision. Personal projects depend on your style of work.
I am not a good example when it comes to time management as I always fuss over the details. I can spend a whole day on one single plan just to make it visually pleasing. I would suggest everyone plan ahead and set the time they would spend on each drawing.
Start formatting the report from the beginning of the project and keep records of every process. If you leave it to the last minute, you will end up like me in the first project not sleeping, trying to finish up the report at 7am on a crit day. Of course, I learned from this experience and became more organised in my second project.
Finally...
After all, my first-year experience as an architecture student went beyond my expectations. I am now more determined to become an architect in the future. If you ask me what I have most enjoyed, it might be the day and nights spent with friends in the studio, with rock music playing aloud to keep us motivated. And things are even better with some good food!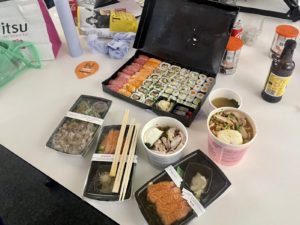 The first year is all about trying new things, meeting new people, and enjoying the course! There were times when I felt pressure from the workload, especially the days before the crit. But I have enjoyed my time, as every project had an interesting theme and the tutors made the process as clear as possible so we would eventually get there!