What is One Young World?
One Young World is a global forum connecting young leaders from all over the world. Established in 2009, it is a platform for youth activists, entrepreneurs, and changemakers that come together and share their visions for a better world. Through their annual summit and other initiatives, One Young World provides an opportunity for the next generation of leaders to learn, network and collaboratively develop solutions to the world's greatest challenges. This year, University of Bath is holding its annual summit on 18 March, 2023.
Taking Action
One Young World is more than just an annual summit; it is an opportunity for young people to make a real difference in their communities and the world. Through their delegate-led initiatives, One Young World has supported the launch of hundreds of projects that are making a positive impact in the world. From setting up youth-led businesses in Egypt to launching a campaign against cyberbullying in India, One Young World delegates have been able to take their ideas and turn them into action.
One Young World Bath Caucus

This will be the seventh annual One Young World Bath Caucus at Bath and it is with great privilege, we announce that we are hosting this on 18 March, 2023. This year's UNSDG goals that will our talks and workshops will be centred on are Sustainable cities and communities, Quality Education and Good Health and Wellbeing.
Some of the speakers gracing our event are:
Dr Andy Palmer, automotive executive and former COO of Nissan and CEO of Aston Martin Lagonda
Frederico Presicci, a mental health advocate and the author of 'The Power of Mindfulness'
and Atsufumi Yokoi, UNESCO Chairholder in Research and Education for Sustainable Development.
More speakers will be announced closer to the date, along with the information about workshops.
Personal Experience at OYW'22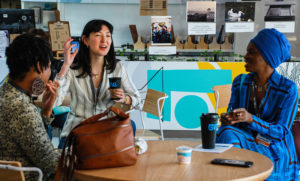 I had the opportunity to attend the OYW Bath Caucus in March, 2022. I've had a background in community service but shifting to a new continent while coping with the pressures of university had left me feeling very isolated from my values and principles. That sunny Sunday at the Edge Theatre singlehandedly revived my drive to make tenable change, no matter what career I undertake. We participated in a workshop where we discussed changes that need to be introduced at our university campus and discovered so many issues that haven't been addressed yet in terms of race and sexuality. I also had a personal connection with another delegate on a POC queer individual's experience in England, especially coming from a conservative background. In the current digital age, what we witness is an overwhelming cynicism in the current generation. I know I did. But One Young World really gave me hope in the ability to bring change through conversations that kickstart tenable action. And I knew I wanted to be involved in more conversations like that, thereby, I applied to be on the Committee for this year's Caucus!
I hope you leave this year's caucus feeling the same way I did. We're so excited to see you there. Follow us on Instagram, LinkedIn and Facebook to receive further updates. You can reach out to by email for any questions that you have on oneyoungworld@bath.ac.uk. Tickets go live on 1 February, 2023.