As a Lebanese national, I have always aspired to study at a university in the United Kingdom. Embarking on my final year during my undergraduate degree, it was essential to start thinking about my options for a master's degree as early as possible.
Growing up in a family involved in motorsports, I developed a passion for go-karting and rallying. This was the driving factor that had me pursue a bachelor's degree in mechanical engineering in the first place. Five years of hard work later, it was now time to craft my engineering knowledge further in the country known for its motorsport heritage.
I wanted to pursue a degree in automotive engineering but at the same time have a business management component incorporated in some way: I wanted to acquire the technical knowledge but also enhance my management skills. To my knowledge, the University of Bath is the only institution that offers this newly curated program, so it quickly became my first choice. After some further research I also learned that the city of Bath is one of the safest student cities in England.     
 Now that I knew where I pictured myself in one year's time, it was necessary to start working towards it. The university required me to send my bachelor transcript, along with a personal statement. To be completely transparent, I started my bachelor's degree on the wrong foot which was reflected by my early grades; however, this was justifiable by valid circumstances. Furthermore, when it came to the personal statement, I found it essential to highlight my passion for motorsport and how it all started, my academic achievement, the country's automotive heritage but also my professional experience. In fact, I have always valued professional experience when studying to complement my theoretical knowledge with some hands-on experience. In my opinion, this is a factor that was deeply appreciated when applying here at Bath.     
One month after sending my application, I received my conditional offer from the University. I still remember the satisfaction I felt and the feeling of pride I had. It was now essential to carry the same study momentum through my senior year. With the financial crisis in the country, it was truly challenging to keep morale high. I have studied endless nights in complete darkness because of electricity cuts; but reflecting on it today, this built my resilience in a way nothing else did. After a couple of months, it was now time to book my accommodation in Bath, which is an important decision to take. Options varied from on-campus accommodation to rooms in the city centre. This is a trade-off between convenience and student life, and it is highly dependent on what you value most. I ended up choosing aa room on-campus as I assumed it would be easier to cope with my academic duties.
After graduating from Lebanon, and meeting the University of Bath's requirements, I sent my final transcript and degree certificate along with my IELTS test result. The official offer was received a few days later, and I was now partially relieved as I just had to apply for my student visa. The process might seem intimidating at first as your whole future depends on it, but I can assure you it is straight forward. In my case, I applied quite late, so it was tight. I received my visa on a Tuesday, booked my flight the same day and flew the next day to get to the University's induction week on time; it was too good to be true.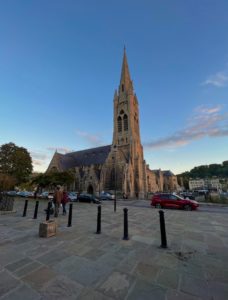 Upon my arrival at Bath train station, I was blown away by the city's architecture. A feeling of gratitude started filling me up and I was excited about what was to come next. Throughout my Uber trip I took some pictures to make the day memorable in a way. Stay tuned for the next post as I share my first semester experience here at the University of Bath.