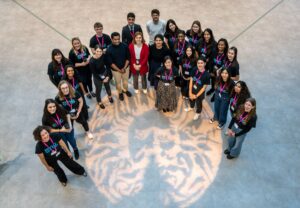 I remember waking up at 6 am on 18th March, completely disoriented with my uni student sleeping schedule and the alienness of any hour before 8 am, hurriedly getting ready and meeting my teammate at the bus stop as we tried to reach campus by 7:45 am (arranged meeting time) for the conference. Banners unfolded, keep cups were arranged and the University of Bath emblem was displayed, the committee teetering with excitement and caffeine to welcome delegates and speakers. After multiple committee meetings, hard work, and dedication, the day finally arrived: the 7th annual One Young World Bath conference was set to begin. 
Opening Ceremony 
With everyone settled into the conference room, unaware of the experience they are yet to have and the opportunity to 'engage in the most important issues of our time', as iterated by our Pro-Vice-Chancellor (Education), Prof. Julian Chaudhari. This year, the issues we chose to focus on were the Sustainable Development Goals (SDGs) of Quality Education, Good Health and well-being, and Sustainable Cities and Communities. In society, there seems to be an air of nihilism and cynicism as our communities are repeatedly let down by those who are meant to protect them. Kate Robertson, Co-founder of One Young World, mentioned in her opening speech the urgency to find and mould a class of leaders as people stare despondently at the grotesque way our current leaders operate. She said how each one who has a cause close to their heart, who has a gnawing yearn to change something for their family, community, or nation, has the potential of being a leader. And she is right. The room remained entranced and inspired by her speech, her call to 'pick up the burden'. And as the audience readied themselves to hear the words of pioneers in their respective fields, picking up the burden they were. 
Good Health and Wellbeing 
Dr. Olivia Remes, mental health researcher at the University of Cambridge, was the first keynote we heard from. She initially tackled working towards one's goals and dreams by overcoming procrastination, where she had the audience reflect on how they felt when procrastinating and an overwhelming majority felt guilt. Research-backed advice on combating procrastination is to go forward with the task you are procrastinating on and face the negative emotions, namely boredom, and stress because they are simply transitory. They will pass. By moving past these emotions, we become more efficient human beings and come closer to achieving our goals. 
The panellists for this SDG consisted of Dr. Remes, Federico Presicci, Toluwa Oyeleye, and Meg Wamithi, chaired by student and fellow committee member Ahmad Alkuchikmulla. They had discussions around the impact of meditation, the pressures of balancing one's expectations and the expectations of others, and the ability to stand strong when the world seemingly falls apart. What seemed to resonate with most of the audience members was the concept of a 'Meg Day', a Saturday designated by Meg Wamithi to do things that make her happy and give her a sense of stability. It is the ability to recognise that self-care is not selfish. I know a lot of us left the conference room that evening already planning what their 'Meg Day' would consist of. 
The Good Health and Wellbeing Workshop was the 1.8 Billion Young People for Change Campaign by PMNCH, hosted by World Health Organisation. Our co-chair, Madeline Senior, conducted the workshop that required attendees to interact with their new chatbox which provided a platform for adolescents and young adults to contribute their voice in shaping policies that will inevitably affect them. We were extremely honoured to be the first event featuring their new chatbox and support them in their drive to raise young voices. 
Sustainable Cities and Communities 
Dr. Andy Palmer CMG, our keynote, gave a colourful introduction of all that he has achieved so far and how it remains a small step in the large change that is required to completely replace diesel and petrol vehicles with EVs. He stressed the importance of innovation and experimentation, a field for healthy academic collaborations that can lead to scientific breakthroughs that may prove to be revolutionary; he knows, he did it by building the first affordable EV, Nissan Leaf. 
The panellists consisted of Jon Kinnell, Tunde Agoro, and Dr. Palmer. Undergraduate student Nadine Guerf, our panel host, covered a scope of questions around sustainability and an unignorable truth: how are people struggling with the cost-of-living crisis expected to adopt sustainable ways of living that only seem to cater to the rich? The answer, as Andy said, is that, currently, it is impossible to be affordably sustainable, especially considering the cost of EVs. However, they stressed the importance of creating a market for businesses to pursue sustainable products by rejecting the alternatives. While it may seem that big firms control everyday choices by reducing affordability and increasing measures of luxury, a unified group sharing the same cause remains undefeated. 
Our workshop for this SDG was conducted by the Architecture and Civil Engineering Society. They led discussions on the importance of building sustainable cities and key areas to consider when planning the course of a city and its surroundings. They later grouped attendees to make their versions of a green city and what a sustainable community looks like. The diagrams made of the kind of world they would like to see remain a testament to what changes can be enforced when they work towards a common goal; in this case, ensuring the next generation inherits a better world from us. 
Quality Education
The Quality Education panel consisted of Matt Dickson, Julia Kreienkamp, Ruqia Osman, and Linda Assani, chaired by Alexander Robinson, President of the University of Bath Students' Union. Discussions centred on keeping the conversations centred around students by actively involving students. Ruqia Osman, an alumna of the University of Bath and former SU Education Officer recounted how Black students in Bath reported the dearth of accessing hair salons catered to students of African and Caribbean descent. And after years of advocating, the University of Bath announced its first barbershop, the Salon, specifically catered to Afro-Caribbean hair. There remains a power in advocacy, in voicing a problem involving a community that individuals in charge refuse to acknowledge. Problem-focussed solutions cannot occur without understanding the trials of those experiencing them. Our panellists also talked about how top leaders seem to be selective in hearing the problems of individuals, and most of them remain widely from privileged, white backgrounds. Racial disparity continues to dominate spheres of learning, creating an imbalance that should never exist, and sadly in the eyes of naivety, does not exist. It remains the responsibility of policymakers to prioritise education, a tool that creates individuals who will inherit the very world they are trying to enforce, equally to finance and business. 
The Beginning 
As we neared the end of the day, a hushed silence fell as people clad in decorative robes stepped forth to award an honorary degree to Dr. Caroline Casey. Caroline Casey, the founder of The Valuable 500, is a Wonder Woman; she made her way toward the stage of DAVOS and ensured ignorant businessmen knew that disability is a problem that most certainly concerns them. She travelled the world and performed feats that were limited to her simply because she had a disability and through the face of it all, with tears in her eyes, unlike every TedTalk you have heard, she said she cried. There were days she questioned it, questioned herself, and could not carry forth, however, she found power in the people around her, in the community she was fighting for, to pick herself up and trudge forward to a victory so well deserved. And as the entire auditorium held tears in their eyes, mirroring her own, she said words that have never rung truer, "You are not alone. If you think your voice is not enough, it is – just join it with others". 
One Young World Bath remains a conference about hope. The world seems to be in its darkest place at the very moment, with war, LGBTQ+ discrimination, and women's rights compromised in the US, cries for change across the Middle East and Asia, and the generation coming next is terrified and despondent. However, when equipped with the right tools and the support of millions to take the next step, change seems less daunting and more plausible. When supported by billions, one step can create a clamour loud enough to take the spotlight and finally have the chance to speak one's truth. In the words of Kate Robertson, "Get in the damn trench. Fight the fight, you don't have to chirp from the side-lines, just get in there!". I hope everyone who had the chance to attend One Young World Bath 2023 is inspired to get in the trenches and lead their fight for change.