Feeling nervous/anxious
Approaching the start of university can bring up a lot of conflicting emotions. I remember feeling both excited, and also pretty terrified. It is easy to jump to the worst-case scenarios in your head and worry about making friends. It is normal to be nervous; we need to remember that everyone feels the same way. Some people hide that feeling better than others, but often people feel just as unsure as you. The good thing is that once you arrive, there are countless opportunities to embrace all the university offers, and it is an easy place to make friends. 
Freshers' Week
Freshers' Week is a pretty important part of the term. It is a week devoted to settling in and getting comfortable in your new environment before lectures begin. It can sound intense, but it is a lot of fun. There are events everyday, including taster sessions you can try out with your new flatmates. I was pretty intimidated by Freshers' Week as I do not drink very much and had heard stories about the drinking culture; thankfully, my experience was a very positive one. I discovered that people were respectful of my choices, and I never felt pressured into situations I was uncomfortable with. I think Freshers Week is a great time to throw yourself in to the action and push yourself out of your comfort zone, but I would also encourage you to be confident in your beliefs and principles. This way you will contribute to create a comfortable environment for everyone, and find good friends faster.
Course mates
Once you have settled in and spent time with your flatmates, chatting to people on your course is a great way to expand your circles. Depending on your degree, this can be pretty tricky. 
My lectures have hundreds of people in them, so it can be difficult to form relationships. However, seminar groups, tutorials, labs, and practical classes are great environments to meet people naturally. Be intentional with these classes, to make an effort with everyone and chat when you can. Once you have made friends there, you can go to lectures together! Even when your lecture theatres are full of students, I encourage you to be bold and introduce yourself to the people around you. It may feel awkward, but sometimes all it takes is a hello in the break.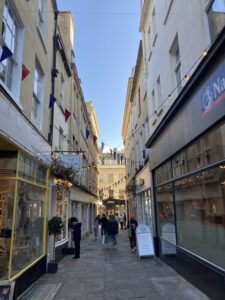 Sports and Societies
If you and your flatmates are too disimilar or have different interests, there is no pressure to hangout or become best friends. There are plenty of other ways to find a community. Whether you are interested in a sport or hobby, there is a group or society for everything and everyone. In my first term, I joined the Canoe Club, the Fine Art Society, and the Christian Union. It was so refreshing to hang out with people that had a lot in common with me, and I found friendships formed more naturally in these environments. I felt welcome, especially in the Christian Union - it is a strong community that felt more like a family. Regardless of what intrigues you, I can almost guarantee there is a society for it. Get along and embrace the opportunity to find your people!
Community
My mindset in the first term was to go to every event I could, and invest my time in building relationships. I believe it is the best way.
Although I am now in my second year with a much busier schedule, I am surrounded by great friends and good support systems. There is a lot of pressure to meet your best friends within the first couple weeks of uni and for some people that is the case, but for the most part, I think this is an unrealistic expectation. Throughout my first year, my friendship circles changed as I got to know people better. 
Those in my community now are people I did not meet until much later in the year. Take the pressure off yourself, and try not to panic if you do not feel settled within a few weeks; this is normal and it is okay. Embrace the opportunities available and enjoy them as much as you can, moving one step and one day at a time.