The University of Bath has lots of qualities that no other university has. This blog post will go into depth on all the different advantages we have by studying here.

First of all, let's talk about the campus—it's an absolute stunner! Tucked away on the east side of Bath, just a quick bus ride from the bustling city centre, it's a perfect place to create that much-needed boundary between your academic and personal life. You've got the U1 and U2 buses running frequently, ensuring that reaching campus is a breeze. Even better for first-years who tend to live on campus, allowing them to roll out of bed and be in class within a mere five minutes.

Now, when it comes to the campus itself, it's like a picturesque haven. There's a beautiful lake, numerous cosy study spots, and the best part? You can cross from one end to the other in a 15-minute stroll. And let's not forget about the food options – there are so many food spots to satisfy your cravings. Plus, the BATH GO app is your secret weapon to score amazing discounts at various campus hotspots.

At Bath, they place a big focus on hands-on, real-world learning, especially through work placements. Almost all of the degree programs here offer the chance to spend a year in the field, which is like a boot camp for the 'grown-up' world that awaits you after graduation. The careers team has great connections that make it easier for you to land these placements. Before you even step into the working world, they'll prep you with mock interviews and help you improve your CV and cover letter. In a nutshell, having a placement year is a game-changer for your future job prospects, and the University of Bath is great in easing you into it.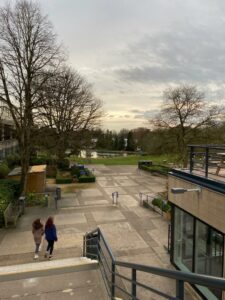 The student support system is incredible at Bath. With societies such as Nightline, aiming to support students overnight whenever possible, and the student support system on campus, where they provide counselling and disability support, you will never feel like facing challenges alone. Additionally, you'll be assigned your very own personal tutor, a companion throughout your academic journey. Your personal tutor will be your go-to resource for any concerns, whether they be academic or personal, ensuring you always have someone to turn to.

Lastly, no matter what your interests are, you will always find your people, and foster a home-away-from-home. This is because there are over 180 student societies: cultural and recreational. There is a very international environment, allowing there to be a society catered to every culture. And with the diverse crowd of students here, you won't run out of options when it comes to recreational societies. There's even one dedicated to the finer things in life – cheese and wine! With such a wide range of choices, you're bound to find your group, build lasting connections, and create unforgettable memories during your time at the university.

All these different factors play into why the University of Bath is ranked 5th best university in the UK in the Complete University Guide 2024 – and essentially why we are so unique!