This blog post is part of an ongoing series about the University of Bath's innovative Vertically Integrated Projects (VIPs), which are open to all students. For background information, take a look at our previous posts. 
Hello everyone! I hope you are having a nice reading week. It feels good to be back in Bath and be back to the Age-friendly VIP team. I'm thrilled to carry on writing the eleventh instalment of this journey (Well, it's been three academic years)!

This year, we have a very special team in terms of student composition. First, our project has attracted ten new students. And now, I'm the sole existing member and I have a feeling of being an old 'staff' who know the inner working of the 'company'. The new teammates are very respectful and love to hear what we did in the past. But I let them know while we build on the strength of our previous work, we can definitely try something new. Apart from the difference between the old and the new, our members come from a variety of cultural, ethnic, and linguistic backgrounds. We have members from the United States, India, Hong Kong, Korea, and the United Kingdom. The team's variety is further exemplified by our academic training. In total, we embody knowledge from ten disciplines as we study Applied Economics with Banking, Psychology, Data Science, Applied Clinical Psychology, Management, Criminology, Computer Science, Biomedical Sciences, Architecture, and Education. Wowza! Relatedly, we have members from across programme levels, be it doctoral, postgraduate, or undergraduate. Finally, it is also the very first time we had four male members! All these varieties bring the underlying notion of VIPs to the fore. Real-world issues are complex and can be rarely solved by a selective group of students from a single discipline or background. Therefore, collaboration is key. 

Last Wednesday, we had a team meeting to explore some next steps. We started off by talking about an opportunity for dissemination at the Healthy Later Living network monthly meeting. This opportunity allows us to present our goals and aspirations for the VIP, engage with lecturers from various disciplines, and take questions from the audience. We then moved on to discuss the possibility of developing a package/programme of lectures and events for older adults. We consider piloting a few workshops to gather feedback. Meanwhile, we may conduct a focus group interview with older adults through the network of Katrina Kelly, Head of Community Engagement. We may also reach out to academic representatives from different disciplines and investigate potential partnership with organisations in Bath.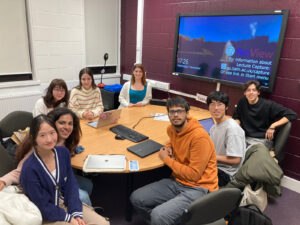 Our team meeting on 1 November 2023 (Tey joined us on Teams)

As we have many fantastic ideas, we tried to break them down to something manageable. Abbey and Kai are responsible for researching the feasibility and funding schemes of other universities. Viktoria and Tey will work on subjects conducted by other universities for older adults. Rachel and Simran will study how these packages/programmes improve the quality of life for older (and younger) adults. Sangjun will explore previous surveys on attitudes while Vishwesh will delve into our Age-friendly survey data. I'll be developing ideas for a package/programme for older adults. By our initial contact with Katrina, she brought up the idea of Cosy Wednesdays (warm spaces for older local residents) and see if there is potential for a re-run. Fiona informed us that one of her colleagues used to invite the Alzheimer's society to run workshops on being dementia friends, and were considering getting a project up for students to present their dissertations to older people. The latter initiative is a wonderful idea as students will have the opportunity to enhance their communication skills while engaging with the public. I'm a believer in public engagement as the impact of a project or research should not be confined to the academic community but be extended to a wider society.

As the package/programme may consist of lectures and events, I'm thinking perhaps we could have one to two gardening sessions (e.g. pot painting or flower crowning) as I have had so much fun joining the wellbeing activities hosted by the Gardening Club recently. Emma is a lovely and helpful instructor. She recommends getting in touch with Rob Heyes, Wellbeing Promotion and Induction Team Leader. In the meantime, we'll be meeting Katrina soon to explore different options. I'll then submit a VIP fund application when we have clearer ideas of our package/programme. Woohoo - Fiona has given us the green light! To end this post, let me share with you my recent and my long-term serious leisure interests!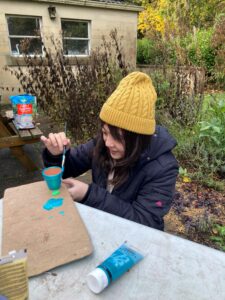 My recent leisure interest in gardening (living a part of my farm life dream)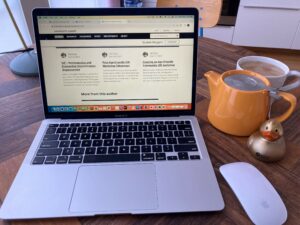 My long-term serious leisure interest in blogging for the VIP (with a cup of tea and the Bath duck! QUACK!)

See you next time!