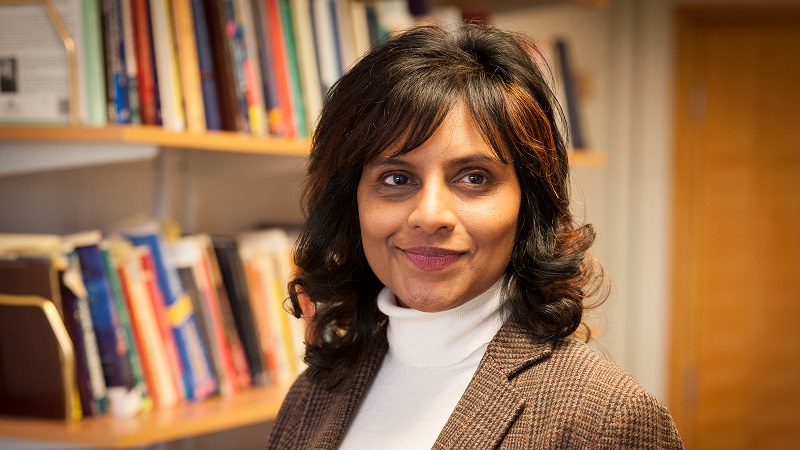 To mark International Day for the Elimination of Racism, we share a summary of a discussion between Professor Jason Arday, the youngest black professor to be appointed to the University of Cambridge with Prof. Rajani Naidoo, Vice-President Community and Inclusion, at the University of Bath. Many thanks to Lucy Spedo Mirandola who captured the key highlights of this conversation.
Before his Cambridge appointment, Jason was Professor of Sociology of Education at the University of Glasgow and prior to that, Associate Professor of Sociology and Deputy Executive Dean for People and Culture at  Durham University. He is a visiting professor at many universities, including Ohio State in the US, Durham in the UK and Nelson Mandela University in South Africa.  Jason also holds numerous trusteeships, including at the Runnymede Trust and he is also a fellow of the Royal Society for Arts.
You are one of the youngest professors in our field.  You're hugely accomplished in research, leadership and education, and you have also had real life impact.  Could you take us back to the beginning and tell us how your first experiences made you into the person that you are today?
I am very proud to be from South London. I was diagnosed with Asperger's and global development delay just after I turned 3, and didn't speak until I was 11. I then learnt to read and write when I was an adult so I spent a lot of my childhood with behavioural psychologists and speech therapists.  As a child,  I was fortunate to play football well  so I  was in the Academy system and then played professionally.  I also took up snooker when I was 10 and joined a professional tour.  But not being able to communicate meant I spent all my schooling in a special needs school with people that had very severe learning difficulties and physical disabilities. This  opens your eyes to  the position of other from a young age.
You've talked about your experience as a young child being told by a parent how to prepare for a police-stop-and-search, even when you have done nothing wrong. Can you tell us about this ?
You have an innocent perspective on the world, an untainted worldview, when you are a child. Even though I'd been prepared for those experiences by my dad by the time I was 11, I didn't think I'd be in a situation where I had to utilise that wisdom at the age of 14.
I was with three white friends who I'm still good friends with  when the police stopped me saying I fitted the description of someone they were looking for.  At the time, my friends actually asked me, 'What did you do?'  But the incident the police referred to had occurred when I had been with my friends!  With that experience, you lose your innocence in many respects. You grow up very, very quickly and end up planning how to manage the police.  It's an experience I've had probably over 20 years  – only broken during the COVID lockdowns.  But you learn to manage the police and those situations - what you are saying, your tone of voice, ensuring your shoulders are relaxed, making sure your hands are below your hips so that you don't raise the possibility for the police to potentially Taser you, or worse. These experiences have had a profound impact on me.
My children are 15 and seven so  I need to think about at what age should I have that conversation with them? Part of me wants to maintain that childhood innocence  Because once you expose someone to that and make them aware of it, you do become very hyper aware and grow up very, very quickly – no parent wants that. But sadly, the way racism pervades society, young people often have to grow up quickly in a forced situation.
Early life for you was challenging in so many ways. How did you survive and even flourish through it? What internal resources did you draw on and were there significant peoples in your life who  supported you on this journey?
My mum, Gifty, would say every single day, you're going to do something great!  I can remember hearing that as a child, and not understanding what she meant, but she was just so excited.  And this idea that you're going to do something that has never been done before, that people will be in awe of is compelling.  Probably all mothers say that to their children in varying degrees,  but I really believed her. I can't emphasise enough how unlikely this was.  I was growing up in a poor council estate. I'm from a poor family without formal schooling – it just wasn't feasible.  But it was her tone of optimism, her saying you have to dream big, you have to dream about the impossible, if you can dedicate yourself, anything's possible, that made a difference.
And then the most important person I met was Sandro Sandri, my tutor at college when I was 18.  I didn't have any qualifications but my mum asked him to let me go onto a course at college.  Sandro asked me how badly I wanted to be successful. He told me we could take on the world and win, but I'd have to give it everything I'd got.  That was the beginning and quite frankly, the end.  It's exactly what we did - we took on the world and we won.  His whole approach was that nothing is insurmountable.
You also mentioned that music was very influential in your life. Can you tell us a little about that and how it anchored you?
My mum, in many respects, was a visionary, doing things that may seem commonplace but in the late 80's or 90's were rare.  As I was a child who couldn't communicate, she used music and lyrics to help me to express myself. She played Enya which has a lot of haunting Gaelic dulcet tones, then other types of music like Paul Simon's Graceland, my favourite album, where I experienced African rhythms, then the  music of Bob Marley.  When I was 14, two albums had a huge impact on me.  The first was  Definitely Maybe by Oasis and the second, Urban Hymns by the Verve,which was  impactful because of Richard Ashcroft's storytelling.  Then I was just listening but 20 years later, I would adopt a storytelling approach in the way I do my work.  Then I saw a picture of Paul Weller and Ozwald Boateng and became obsessed with tailoring,  so my mum taught me to make clothes and by 15 I could competently design and sew clothing.
The reason for recounting all these stories is that my mum got me interested in so many things which became my obsessions so that when I was 20, she asked me if I could turn that obsession into a degree. A lot of autistic people have special interests that they obsess over,  but she was able to take the relatively modest skills I had and implement them in the right areas.  I don't think there's one thing I've written academically that doesn't have a music lyrical element – normally in the title - as they help me make sense of the world.
This has lent itself to what I do, professionally speaking, or  how I construct papers. I think there's probably quite a formulaic way in how you do things in academia but I never had that skill set in the first place so I took what I could do quite well and adapted it.
 You've conducted  important research on the trauma of racism and mental health interventions including why these often do not work.  Could you talk a little about your research and the most important insights that have come from it?
I'm from a family of mental health nurses including my mum, my younger brother and my cousin.  Just after I got my PhD in 2015, I talked to my brother about doing some interdisciplinary research that was not done elsewhere.  But my brother pointed out that, in order to have some credibility I would need to upskill myself so I did a Masters in Psychodynamics.  I became a qualified counsellor which gave me such a rich understanding of mental health.
I had all these ideas I wanted to share around race and ethnicity, around the impact of mental health on black and ethnic multimorbidity, what this looks like in practise and why is it uniquely different for black and ethnic minority people. With my brother and my mum,  we utilised our network to explore the unique differences in how black and ethnic minority people experience mental health in comparison to their white counterparts. The most significant issue was that there is a trivialisation of just how much racism can impact psychological well-being.
The actor David Harewood has spoken about how he was treated when he had psychosis. He spoke about being given enough sedatives to stun a horse which underlies issues of distrust. When we talk about black and ethnic minorities being supported through mental health, it's often through the judiciary, or a form of hyper surveillance and there's often violence attached.
I explored this further in the context of higher education. Since 2003, black people in particular, have been going to university in record numbers but the amount coming through the pipeline doesn't match the expected progression in other groups. And the reason is their aspiration of going onto postgraduate research study was dented from experiencing endless cycles of racism which was then trivialised by pastoral and support staff saying, 'Do you really think that sounds like racism or is it down to pressures within your culture?' So the struggles are doubly compounded.
I interviewed a woman who said she always has to apply her makeup twice.  Once on going to work and then encountering racism every day so she would go to the toilets to cry, reassure herself and then reapply her makeup.  That idea embedded itself in my head so I wanted to find practical solutions and now we've committed with 70 universities to try to embed interventions.
The double violence of going through the trauma and then being trivialised alienates black and ethnic minority students. Being the only white person in another country is not aggressive, exclusionary or difficult in the same way.
You've talked about contextually appropriate mental health interventions. What are three practical interventions that you would suggest to universities?
We have a predominantly white pastoral support network in the higher education sector so there needs to be specific CPD training of how to work with ethnic minorities, to check the bias, the cultural and racial literacy in order  to have an understanding of what leads to the compounding of the cycle of violence that black and ethnic minority people experience.
Secondly, there are very few black and ethnic minority psychologists or mental health practitioners. Having more black and ethnic minority members of staff, particularly in terms of mental health provision, is hugely important so institutions should look at organisations and charities that specifically work with this group of people to upskill staff because we know that ethnic minority students are more likely to speak to somebody who may look like them or who share the cognisant language and have an understanding of cultural differences and lived experiences.
I believe that everyone's mental health is important but historically, the mental health of  black people and ethnic minority communities has not been prioritised in the same way. To reconnect with people , we have to have an understanding or racial literacy around the types of language used to engage with our particular communities due to their experience of navigating racism. For example, how I experienced racism as a black man is uniquely different to how black women experiences racism or other women of colour across other groups for example from East and South Asian communities. Having an understanding and resourcing this approach transforms mental health in a safe and sustainable way.