We are very excited to invite you to this event, shared with CIWEM and PIG. Please register early via the IOW website.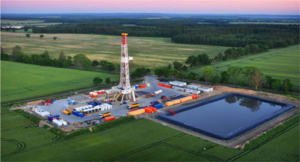 Time: 5.30pm, Thursday 23rd November 2016
Venue: Room 4.1, Chancellor's Building, University of Bath (Location and maps)
Abstract:
Join the Institute of Water South West Area as we investigate Shale Oil and Gas Exploration with RSKW Ltd.
RSKW has advised water and energy companies internationally on issues relating to shale oil and gas extraction - from geological, groundwater and general environmental perspectives, as well as delivering guidance on strategic risk management. RSKW are part of a European and US consortium currently mid-way through the delivery of a €2.7 million project, researching the environmental aspects of Shale Gas operations. The project - known as SHEER (SHale gas Exploration and Exploitation induced Risks) is funded through the HORIZON 2020 programme. The project outputs will inform the legislation for and regulation of Unconventional Oil and Gas across the whole of Europe.
Water management and shale oil and gas - Andrew Gunning of RSKW Ltd will address the truths, myths and legends surrounding exploration for shale oil and gas. Initially developed in the US, this was an emergent phenomenon which resulted in a rapid increase in onshore drilling using the evolving techniques of horizontal drilling and 'fracking'. This presentation draws on experience gained from project work for UK water companies and the EU SHEER project, in assessing risks to drinking water aquifers, the regulations in place to mitigate those risks and areas where further investigation is required.
Kindly hosted by the University of Bath, this event will also provide an opportunity to hear about WIRC @ Bath and the WISE CDT.