On 6th February 2020, a group of WESBath students travelled to Bristol for a Women in Engineering event organised by Wessex Water.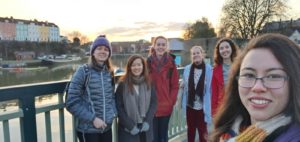 Wessex Water has recognised the problem of lack of diversity and inclusion in engineering, so organised an incredible day to inspire, empower and connect women. On theme with the sector, Colin Skellett OBE, CEO of Wessex Water, likened the industry to a leaking pipe. Along the pipeline from education to high powered roles people are lost, in particular women. This is an important issue to realise as it requires innovation in schools (e.g. encouraging STEM), hiring processes (e.g. unconscious bias) and work practices (e.g. flexible working).
The keynote speakers were 2 impressive women; Dr Lisa Brodie, the Head of Engineering, Design & Maths at UWE and Dr Emily Grossman, a Scientist, STEM Ambassador & Public Speaker. I really appreciated their honesty and realised that their experiences of doubt and lack of confidence resonated with many women at the event.
Dr Emily Grossman talked powerfully about the benefits, and necessity for emotion in engineering. Being sensitive does not undermine logic and rationality. In fact, crying is an expression of how much we care, which is vital for engineers who create things to help people and the world.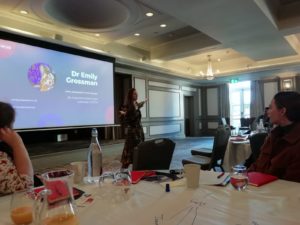 A workshop, led by Graham Proud, gave us an opportunity to reflect and learn techniques to put into practice. I found the SWOT (Strengths, Weaknesses, Opportunities & Threats) analysis useful, especially after hearing Dr Lisa Brodie's story of embracing opportunities throughout her career, including undertaking a PhD at the University of Bath.
It was great that the event was grounded in an effort to support WaterAid; the group Business 4 Life organised the event to help reach their goal of raising £48,000 for the charity. We learned about how in many countries water is integrally linked to gender equality. WaterAid is doing incredible work with communities to sustainably implement basic water resources that simultaneously address gender inequality. For example, freeing girls from having to collect water for hours every day, so they have time to get an education, and training women to manage and maintain water technology, so they have ownership and control over resources.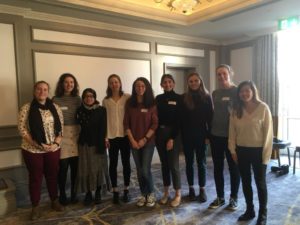 Throughout the event, we were able to network and mingle with attendees from different disciplines and companies. The atmosphere was incredibly supportive and positive, leaving us all hopeful about a diverse and inclusive future in engineering.
Lucy Sigmund, MEng (hons) Civil Engineering, 2nd year