If I had to sum up the vibe I've had for the past week or so, it would have to be with the phrase "good stressful". To bring you up to speed with all I have been up to, I have another one of my general update blog posts. I hope you enjoy catching up with my #ARforDementia project.
✓ Literature Review Draft
Yes, I have finally finished a first draft of it! Although I know that I will have to change some things after my supervisors have had a chance to look over it, sending it to them was a great relief. It felt very satisfying being able to tick that off my to-do list!
✓ EngD First-Year Student Placement Visit
Olivia came to visit me at Designability last week. We had fun coding an extract from one of the interview transcriptions I finished, as well as talking about general day-to-day aspects of being an EngD student on placement. I also arranged a meeting with my industrial supervisor, Hazel, so Olivia got an impression of how that works in my situation.
Very happy to be hosting @centre_digi_ent EngD student, Olivia Ruston, today at @DesignabilityUK to give her a taster of what it's like on placement. We're enjoying a bit of thematic analysis of the interviews I have run for my #ARforDementia project. Having fun so far! pic.twitter.com/4eAuXHortA

— Thomas Williams (@tjw_94) May 28, 2019
✓ Getting Better at Augmenting Objects
As a way of helping me to consider what to focus on, Hazel asked me what I thought I would need if I were to conduct an experiment with people "tomorrow". This was a good way of prioritising what I should do next, and I settled on practising how to develop more examples of augmenting objects, like I did in the video of last month's update.
We also discussed the planning of the next steering group meeting, which will focus on testing a concept of an 'augmented reality board game' for use in experiments later in the project. Here's a sneak preview of what that might look like: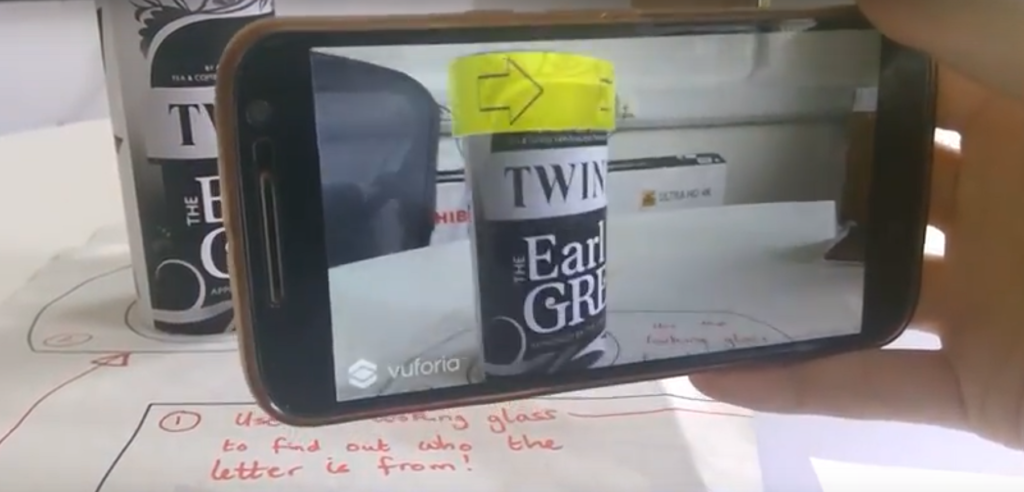 ✓ Planning for Remaining Part of the Year
In amongst all this, I have also been thinking about what the rest of the year will look like. In October, I have to submit a large report that describes the work I have done since the beginning of my project, and what the plan is for the next two years.
To help put things in perspective, I made a chart mapping out the time frames (see below), which one of my academic supervisors suggested at one of our meetings. As you can see, there's a large block of time over the summer set out for an experiment, which I have started to plan along with my supervisors in a recent meeting.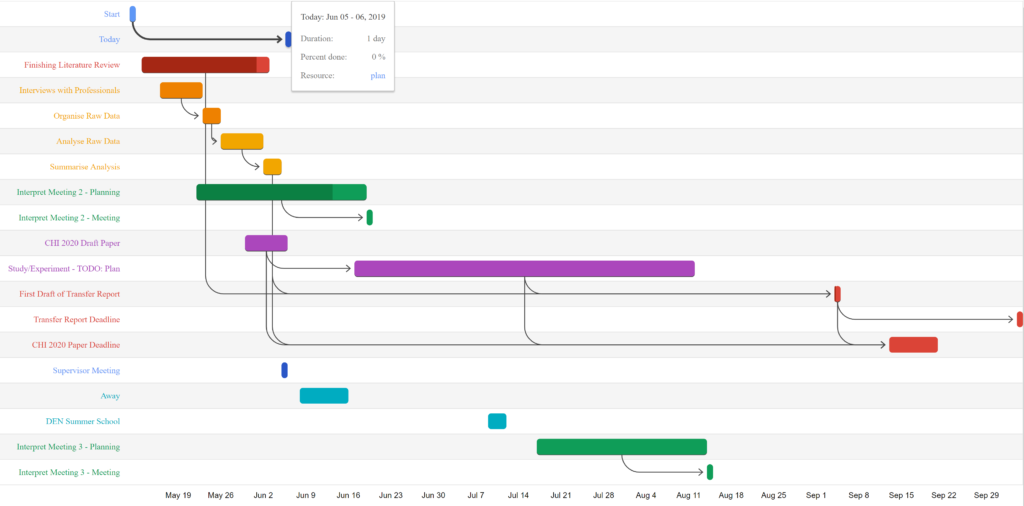 We decided that I should analyse the interview transcripts, looking for a deep understanding of how the strategies that were mentioned are used and why they help people living with dementia to complete tasks, before developing more augmentations of objects. We will then test how well these augmentations actually convey the action they are designed to represent.
When we have a better plan of the study, I can break down that large chunk of time in the chart into smaller steps, but the chart was useful for showing how the steering group meetings can help with the planning of the experiment.
On a personal note...
...the next time I publish a blog post I will be a married man! I am taking a week off next week to let my new marital status sink in, but will be back and ready after that to analyse some interviews, plan more of the studies, and move on with the rest of the project.