Where have the last eight months gone? The last time I wrote here I was about to start my new course and I had a little ways to go before being able to submit my thesis.
Finally, I am incredibly pleased to share that I submitted my final thesis last week and I have now completed my EngD! I hope to graduate later this year.
I had thought to write several times since September 2021, for example, when I submitted my draft thesis for examination just before Christmas, or when I passed my viva in February 2022, but life and university have been intense to say the least. Since submitting my thesis, I have felt more relaxed and decided to post a final update to wrap up my blog.
But then I received some very exciting news...
I have been short-listed as one of six nominees for the Godfrey and Sue Hall Postgraduate Research Student Prize 2022 and will have the opportunity to present my research to a live audience next week. I am thrilled to have been nominated and I am looking forward to presenting about my research in-person for the first time in over two years because of the pandemic.
So, whilst I thought this might be my final post, my EngD journey continues a little longer. I will leave this for now and update this post with the outcome of the presentation event.
If you would like to attend, please contact me for details of the event!
---
Update:
The presentation session on 24th May contained a wonderful showcase of postgraduate research from across the University of Bath. The other five finalists presented some phenomenal research and everyone did a fantastic job at communicating their work to a room full of supervisors and supporters. The judges panel asked us all some tough questions!
Sadly (for me), I was not chosen as the winner. However, honestly, to have been chosen to present alongside the quality of research in the room is an honour in itself. Congratulations to the winner and all the other finalists!
Both my family and my supervisors came to support me, and these two worlds would not have collided were it not for this award. I thoroughly enjoyed sharing this moment with them.
What's more, the opportunity to go to Bath to present this work felt like tying a neat bow on my EngD days. It just so happened that my printed thesis was ready for collection and I picked this up just before presenting. The bottle green of the cover has a subtle symbolic link with my move to occupational therapy; the same bottle green is the colour worn by occupational therapists in the NHS.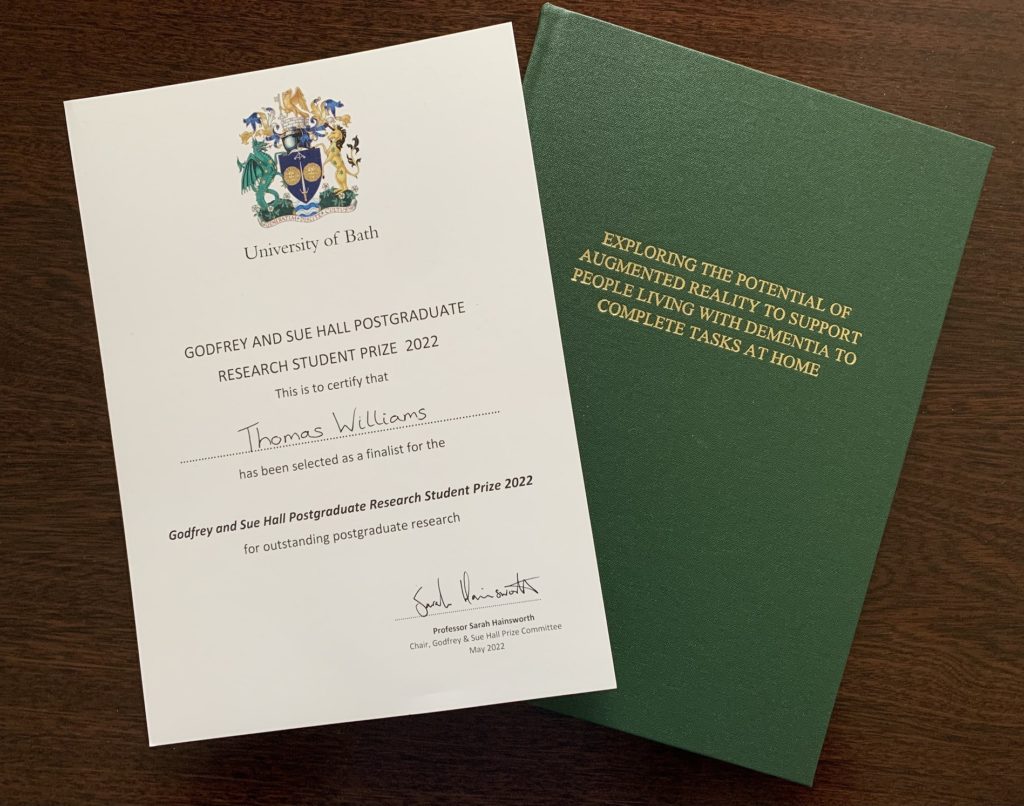 Thank you to my supervisors, the participants who took part in my research project, my industrial partner (Designability), the Centre for Digital Entertainment and EPSRC funding, my peers, friends and family, and to everyone who has followed or supported my EngD journey.
Although I may not be continuing to research the area of augmented reality for dementia, I will certainly be keeping my eyes open to the technology in my career as an occupational therapist. Then again, occupational therapy needs researchers interested in technology. Who knows what lies ahead?