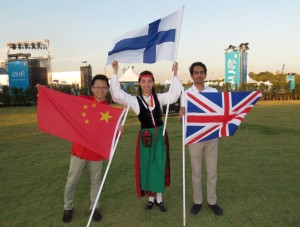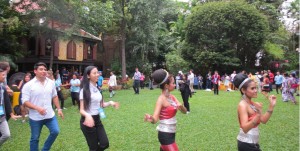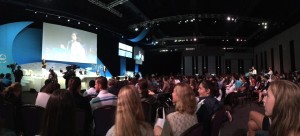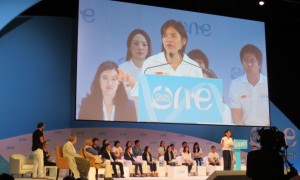 Wow. The 3.5 days at the One Young World Summit in Bangkok is like a powerful shot of inspiration, slowly dissolving and mixing into our everyday lives back home. Those 3.5 days were filled with talks, presentations and workshops around the key themes of environment, human rights, education, global business and governance. Looking back into my aims and hopes before the Summit, I feel overwhelmed by the amount of insights that I have gained.
To listen with genuine interest and attentiveness at all times. I have met this goal rather well, attending all sessions and taking notes of some memorable speeches. Plenary sessions lead by the delegate speakers were particularly interesting, and I can't stop being amazed by how much our fellow delegates have achieved despite their young age. Some of them have started up businesses, built schools, campaigned in crisis areas or had a significant influence on their country's politics. The short duration of individual sessions, 20-30 minutes, helped maintain a good focus over the whole time. However, Naomi and I thought that further interaction through debates or explaining one's opinion at the end of a poll would have made the sessions even more engaging.
To gain new insights, even change my views on certain issues. My view on businesses has indeed changed a little, as a result of Professor Yunus' introduction to the social business framework. In his presentation, a business could consist of selfless (as opposed to selfish) individuals trying to solve human problems (rather than creating them). Grameen Bank's own success in microcredit seems to be a living proof of this idea being more than an utopia. From one of the plenary sessions, I also became more aware of the challenges facing stateless people, such as their blocked access to opportunities, social services, influence on politics and many other rights.
To have deep and truly meaningful conversations, beyond an average professional small talk. This worked reasonably well, the key is to focus on quality over quantity. Chances are that you would only meet a fraction of the group of over 1500 delegates, counsellors and ambassadors. I was particularly happy to be able to challenge delegates from the business world, for example by asking someone working for Apple whether he thought changing versions of iPhones drive materialism and create waste. I also enquired the views of someone working for Facebook on the problem of people getting more and more addicted to social media, at the expense of normal social life. Bus journeys became handy places to engage into those deeper conversations, because your conversation partner could not easily leave their seat.
To find courage and be encouraged. We definitely met many courageous young people who strived to make a difference despite sometimes unstable conditions in their communities. Among the delegate speakers, a Phillipine girl Arizza Nocum had to ask help from the military to make the libraries built by her family feel safer for the children who go there. A girl from Jordan, Lina Khalifeh, was threatened to be brought to court as a result of teaching self-defence to women in her country. We also met a North Korean defector, Yeonmi Park, who bravely opened up her personal journey to freedom in her book and speech. Everyday encouragement comes from meeting determined individuals from around the world and hearing their stories of overcoming challenges and sticking to their passion.
To familiarise with cultures I knew nothing about. This was among the best parts of this conference. The flag ceremony showed me the multitude of countries taking part in the Summit, out of which only a fraction were countries we normally hear about through Western media. I was lucky get to know delegates from Mozambique, Liberia, Yemen, Iran, Nepal, Kazakhstan, Costa Rica, Sweden as well as those from larger delegations such as Australia, India, China, Canada, USA and UK. We also learned a lot about Thai culture through the social events where the city of Bangkok has clearly put a lot of effort in.
To help deliver a memorable Opening Ceremony as the Finnish flag bearer. The Opening Ceremony was exciting and went all smoothly. There we met all of the high profile counsellors for the first time. Some counsellors like Kofi Annan and Professor Muhammad Yunus have made global level contributions to peace, and it was a great privilege being able to hear them speak in person. Other counsellors come from a range of backgrounds, from popular culture, media and sports to politics and the corporate world. The flag ceremony reflected the diversity of our participants, but at the same time I was pleased to find other delegates who have been living in several countries and have multiple national identities. Having said that, I did get often addressed as the "Finnish girl" since bearing the flag on stage.
To me, one of the most valuable gains from this conference is beginning to care about the world's problems at a more personal level. Now, reading the news about the recovery of Paris or the war in Yemen would remind me of particular individuals from the Summit. The threat of climate change is no longer just a set of statistics, but brings to mind Bryant Zebedey, a delegate speaker from the Marshall Islands pleading to save his home from rising sea levels. The peace and conflict plenary session was particularly touching, where delegates from countries that are sometimes considered to be each other's enemies stood side by side against violence.
The Summit made me feel more interconnected to others, both in our achievements and suffering. Above all, I can vividly feel the importance of being an active, raise awareness and take action on issues which matter. As the director Guy Reid and former NASA astronaut Ron Garan reminded us: we are a planetary people, we share a responsibility of looking after one another and the spaceship we call Earth.