Reflecting on the One Young World Summit it was completely unexpected, each speech, each breakout, each question was a burst of inspiration. What united every Delegate, Ambassador, Counsellor, Speaker and Observer was the passion each one showed towards their cause. The key themes revolved around Human Rights, Education, Environment, Peace and Security and Leadership and each held a powerful message to inspire a new generation to act where Governments fail to. Reviewing my prior anticipation its evident that this Summit was completely absorbing and exhausting, it was pure inspiration as I'd never imagined it.
A quote from John Simpson "The future is for the making, but first we have to make it", in essence a summary of the Summit. A particularly influential speech was that of Maajid Nawaz a former terrorist who now promotes combating Islamaphobia as the source to peace in the face of terrorism; he emphasises what makes individuals at the Summit so impactful. Even the Delegates that ranged from 18-30 had all overcome a personal or cultural problem and had been inspired to change this situation for others. Returning speaker Yenomi Park for example had escaped North Korea to become a victim of Human Trafficking, this was 7 years ago and today she is an Activist attempting to change the situation in North Korea and China. Personally, I was hugely inspired by the speech of Arizza Nocum who found the similarities between Christianity and Islam and now works to endorse cooperation within the divided setting of the Philippines.
Businesses had a huge impact at the Summit with Siemens having 130 Delegates and Barclays 60 Delegates,they provide both the causes and the solutions to global problems. It was a cause for relief seeing how companies such as Unilever support initiatives that will make the world a better place, Unilever for example supported the new initiative Stand Tall which seeks to provide safety for Women and girls. The influence of both individuals and businesses has created an even bigger impact on attending Delegates they have inspired us to act where Governments cannot. The Summit has also been hugely informative towards specific causes with a particular speech resonating throughout the week, raising awareness of the stateless individuals who are denied basic human rights because no state accepts them as citizens and guarantee these rights. Networking was a major part of the Summit, we had the opportunity to make links from across the world who had unique perspectives, and this the legacy of One Young World 2015 that the friends that we made will become our support network for the projects we hope to complete and careers we will pursue.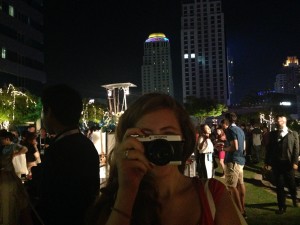 The Summit was full of inspiring speeches, however it did exhaust us, adapting to the time change as well as the lengthy days it was an inevitable consequence. Although, as I said prior to the Summit this was a necessity for the opportunity that it provided. Ludi and I were astounded by Bangkok as soon as we landed, mostly it was the humidity in stark contrast to Bath. There were 196 countries represented at the Summit, the Flag Bearers Opening Ceremony was breathtaking, I personally met delegates from the Philippines, Canada, Turkmenistan, Sudan, Turkey and Russia an many more. What makes the One Young World Summit unique is its diversity, Counsellors and the inspiration that in just over 3 days it can instil. This Summit is incredibly worthwhile to those that attend, it promotes cooperation and encourages "young people to be a catalyst for change."