I have recently attended the International Society for Technology in Arthroplasty (ISTA) congress. ISTA was established in 1988 and is dedicated to advancing the art and science of technology in joint replacement by connecting the leading clinicians, engineers, researchers and industry members from around the globe, about 400 people attended the conference this year.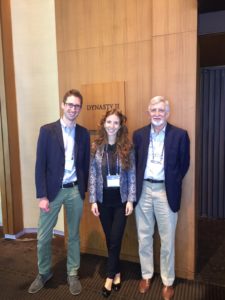 This year was the 30th annual congress, celebrated in Seoul from the 20th to the 23rd of September. The conference was held at the Shilla Hotel, and its content varied between different categories of joint arthroplasty, from ankles to shoulders, although it was primarily based on hip and knee replacements. This year there was a session on implant biology, as well as on global practices and economics. In this last session Seth Greenwald, had a presentation on managing the cost of advancing technologies. This is a very hot topic right now, both in the UK with the increasing costs of the NHS as well as worldwide. One of my favourite sessions was "What's New?" where the new advancements in technology in arthroplasty are presented. This year Prof. Laurent Sedel presented his new alumina on alumina total knee replacement, a very interesting and controversial product. Additionally, the conference had a workshop on computational modelling, where the problems associated with finite element analysis were discussed, as well as the ways in which it can be used to advance the industry.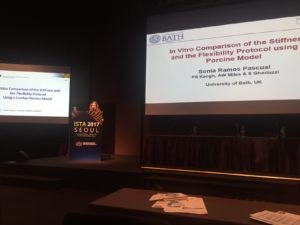 My presentation, titled "In vitro comparison of the stiffness and flexibility protocols using a lumbar porcine model" took place in the "Beyond hips and knees" session. The session had good attendance and I got a good number of questions asked, one of them from the session moderator, Dr Thay Q Lee, a senior researcher at the University of California Irvine. I also met a number of senior academics with whom I would be interested in working or collaborating with in the future, including Nico Verdonschot, Phil Noble and Hani Haider.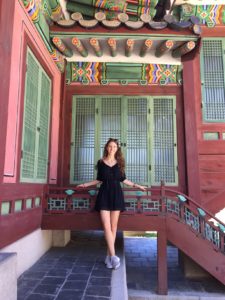 Overall, attending ISTA was a fantastic experience, and it made me grow as an engineer and as a researcher, since I was exposed to new developments and different ways of thinking. I am very grateful to WES Bath and Caterpillar for providing me with the funding to make it possible for me to attend the conference, and I hope I can keep attending this conference in the future.
Sonia Ramos Pascual – Sept 2017