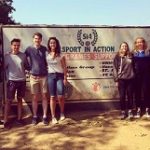 This summer I was part of a 6-man team of civil engineering students from the University of Bath (ACE2ZAMBIA) who travelled to Lusaka, Zambia to volunteer for Sport in Action. Sport in Action is a charity focused on developing local communities and individuals through sporting opportunities to encourage motivation and self-development. The charity organises coaching sessions and tournaments, which gives lower-income children Lusaka sporting experiences previously inaccessible to them. Such a programme impacts greatly the quality of life of the communities and individuals involved; deterring children from crime and improving their employability
As a team, our main roles included surveying and levelling the schools' grounds to find the most suitable location for the proposed court, this task built on skills we had previously been taught at university. A key task was the selection of a suitable contractor and to negotiate a deal and contract. We project managed throughout the construction phase to ensure the court was of a high quality and kept on schedule.
However, all was not plain sailing; delays were frequent often with deliveries coming days later, and on one occasion the hole for one of the posts was put in completely the wrong location, thankfully we were on site to correct this problem.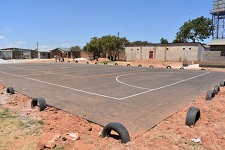 This once in a lifetime experience has taught me invaluable skills thoroughly relevant to my future aspirations as an engineer. Dealing with the finances of the project especially was a learning curve as it is something not covered as of yet in my university studies. Working alongside students from older year groups has been a great opportunity to learn off them as well as developing transferable skills, such as teamwork and communication. This project has given me greater confidence I need to work efficiently in a construction based atmosphere
Georgina Hutchings (Civil Engineering student University of Bath)