If you're feeling unsure about writing your first essay or report, Course Leader Malcolm Skene offers some general tips on academic style and how the Academic Phrasebank can help you use the right academic language in your writing.
Writing can be a challenge for many, whether it's for something as basic as an e-mail or as serious as a dissertation. If you're a new undergraduate, you may be feeling daunted by the prospect of writing your first essay or report.
However, there's no need to let these challenges get on top of you, as there are lots of resources to help you get to grips with good style.
General tips for your writing
Here are some general pointers to keep in mind as you get started:
Keep the language simple. Don't use complicated or 'showy' words to try to impress – your tutors will much prefer to follow a clear and logical line of reasoning expressed in understandable language.
Define key terms. If you need to include specialist terminology, make sure you explain the terms when they're first introduced.
Be formal. Although it's good to keep things simple, don't be chatty; the language you use should be formal and 'academic'.
If in doubt, consult a resource. In this post I'll introduce the Manchester University Academic Phrasebank, a useful tool to help you use the right language in your writing.
The Academic Phrasebank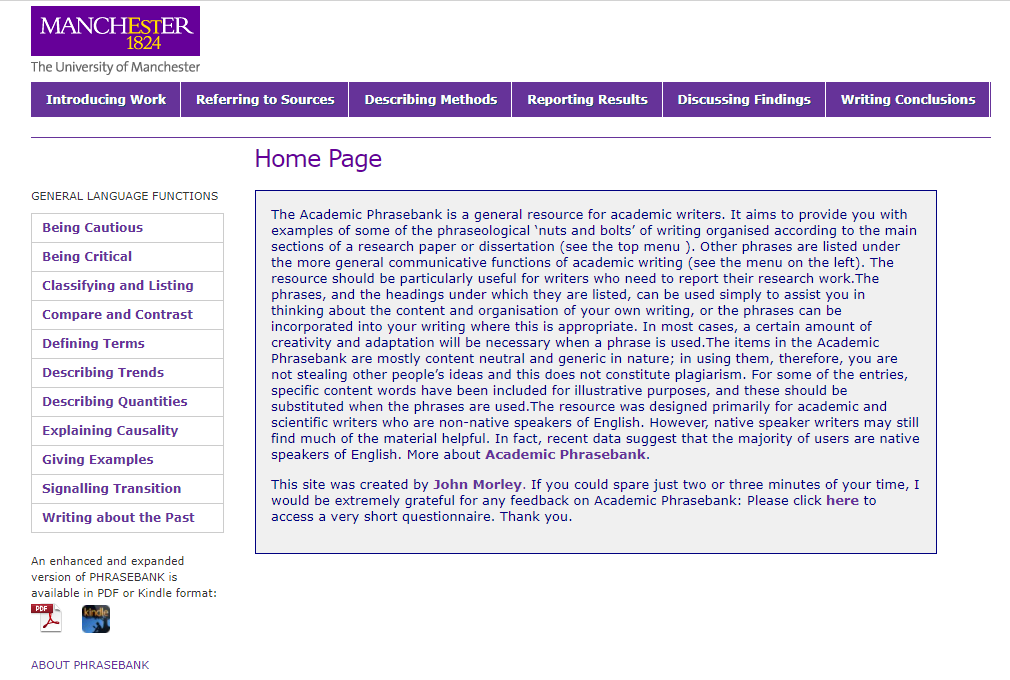 The Academic Phrasebank is a resource for anyone writing academic work and provides a bank of key phrases organised according to the main sections of a research paper or essay. Note that it says some creativity is needed in applying these phrases or words.
On the left hand side of the page, you'll see the 'GENERAL LANGUAGE FUNCTIONS' menu. Terms are organised here according to 'language functions'.
So, for instance, if you want to make sure you're using the right language to define terms in your work, click on the 'Defining Terms' heading on the left. Read the comment box on defining terms, and look at the dropdown subheadings underneath.
Notice how the guide says that 'academic writers define terms so that their readers understand exactly what is meant when certain key terms are used.' This links to my earlier point about clarity; it's extremely important that your work is clear for the reader (marker) to understand, and defining any key terms is one way to help you to achieve this.
You can use the Phrasebank to get some ideas about how to do this in your writing, with appropriate language that conforms to expectations of the academic style.
Let's look at one of the dropdown subheading links: 'Specifying terms that are used in an essay or thesis'.
This gives you a number of stock phrases that you could adapt and use in your work. Remember, using generic language like this is not plagiarism, but it's always a good idea to modify it in your own writing.
After looking through the different phrases, you might decide that the first phrase is the most suitable one:
'The term 'X' is used here to refer to …'
Rather than use the word 'here', you could say 'in this essay', so you'd modify this and use it in your writing as follows:
'The term 'X' is used in this essay to refer to …'
Now you can insert the term you want to use in place of 'X', and add the definition accordingly.
This is a simple demonstration of how the Manchester Academic Phrasebank can be used to help you with your writing.
Notice that there are a number of different functions which are typically found in good academic writing. Getting familiar with these functions and how to use the corresponding language is a very important building block in developing your own good academic style.
Over to you…
Now it's over to you! Take a look through some of the other function phrases and think about which ones will be useful to you, and how you might start to use and adapt them in your own writing.
The Digital & Academic Skills team are here to help you with all aspects of your writing, so feel free ask us any questions in the Responses section below. There are lots more posts on writing on the Academic & Employability Skills blog, for example Getting started on your essay. You can also develop your writing skills through our skills enrichment sessions and 1:1 writing tutorials.