Guest blogger Michal Nalepa, who recently graduated from the University of Bath with a BEng in Civil Engineering, describes how learning Mandarin Chinese with the Skills Centre paved the way for a two-month summer internship in Shanghai in 2019.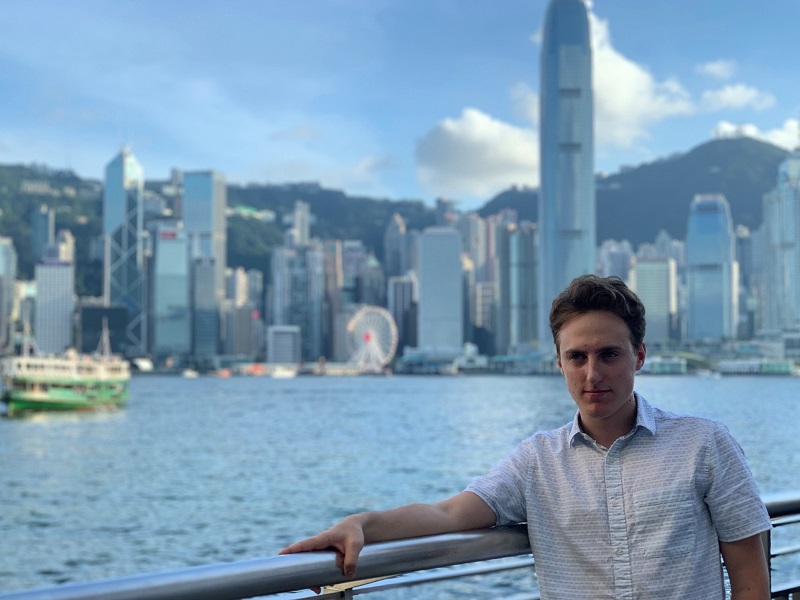 In July 2019 I travelled to Shanghai, China on a two-month summer internship. This was made possible through the Generation UK programme run by the British Council, a competitive programme which allows you to find a summer internship in one of six cities in China.
My road to China
I'd spent the previous two years studying Mandarin Chinese with the Foreign Language Centre (FLC) at the University of Bath. Having come in not knowing anything about the Chinese language or culture, the teacher, 朱老师 [zhu-lao-shi], not only developed my reading, writing, listening and speaking skills, but also shared many cultural details about the country.
Stories like the one of Hou Yi shooting down nine suns from the sky, not only explained ancient traditions, but also developed my understanding of a different way of thought. It was in my language classes with the FLC that I heard of students going abroad to work and study. I searched online and found the Generation UK programme.
After being selected by the British Council, as part of the programme a partner company who works with the British Council look for a summer internship on your behalf in the city and sector of industry of your choice.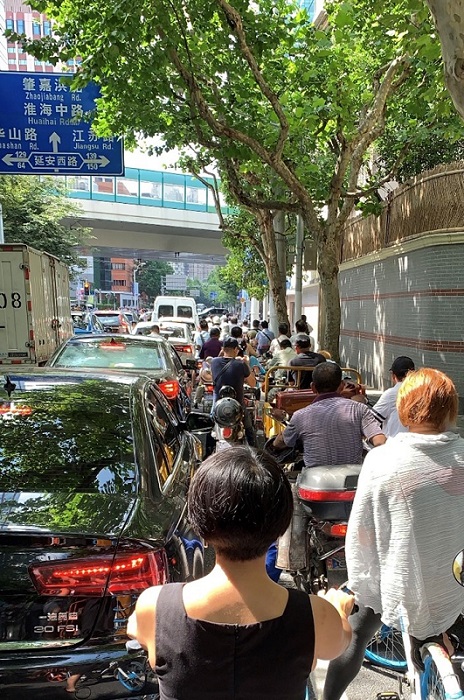 My internship
My internship was in a small Architecture/Civil Engineering practice in the French Concession district of Shanghai, near Jing'An Temple. I would often cycle to meetings in the local area which was great for exploring the city.
This area of Shanghai belonged to France during times of foreign occupation, and this is reflected in the Parisian architecture of the 100-year-old streets.
The trees which line them are the same age and both provide shelter from the scorching sun and a home to the many cicadas that live in them.
I feel that my previous Chinese lessons with Zhu Laoshi really allowed me to make the most of my experience, both in exploring the city and in networking during the length of my internship.
Financial support
Internships through the Generation UK programme are not paid but accommodation is provided in hotel apartments. These are shared with other members of the programme who are also on internships in other companies in the same city. That leaves flights, visa, and 8-weeks of spending money to be funded by yourself.
The University of Bath does however offer a Discretionary Internship Bursary which I was eligible for. I was awarded funding to pay for my flights, visa and some other expenses, which meant I only had to spend my own money on general living costs in Shanghai. I found that local food and transport were very cheap, so it was possible to live comfortably on a very low budget (although there are many temptations to spend more money!).
Exploring the city and making friends

Apart from providing an internship and accommodation, the programme also provides two classes a week of Chinese lessons. Mine were on a Tuesday and Thursday after work and were two hours each.
Also, each week there would be some sort of event organised for the weekend such as calligraphy, Peking Opera, or a museum trip. I ended up not making it to these events because I was so busy with working and Chinese lessons that I usually used the weekend to explore the city.
Being with other people from the programme also means that you don't feel lonely. You're picked up from the airport in China and immediately meet other people (I found that I'd been on the same flight as someone else from the programme). And you can't help but go out to socialise every evening in a city which never sleeps, that is if you don't fall asleep immediately after coming home from work - the heat and jetlag can be very tiring.
Tech challenges
Before commencing the placement, we had talks on safety and things to be careful of in China, including fake alcohol, some scams, and to be aware the legal system is very different than in the UK.
On arrival we received an information pack and pre-paid Chinese sim cards. We were informed which Chinese apps are the equivalent of the western ones, such as which app to use for maps, for communication and for booking a taxi.
However there were some issues with downloading these since our phones had non-Chinese app stores. For example, my phone couldn't download Didi, the local taxi app, and I couldn't change to the Chinese app store because of my Apple account being linked to my phone. Also, WeChat was a bit problematic, and I had to create a new account several times, then have it verified by a local.
A life-long love of languages
Overall, my internship was a fantastic opportunity and an amazing experience. I know several people who were participating in the programme just after graduating and remained in China following the end of their internship, having received full-time permanent contracts. They are still there now and doing well.
Following my return from Shanghai I continued my studies with Zhu Laoshi as I entered my final year at Bath. I found the fluency in my use of Chinese had improved dramatically and allowed me to make the most of the more advanced language classes.
I'm now at a level where I feel comfortable sharing with an employer that I'm learning the language, and this has been a factor in me being able to secure a job with the large consultancy EY after I complete an MSc in Actuarial Science in Edinburgh in 2022.
My language classes at the University of Bath have given me a passion which will last far beyond my time at this university, and have had an impact both on my professional and personal life.
For more first-hand experience of an internship in China, read recent PoLIS graduate Kamila's blogs: I lived in China for two months and How did I go to China.
If you're interested in learning Mandarin Chinese, or another foreign language, why not find out more about our classes?