Easter is a season that conjures up images of spring, baby ducklings and new born lambs, longer days and of course the one thing we all look forward to chocolate.
We will be particularly lucky this Easter as the sun is set to shine, however, we will be restricted to how much of that sunshine we can enjoy in public.
Whatever the situation where you are, you can still enjoy Easter indoors and outdoors. For those of you who want to get creative, try our recipes from around the world. It doesn't have to be all about chocolate. In the US, at Easter it's ham not lamb that takes centre stage. Glazed with bourbon, mustard and maple syrup, it will make Easter Sunday lunch very memorable.
The Italian Easter Bread is savoury as opposed to the traditional hot cross buns of the UK. But like the hot cross bun it does have special significance. The rising dough is a promise of new life; the shape of the bread symbolises a crown and the eggs mean rebirth. The ham or salami in the bread I think is just for the yum factor.
However, if your sweet tooth must be satisfied, try the Polish Babka Wielkanocna. Babka is a sweet bread, that is filled with rum-soaked raisins and iced. It is taken to church to be blessed on Easter Saturday. Don't fear if you're watching your waist line, there are recipes that have a lighter cholesterol load.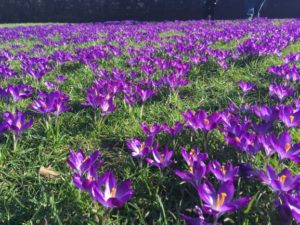 For some people nature is at it's very best at Easter time. Take the opportunity to do your daily outdoor exercise by taking a stroll outdoors. You don't have to be in the middle of the woods or in the depths of the countryside. Take a look at gardens, the verges and the parks big and small as you walk by. They will be full of brightly coloured flowers, scented buds and leafy trees and bushes. If you're feeling inspired, this is a good time to put your green fingers to the test. With or without a garden you can still plant herbs and veg alongside plants. Many do well indoors and will not only brighten up your home or room, it can be added to those tasty dishes you try out.
Having our movements restricted can be difficult but there are still many ways to enjoy ourselves. Easter and spring is a time to start afresh, have fun and relax. Take a well-deserved break and enjoy the season. My top tip, take your headphones out and listen to the riotous spring birdsongs. Happy Easter.
For recipes for the above and for other Easter treats have a look at this website.