Each month we ask our International Wellbeing Ambassadors some questions to find out how they've got on living in the UK. This month we hear from Eman, an Accounting and Finance student who is originally from Pakistan but has been living in the UK for the past four years.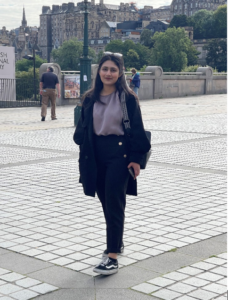 What is the biggest similarity between your hometown/country and Bath/UK?
The biggest similarity between Bath and Cambridge would be that they are both university towns and are relatively small. The majority of the population in both cities is of students. Both have their own charm of living in them. Pakistan, however, is totally different to any city in England. It is the eastern side of the world with completely different cultures and languages.
What do you miss most about your home country? How have you overcome this, was there a positive outcome?
Culture, food, language, friends from high school – all the things that essentially keep me going. Moving a whole continent can feel like it's being taken away. My ways of coping are having regular 'catch up' phone calls with friends/family there – doesn't have to be daily but once a week definitely helps to share what's going on!
Food is one of the biggest things. I love my spicy Indian/Pakistani food. In areas like Bath or even Cambridge it can be quite pricy to eat out and most of the time it is not as authentic. Over this time, I have learnt to cook such food myself. Don't get me wrong, I am terrible at it, and it took me a lot of time and practice to get it right. Frankly, that process of trying and testing started to become therapeutic at some point and now I enjoy cooking to the point where I look forward to making food. With a plethora of recipes on google and YouTube it's really easy to just start doing it. We all need just a little push – maybe this can be the push!
What's something surprised you about moving to/living in the UK?
One thing that I found surprising moving here is the cultural diversity that I get to surround myself with. You will meet people from all around the world, with different cultures and backgrounds. You gain so many insights about their way of being and living life. It is always interesting to see life from somebody else's perspective. I have to say it was one of the most surprising things for me moving here which eventually became one of my favourite things about moving here.
What are your top three things to do in Bath?
Sight-seeing – roaming about. Bath Skyline walk is a good one
Bath Abby and Spa
Walking tour of Bridgeton filming locations – it simply feels cool to live in a city in which a popular TV show was filmed!
Are you part of any clubs/societies at Uni or in Bath?
Yes, I am part of many societies in Bath for some of them I am also part of the committee.
I wanted to get into some sort of Martial arts. I happened to try out the taster sessions for Japanese JiuJitsu and absolutely loved it! So much so that I decided to become part of the committee as a social secretary – planning social events for the JiuJitsu club. If you are into some grappling, rolling, and throwing – try having a go at Jitsu, you might surprise yourself.
I also happen to be part of the Salsa Dance Society, the Debate Society, Pakistani & Indian Society. These are a lot of societies that I have taken up on and it is hard to manage all of them at once, so I choose which one I want to go to a particular week and make the most of it. I like knowing that I can meet different people from different parts of the Uni sharing different interests. And hence get to make new friends this way.
Occasionally, because I have the sports membership, I play tennis and volleyball with couple of friends to enjoy all the facilities that such a sporty Uni like Bath has to offer.
What do you love most about living in Bath?
I love the way the city is laid out. I live in Oldfield Park. The town centre is right in the middle between my house and the Uni. I walk up to the Uni, hiking that hill sometimes. It is right on top of the hill with the town centre and all the markets in the centre. It makes a great walk with spectacular views. That's another thing I love about living in Bath, the amazing views we have got. The hilly city makes walking unpredictable and all the more fun.
What's your favourite place to eat/favourite takeaway in Bath?
I am a big foodie and would love to answer this question!
Bath is known for Sally Lunn's buns – must try
Mjolk café has good quite bites to eat with unique flavours and options to choose from. And if you are a coffee lover, they do some good coffee
Taka Taka is also one of the popular ones that people love to try. They have unique take on Naan, fries, and creamy sauces – I'll leave it at that for you to try
Chilly Family Noodles, just beside the train station is worth the try! They do amazing, flavourful, and reasonable soupy noodles. It is the perfect pick me up comfort food
What's the best or worst thing you've eaten since being in the UK?
Nothing in particular comes to mind about either, I like testing and exploring new things out and nothing, so far, I have tried that I hated. I would say that I will not be going back to the Cosy Club café, not because the food was bad but it was nothing special that I would want to go back to. It is not great value for money but I don't regret going their either!
Is there somewhere in Bath/UK that you'd like to go but haven't been yet?
Bath sushi, Thaikun, Hondo, Nata & Co – as you can tell, I like Asian food.
What's your favourite or weirdest UK tradition you have learnt about?
I like the pub culture that UK has. It is really inviting and welcoming. Even though I don't drink, I appreciate the culture and the value and bonds it builds between friends and family.
What's your favourite British slang/word?
Knackered – it means extremely tired
Going to the Loo – going to the toilet
Cheers – another way of saying thank you. It feels more informal and casual
Mate – Friends/buddy – Thanks mate!
What's your top tip for International Students?
My top tip would be to explore as much as possible. It can feel a bit overwhelming and out of comfort zone coming to a whole another country but take that as an opportunity to learn and explore more about different parts of the world  – you never know what is out there and it is always worthwhile finding out!