Hear from one of our student ambassadors Eman as she explains her experience of Ramadan at university.
The month of Ramadan… we have all heard about it; we know it happens every year for a month and it is considered a holy month for Muslims around the world. But what exactly is it? And why do we Muslims fast during this month?  And finally, what is it like during Ramadan at Bath?
Well, I am here to explore these answers with you and explain my perception of Ramadan and why I fast during this holy month. The most asked question, when I moved to the West, was why do Muslims collectively around the world bare the pain of hunger and thirst for a whole month. It isn't like this at all! In fact, in my opinion, it is a beautiful guide to spiritual healing and a wholesome experience.
Let me start with some background. Fasting is prescribed to Muslims during the month of Ramadan, which is based on the lunar calendar, so it differs every year. This keeps a universal balance for Muslims all around the world. Fasting itself is meant to start from dawn till dusk. But during the period of no fast, Muslims are encouraged to immerse themselves in worship, meditation and spiritual exercises which makes up the very essence of fasting.
The purpose of fasting simply doesn't end here. Muslims are exhorted to refrain from any vain talk, fights, quarrels, and ill thinking. This also includes lying, backbiting, or insulting. It encourages a peaceful mind and soul in order to maximise the benefits of fasting.
It encourages a personal growth by allowing a person to indulge in a humbling experience and an empathetic feeling. The reason behind being that, in Islam, the care for the destitute is greatly emphasised. But during the month of Ramadan, the efforts are doubled. Restraining from food and water from dawn till sunset allows for spending on the cause of the poor and bringing solace to them.
The institution of fasting is extremely important because it cultivates the believer in almost every area of his spiritual life. Among other things, he learns through personal experience about what hunger, poverty, loneliness, and discomforts mean to the less fortunate sections of society. Abstention from even such practices during the month of Ramadhan as are permissible in everyday life plays a constructive role in refining the human character.
The spirituality aspect nicely ties up with the proven mental benefits of fasting. It supports a deeper praise – when the body does not have to focus on digesting food, there is more energy allotted to delving into deeper, more meaningful thoughts and finding the true purpose of life. For many Muslims, it strengthens their belief in God, and they start praising Him at a deeper level. It helps them find a purpose and meaning in their life which sticks with them even when Ramadan ends (or at least until the next Ramadan is upon us 😁)
The end of Ramadan brings the festival of Eid al-Fitr, a three-day celebration with feasting, gift-giving and thanksgiving.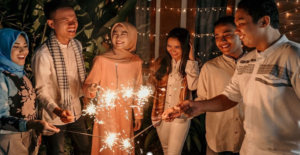 Personally, such an understanding of the month of Ramadhan is what encourages me to fast every year with not much mental effort. This belief that it cleanses the soul leaves me feeling empowered and strengthened.
What is Ramadan like in Bath?
 My first year of Ramadhan at Bath was at the peak of Covid and lockdowns, because of this I didn't have much to do that would physically exhaust me. Although there are exceptions to fasting with genuine reasoning, I found myself lucky that I could solely focus on fasting and the upcoming exams right after. This year, however, I am not entirely sure I will be able to fast every single day for health reasons.
The University supports all students who observe fast during this month. They have praying facilities and advice for exams during fasts. Those working at the University both students and staff managers are very flexible and considerate to those observing a fast. The Islamic and other Muslim dominated societies hold multiple events like iftar and dinner parties, Friday prayers and Eid celebrations for everyone to join! For further support, you can take a look at the Ramadan Guidance for Students which provides information about available resources and people to speak to.
It is a great way to feel part of a community celebrating the same thing! Bath is very inclusive in this regard!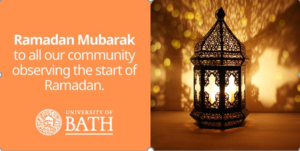 Ramadhan Mubarak to all those celebrating!