This afternoon a number of students have been asking me questions about the Autumn Careers Fair taking place on Thursday and Friday this week. For some students this may well be your first ever careers fair that you are going to while for others this may be a very different experience to the job fairs in your home country. So, I thought a quick blog explaining how the fair works and what to expect, may help some of you.
Each exhibiting organisation has a stand with representatives from the business there to answer your questions. If you want ideas on what to ask, check out our blog post on good questions to ask at a careers fair.
Some employers will be available to talk to you on both days, where as some will only be there on one of the days. Do have a look at the fair guide and make a list of the employers you'd like to speak with.
If you are nervous about starting a conversation, try a bit of practice! Come to the Careers Service stand and talk to us first, this way when you approach employers you are interested in you'll feel confident in yourself.
In the UK employers will not offer jobs at a careers fair, this is your opportunity to network and learn about the organisation, the sector and available opportunities.
Try and arrive early, company representatives aren't robots - they will be knackered near the end of the day.
I also asked some of my colleagues for their top advice for making the most of the fair, here goes:
Tracey Wells, Head of Service "Wherever possible, try to talk to someone on the stand instead of just picking up a brochure or a free toy; you never know a 5-minute conversation could lead to your dream job"

Ghislaine Dell, Careers Adviser "Avoid walking round the fair with a group of friends. This is an opportunity for you to network and make an impression with a potential employer!"

Kate Maton, Information Assistant "Smile, be enthusiastic and enjoy the fair"
And finally, last bit of advice from me - even if you have a 'hit list' of employers you want to talk to - keep an open mind and talk to representatives from other organisations as well. An open mind can open up possibilities.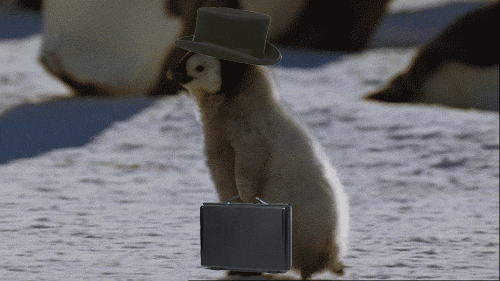 Ps. This image has no link whatsoever to the blog post. We adore the penguin and thought we would share it with you.