All alumni presenting initially studied at the School of Management. They all began with an internship and progressed to full-time roles. Some have worked in 3-4 countries before moving to Singapore or Dubai.
Singapore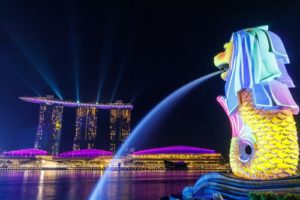 Application Process
Mainly application and interview-based processes- and potentially essays or cover letters for a small start-up in Singapore.
Internships vs full time role
The decision to take an internship right after graduation over a post grad job suited this individual well; it was a good test to see if Asia was for her and she thoroughly enjoyed the experience.
Many interns are offered permanent roles if they perform during their internships and want to stay.
Singapore is an APAC hub so companies like Google, Facebook, and some investment banks will be looking for graduates (especially with local languages) to be based here.
Visas
Bath students and graduates are eligible for the Working Holiday Pass: https://www.mom.gov.sg/passes-and-permits/work-holiday-programme This allows you 6 months to work in Singapore. It is best to secure an internship, then apply for the WHP.
If you are offered a permanent role in Singapore, the company would help with the visa application process. Your visa is then tied to the hiring company.
Cost of Living
Were you paid for your internship?
''Yes. It was paid. You have to consider though that a 6-month internship pays far less than a full-time role.''
''Chances are you will need further financial support.''
''Though food is fairly cheap, living is quite expensive.''
Working and living in Singapore
The first speaker has a role managing brand, and must ensure assets are being branded in correct manner.
"You need some sort of cultural understanding and preferably a bilingual background."
Absolutely loves the size (5.8 million people), pace and diversity of Singapore
"One of the safest cities in the world and extremely easy to travel… there are many opportunities here"
The second speaker is now working in Google, after working in HR and Recruitment
"Very convenient to be in South East Asia and a lot of potential to travel"
Work life balance depends on company and company culture. It can be variable but life balance in Singapore tends to be respected.
Tips
Culture shocks are normal: "people do not open up as quickly, but when they do it is like you are family."
Compared to other countries in Asia it is fairly easy to fit in as a foreigner, but the way you eat and socialise is still very different.
You may find yourself friends with other interns or students who come from similar backgrounds (obviously a lot of ex-pats).
Singapore is used to a very multi-national culture and "I think university really prepares you for that."
Dubai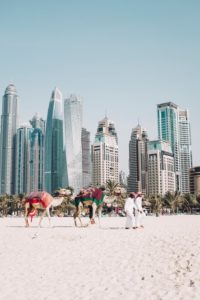 Application Process
As with Singapore, mainly application and interview-based application processes. For start-ups many are via LinkedIn.
Interview advice given by one alumni speaker - there is no right or wrong way of doing interviews, but do as many mock interviews as possible, and show the interviewer the practical experience or interest you have based on things you have done or know.
Roles
Working for uber-subsidiary: saw a massive opportunity when offered a job in Dubai.
Moved there for a few months to see if Dubai was for him and he liked it.
Visas
To live in Dubai, you need visa sponsorship; you cannot just come and work- your employer will sponsor your work visa (if you are fired you have to move within 30-days).
Unsure if firms offering internships are sponsoring visas; there is some transfer on tourist visas to work visas, but you cannot go and work on a tourist visa.
Working and living in Dubai
Extremely multi-cultural and diverse firms and a very comfortable city: companies tend to have good, compatible values.
Dubai has very big highways which you have to use via car or taxi to get to places, but this is not a massive problem.
In summer it can be almost too hot to go outside, so this is a bit of a change to European firms.
Passport withholding does not happen in white-collar industries
Cost of Living
Easier to sort housing than in big European cities, but if you want a proper place to live (including premium air conditioning etc) it can be fairly expensive. Because of the climate it is really important to have good, working air conditioning; broken air conditioning can be a serious problem.
Process to rent house/ apartment is not massively complicated.
Women working in Dubai?
Can only speak from my experience (at tech-company); there are not that many women in tech & engineering roles but at my company there are slightly over 25% and more in marketing and sales roles.
There is however a bit of a culture of "you have to talk loud to be heard"; so, this can sometimes not be the most inclusive working environment, but it is not unbearable.
Have not heard of any harassment etc.
It is easy to travel around as a female, and punishments for criminals are quite severe, so crime is kept relatively low.
Tips
Originally applied for lots of companies in London but realised competition was high and applied for many start-ups too.
Going for a smaller firm is not a bad thing- opens up career and expertise as you get a better insight into a wider respect to roles within company.
Use the resources you have available through the Careers Service Team: from job roles to CVs and cover letters.
Spend enough time going through your CV, cover letter and researching company; it is well worth the time and effort.
Applications are very much a numbers game: you might have to apply for lots and lots of jobs due to the competitiveness and sheer randomness of selection- do not be disheartened.
Use LinkedIn and research as many roles as possible and research area.
United Nations General tips:
There are numerous 2-6 month internships available with the UN – various roles and locations https://careers.un.org/lbw/home.aspx?viewtype=SJ&vacancy=All&lang=en-US
Less competitive to apply to specialist agencies directly (eg WHO, UNHCR) – these are listed separately from link above.
To be eligible to apply you need to have a Masters degree or in your final year of an undergraduate degree, or have graduated less then one year ago.
You can apply to as many as you like.
If you are working on a UN internship, you do not need a visa to work.
Nearly all UN internships are unpaid.
Make the most of your time working at the UN and network – there may be paid opportunities in other agencies after your internship.
Application process is generally CV and cover letter, plus 1-2 interviews (via skype). Typical questions: why you want to work for the UN and not a private company? How can you add value to this role?
The UN look at Cover Letters very closely and your intention to work at the UN will definitely be asked in an interview.
It is good to include any NGO or volunteering experience you have.