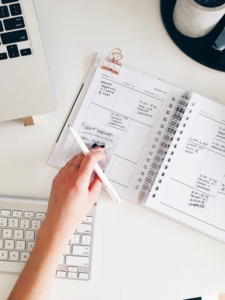 Hello to all final year students. It's great to see students back on campus and we hope you're feeling happy to be back and looking forward to your last year of study. We've been enjoying seeing some of you in person at the Careers Service and we are here to support you in your final year, whatever your next step is. So, what can you do to improve your chances of landing a great graduate job or picking an interesting further study course? Below is our careers check list for finalists.
This was originally posted last year, but is still valid now, with updated links and resources.
If you are interested in applying for graduate schemes, I am afraid you have no choice but to start researching and applying now. Many graduate schemes are open, and deadlines are closing soon. Most schemes have deadlines in October or November. Check MyFuture for both commercial and non-commercial schemes or look at external sites such as Gradcracker or TargetJobs. Unsure how to get started or not sure what a graduate scheme is or if it is for you? Have a look at our Get Started – Search for Work guide.
If you have a particular company you'd like to work for, make sure to check out their websites for vacancies and closing dates.
Are you thinking further study is the right step for you? This is a good time to research different universities and further study programmes as their application process and deadlines might differ. It is also a good time to reflect on whether postgraduate study is the right step in your career. Have a look at our Get Started – Further Study guide for everything you need to think about with regards to further study.
Get ahead in the application process by attending employer recruitment events, we also have our amazing careers fairs in the third week of October, so look out for that on MyFuture! Find out about different employers, different sectors and job roles and ask those employers your important questions.
Make sure you're feeling confident about writing good applications and interview preparation by attending one of our many webinars, covering all aspects of the recruitment process.
Get involved! It is still not too late to get involved in societies, volunteering and/or get part-time jobs through SU. See what events societies are doing and see if anything interests you and check out local and/or remote volunteering or job opportunities.
Find yourself an alumni mentor or network with alumni through our wonderful alumni networking tool –  Bath Connection and learn more about tips and tricks about online networking through Bath Connection and LinkedIn here. Not sure how to start the conversation? Read some tips here.
Are you unsure of what you want to do next and therefore don't know what to apply for? Check out our step-by-step guide here.  Take advantage of the range of resources such as find your future online course, online guidance tools, job profiles and much much more.
Explore, be curious and be inspired.
We hope your final year will be a good one and remember, we will support you as much as we can taking that next step. So keep an eye out for blogs, emails and news from us throughout the year to support you in your final year.