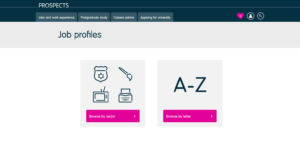 In my various roles in the Careers Service - and particularly for CV and Application Advice appointments - Prospects job profiles are a key resource I keep coming back to.
What are they?
Prospects job profiles are summaries of over 400 different types of jobs and are free to access from the brilliant Prospects.ac.uk careers website. They cover the main responsibilities you might be expected to undertake, typical working hours and salary information. They also list key employers, and detail which qualifications, skills and experience you will need to successfully apply. They are thoroughly well researched and written by independent careers professionals working for AGCAS (Association of Graduate Careers Advisory Services).
So, what can you use them for?
Inspiration
When students tell us that they have no idea about what they want to do when they graduate (we hear this a lot!), one of the first things we recommend is to have a browse through Prospects job profiles. We know that making a decision about your next steps can be daunting, or even fully-fledged terrifying! But it doesn't have to be.
In a classic study looking at people with career indecisiveness, researchers divided participants into two groups. One studied a workbook that helped them address their negative thoughts, while the other researched a career they were interested in. The outcome was that both groups reduced negative thoughts and anxiety and both improved decisiveness. The second group didn't need to choose the career they were going to end up with, they just took one step in a decisive direction[1].
Remember that you're not making a decision about the rest of your life, just your next step. By browsing job profiles and selecting a couple to look into further, you might be truly inspired! And as a bonus, you will likely reduce your 'career anxiety', simply by making a start and reducing a few of your options.
Exploration
If you have some general ideas about what you want to do, but you're not sure how to get there, Prospects job profiles can help you there too. You can use the Browse by sector option to look at job profiles grouped by employment sectors, such as jobs in healthcare, or jobs related to the environment and agriculture. Or, if you browse by letter to find a job you're interested in, you'll find a list of alternative careers suggested at the very bottom of the profile.
In each profile, you will find a list of qualifications, skills and work experience you would be expected to have to be considered for a role. If you discover you need a bit more in the way of work experience, you'll find tips on different activities you could try, and sometimes, links to relevant work experience schemes/internships. Finally, if you discover that you are a perfect match for the role, you will find information on common employers, specialist recruitment agencies and recommended job search sites.
Tailoring your CV
Once you've figured out the kind of job you want, you'll want to update your CV so that it's tailored for the right kind of role. Prospects job profiles have a super-handy 'Skills' section which lists 10 or more skills you'll need for the role. You can use these as a sort of checklist to make sure that you are highlighting the right kind of skills from your work, voluntary and university experiences.
For example, for a Training and Development Officer, Prospects tells me that you'll need to have interpersonal skills that enable you to work with people at all levels of an organisation, motivate and change people's attitudes when necessary. Therefore, you could use some university groupwork projects to explain how you used your motivational skills to encourage your teammates, or perhaps mention that you were persuasive enough to change the direction of the team.
And finally….
If you're still not convinced, take the Prospects Career Planner quiz to find your match! Simply answer some multiple choice questions and Prospects will recommend some job profiles which might suit you.
More resources from the Careers Service
For more super helpful and free resources, check out the Resources section in MyFuture, peruse our Get Started Guides (on subjects including career options, CVs, Disability and your career and more), or drop us an email at careers@bath.ac.uk.
[1] A Korb, The upward Spiral: Using neuroscience to reverse the course of depression one small change at a time, p105