Our community strongly support climate and sustainability education. Many students are already experiencing this type of education but with huge variability.
Last years' Climate Action Survey revealed that both students and staff supported embedding of climate action into education at Bath. This year's survey shows that 68% of students experience climate or sustainability education through their course, though with great variation as to how embedded this is. However, just 51% of teaching staff are delivering climate or sustainability education in their practice, again with great variation as to how embedded this is.
While this is encouraging, our Climate Action Framework commits us to provide opportunities for every student to study and work on climate related issues. In addition, there is still a low level of confidence for many staff about how to embed climate action in their teaching.
We have therefore refreshed our vision and roadmap with an emphasis on the 3 E's:
Engage: the first 'touch point' of students and staff with climate action, which includes information (this blog, for example), staff training, resources and sharing of best practice. We have continued to embed Climate Literacy into student induction, with an opportunity to gain Carbon Literacy certification.
Embed: sustainability is a key theme of our Education Strategic Implementation Plan (ESIP). We have therefore piloted workshops which enable staff to embed sustainability in their courses, through (for example) relevant case studies and projects. Climate Literacy training is also offered to staff through the Centre of Learning and Teaching.
Empower: we are developing new climate aligned courses such as the MSc in Zero Carbon Futures. We continue to support related initiatives such as Vertically Integrated Projects, which are aligned with the Sustainable Development Goals. We are currently investigating sustainability skills training (for example, for placements and careers).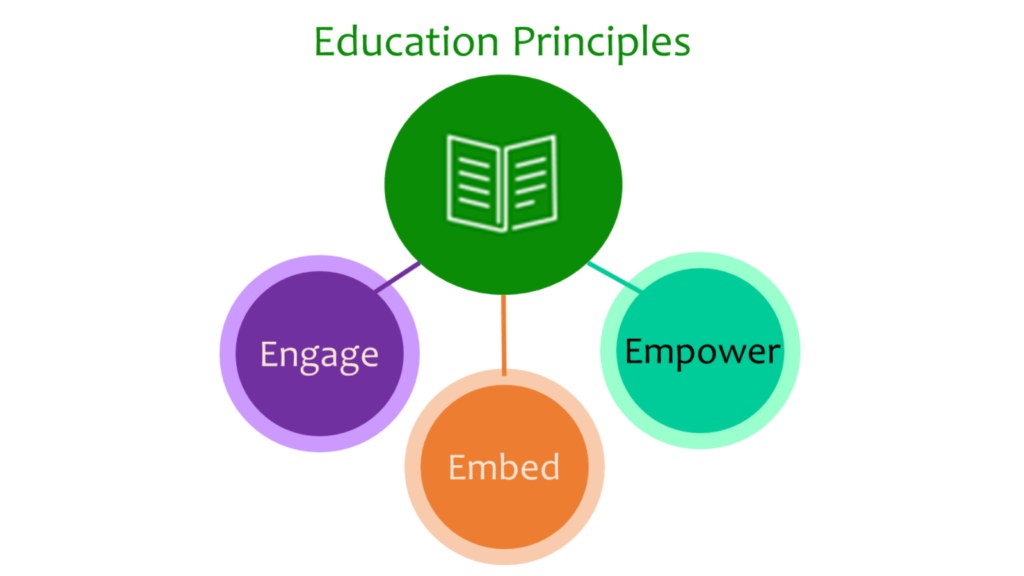 An important theme in our work is partnership with both students and staff. We have worked with a small group of student changemakers, the Climate Leaders, on a number of initiatives including the promotion of sustainability careers, sustainability skills training, internationalisation and the recognition of climate action for students (a principle that was supported by students and staff in the survey). For staff, we are piloting a scheme called Climate Advocates, where staff members advance the Climate Action agenda as a formal part of their role.
Another theme is the handprint of education, that is, the impact of our students and alumni on the world. We want our students to be empowered and equipped with the skills and knowledge they need to be a force for good in whatever career or industry they choose. This is almost impossible to quantify precisely, but it does help guide our interventions. For example, while we are working to reduce the carbon footprint of our teaching (through TDF funded initiatives for example), we are also promoting climate related final year projects, sustainability career paths, impactful student activities such as Vertically Integrated Projects and One Young World.
There is much more to do, so it is encouraging that the Climate Action Survey demonstrates such clear student and staff support for our work.
Contact Steve Cayzer, Climate Action Teaching and Learning Liaison, to discuss ways to embed climate action into your teaching
This blog is part of a series of articles highlighting the results from this year's survey. You might also be interested in:
Travel smart to save the planet: Are your habits impacting the environment?
---
This survey was conducted in November 2022.

This survey was completed by 4764 respondents, representing 41% of University staff and 14% of students.

This survey was commissioned by the Climate Action team with methodology devised and results analysed by Professor Lorraine Whitmarsh, Dr Paul Haggar and Kaloyan Mitev.

Members of the University of Bath community can access the collated survey data.

If you have any questions about this survey, please contact climateaction@bath.ac.uk.