The Centre for Learning and Teaching (with The SU, Bath) are delighted to announce that the Change Champions scheme has re-launched this year. This scheme is one of many initiatives at Bath designed to enable students to become more engaged in learning and teaching enhancement. To "engage our students as active partners in their education" is one of the major objectives of the University's Education Strategy, and that is precisely what this scheme seeks to achieve.
Change Champions are students who independently design and lead their own projects (either individually or as a group) to enhance the learning and teaching experience at  Bath. Staff can also be involved in working in partnership with their students on Change Champion projects (but they must be student-led) and may even wish to suggest areas that would benefit from a project using details from NSS and PTES action plans or results from online unit evaluations.
Change Champions gain invaluable experiences for their personal and career development, including leadership, project management, volunteering, research skills and networking opportunities. This scheme gives students concrete examples that they can use in job applications and interviews, as well as the opportunity to positively contribute to the student experience. Read on to find out about one of our most successful projects and the benefits for the students involved.
---
Spotlight on George Griffiths, Change Champion and final-year Biology student
As an enthusiastic networker interested in how emerging technologies were disrupting different industries, George [pictured above] volunteered at 'Blockchain Summit London' in November 2017. In exchange for helping out with registration and passing the microphone around during discussions, George was rewarded with an all-access pass to network with top start-ups and well-established companies and even received VIP access to exclusive presentations and demonstrations of exciting business applications of emerging technologies.
Upon returning to Bath, George began work on his volunteering scheme to provide more students with the same opportunity: industry exposure at cutting edge conferences. To date, George's volunteering project has given 35 University of Bath students  the opportunity to network at events such as London Tech Day and Digital Construction Week with the world's most innovative businesses in areas such as:
Machine Learning
Smart Cities
Virtual and Augmented Reality,
Big Data Analytics,
Blockchain
FinTech
Cyber Security
Connected Devices
Cryptocurrencies
Digital Marketing
"Another incredible benefit of volunteering at a world leading technology conference, is that it provides students with the opportunity to develop their networking and interpersonal skills – which are highly valuable to any employer," says George.
Indeed, according to a feedback survey conducted with those 35 students after volunteering, 91.3%  said the experience had improved their networking ability. By volunteering to gain access to exclusive expos, students from Bath are gathering business cards and demonstrating their ability to create meaningful relationships with other professionals in industry. Overall, more than 83% rated their volunteering experience above 9/10. George's fellow volunteer, Thomas Khong, believed that volunteering had taught him to work efficiently as a team. Likewise, Kristina Railaitė, had been given the chance to network with high-growth start-ups.
Emerging technologies such as machine learning and big data analytics, in particular, are encouraging more and more professionals to develop their technical understanding and expertise in order to thrive in a data driven economy. Through George's volunteering project, University of Bath students are getting a head start, by networking face to face with industry experts and improving their knowledge of how new technologies will shape the industries of the future.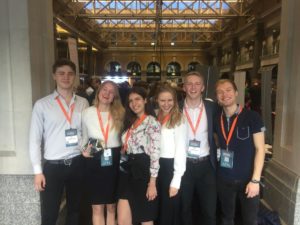 [Left: Natural Sciences, Marketing and Mechanical Engineering students from the University of Bath attend London Tech Day]
With a further 35 Bath students signed up to volunteer at numerous expos across London throughout Semester One, George is balancing his genetics dissertation with working on creating a website to fully automate the conference volunteering sign-up process. 
---
If you think that your programme or department could benefit from a student-led learning and teaching enhancement project, please encourage your students, Academic Reps and PAL Leaders to visit the Change Champions website or contact the Student Engagement Team at changechampions@bath.ac.uk.