CREA today started off our 2022 Seminar Series with a fantastic talk by Dr Charleen Chiong and hosted by our own Dr Arif Naveed. Over 30 participants gathered online from around the world to hear Dr Chiong talk about the study she's just published in her new book "Families, the State and Educational Inequality in the Singapore City-State".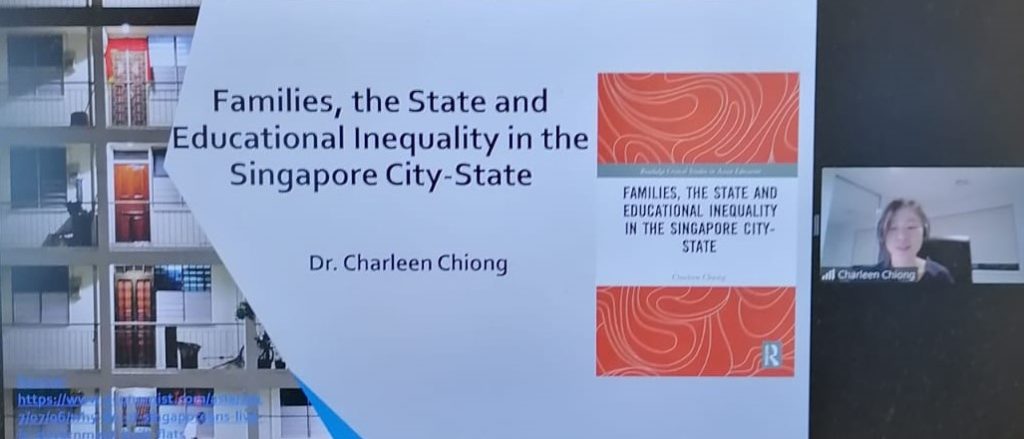 Dr Chiong spent a dynamic thirty minutes exploring how socio-economically disadvantaged families negotiate relations of dependency and responsibility with the state and schools, in seeking future success. She also discussed her analysis of in-depth interviews, demonstrating how families' perspectives can provide crucial insight in understanding how policy is 'lived' and experienced, and its effects on families' lives. Of particular interest were the implications Chiong discussed for equity and the state-citizen compact – implications that may be relevant to contexts beyond Singapore.
We're excited to hear more about Dr Chiong's work in the future.
-------------------------------------
While you're here, we warmly welcome you to join us for the rest of our seminars, which are listed below. Details of how to join can be found on our website closer to the date.
23 Feb Dr Michael Mu Developing the Multi-Rs Resilience Model through a Sociological Perspective (Link forthcoming)
30 March Prof Yongyan Zheng Social mobility, multilingualism and language education (Link forthcoming)
27 April Dr Viniti Vaish Linguistic Distance and Translanguaging: Teaching Malay-English bilingual learners (Link forthcoming)
25 May Prof Andy Gao Experiencing Academic Publishing  (Link forthcoming)