George Gregory went to the Faraday Discussion - Carbon Dioxide Utilisation in Sheffield to present a poster and won the poster prize. Here is George's account on her trip:
A conference with a difference! Held over three days at the University of Sheffield and ran by the RSC, academics who had submitted a manuscript for Faraday Discussion under the umbrella theme of CO2 utilisation were invited to briefly present their work (strictly five minutes) before the floor was opened up for discussion. Lively discussion ensued, everyone attending having received pre-printed copies of all the papers being showcased prior to the event. The whole experience was a real insight into the peer review process with all questions and subsequent answers being published alongside the article.
Evident was the broad range of different research topics that tap into the area of carbon dioxide utilisation. New catalysts and mechanistic insights into catalytic activity for the synthesis of cyclic carbonates and polycarbonates presented by Richard Heyn from SINTEF Materials and Chemistry and Charlotte Williams form Imperial College London were particularly relevant to my research.  Reactive capture of CO2 with Grignard reagents raised in George Dowson's submission sparked a lot of discussion regarding the underlying sustainability issues to be addressed in CO2 chemistry. This was nicely complemented by Christopher Jones from the Psychology Department of the University of Sheffield reporting his findings on the public perceptions of CO2 utilisation technology. Compared to the work presented on the hydrothermal and electrocatalytic conversion of CO2, plasma-based technologies were a completely new realm for me.
All this was sandwiched between an inspiring opening by Martyn Poliakoff who simplified the aims of CO2 chemistry and complimentary closing by Michael North from the University of York. The answer to rising atmospheric CO2 levels was likened to piglets feeding suggesting that a multitude of different technologies are required.  Like any conference, discussion was broken up by poster sessions and a conference dinner, offering a great chance to network and I certainly received a lot of interest and helpful suggestions regarding my work. Faraday Discussion tradition also dictates that the loving cup ceremony be performed requiring a few words of Latin to be spoken, bowing and drinking port from a silver chalice. I was also honoured to win the £200 poster prize.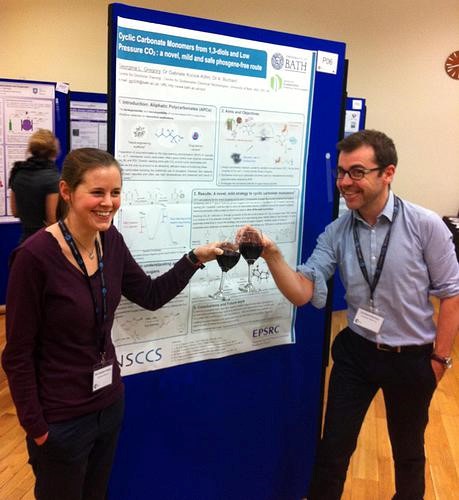 In conclusion, Faraday Discussions by their very nature offer a great opportunity to learn about, challenge and defend research - definitely worth attending.
George is working towards her PhD on "Cyclic carbonates from sugars and CO2: synthesis, polymerisation and biomedical applications" with Dr Antoine Buchard, Professor Matthew Davidson and Dr Ram Sharma.