At the end of May, Rebecca Furlong, CSCT PhD student, flew to Atlanta, Georgia, to attend Circularity 22, a 3-day conference organised by GreenBiz. The focus of the Circularity 22 was accelerating the circular economy - an interesting prospect for Rebecca given this is a central element of her PhD work.
It was very exciting to finally get the chance to head out to Atlanta on a circular economy themed trip, as back in May 2020 the emergence of Covid-19 scuppered my plans to attend an Ellen MacArthur Foundation workshop in Atlanta (it all happened online instead  – read about it here).
I joined a huge range of talks over the three days, covering topics I am familiar with, such as chemical recycling, to brand new concepts like the challenges and opportunities in e-waste mining.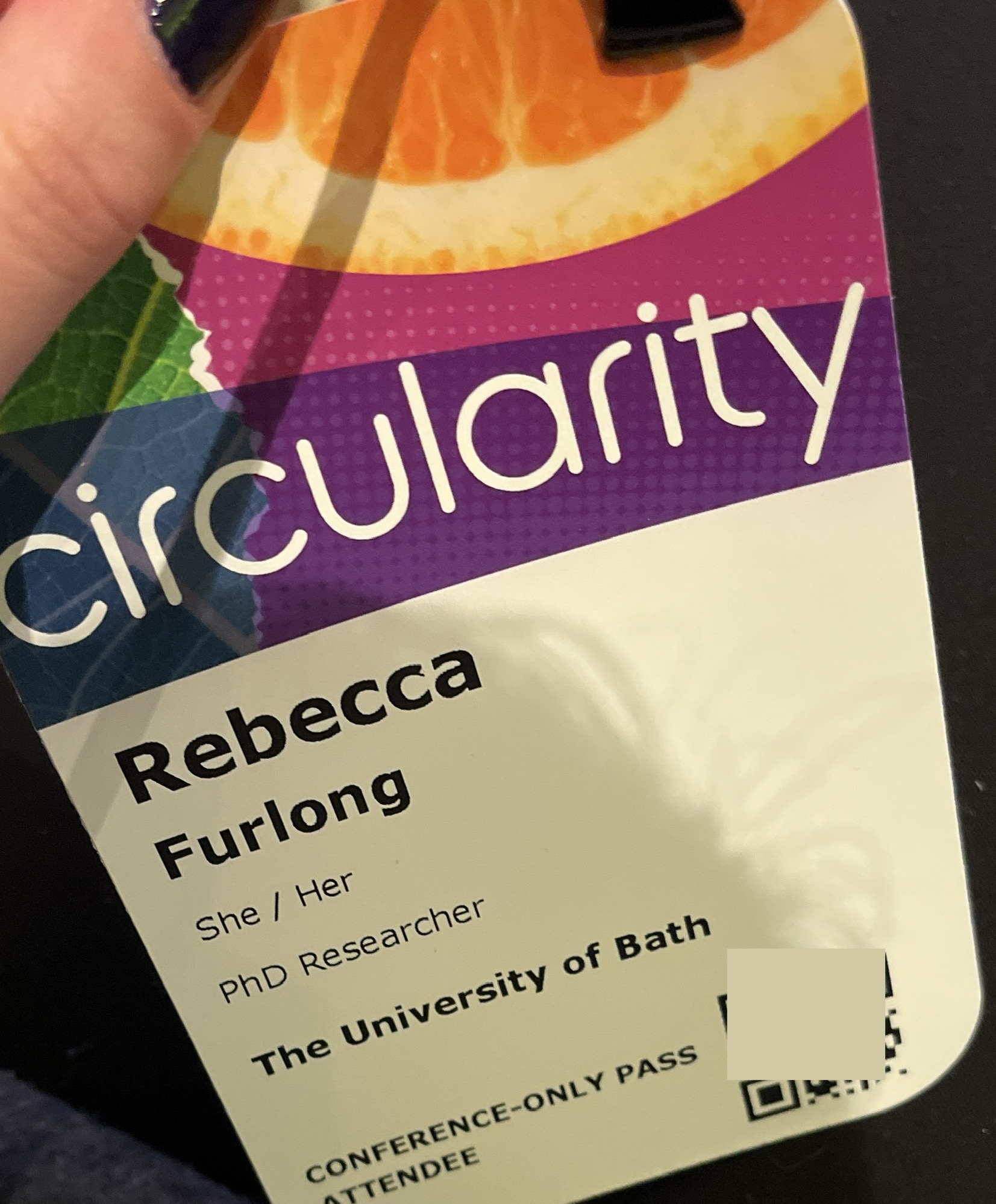 Reflecting on the sessions and the conversations I had over the course of the conference, there are 5 key themes which stand out to me:
Diversity
Circularity 22 was an amazingly diverse conference. Each panel talk or breakout discussion featured a range of speakers from different backgrounds, industries, and geographies. This made for very interesting discussions with varying perspectives and opinions. The diversity was also reflected in the attendees of the conference, which also led to interesting and wide-ranging discussions during the networking opportunities. Diversity is key in generating the ground-breaking ideas and solutions needed for a sustainable circular economy transition, so to have such a diverse range of people at this conference was wonderful.
Collaboration
Collaboration was mentioned multiple times over the course of the conference, in several different guises. Collaboration through supply chains was featured in multiple talks. For example, in 'Meet your MRF' the importance of understanding what a Materials Recovery Facility (MRF) is and how it operates was highlighted. Emphasis was placed on the importance of understanding the impact different choices for materials and products could have across supply chains. And it was highlighted that changes and solutions must be fit for the entire supply chain, not just one specific sector or industry.
Collaboration between companies that are traditionally considered competitors was the focus of a panel talk featuring Coca-Cola & Starbucks. In this talk, the idea of exchanging ideas and best practices between traditionally competing companies was discussed, exploring how this could benefit a circular economy transition.
The final collaboration format that stood out to me was the collaboration between consumers and industries. This was a theme that emerged across talks with discussions touching on how to make a sustainable and circular transition both effective and accessible to consumers.
Transparency
Transparency is a key aspect of the transition to a sustainable circular economy. A thought-provoking talk which focused on transparency was called 'Tried, Failed, Learned', where representatives from Levis, L'Oreal and HumanScale discussed sustainability and circular economy 'failures' - initiatives that simply didn't work, why they didn't work and what was learnt. It was refreshing to hear a discussion on failure, as sharing what didn't work is just as important for progress as sharing what did work.
The importance of transparency was also emphasised in discussions around data sharing, environmental reporting, and supply chain traceability. Several talks discussed the importance of making high-quality, accurate data readily available.
I'm currently researching for a PhD in Life Cycle Assessment, so I'm very familiar with the importance of high-quality data. Accessing high-quality, reliable data, which can be shared without non-disclosure agreements or intellectual property issues has been a source of frustration in my PhD, so hearing discussions that could change attitudes towards data sharing was encouraging.
Social & Economic Factors
It is important to remember sustainable development is not just about environmental factors. The UN Sustainable Development Goals (SDGs) focus on the 3 pillars of sustainability – environmental, social, and economic. It's fair to say that environmental sustainability generally gets a lot more focus than social or economic sustainability, despite them being just as influential and important.
However, this was not the case at Circularity 22, where the consideration of social and economic factors was mentioned just as often as environmental factors were. The economic challenge of the circular economy was raised. Discussions highlighted the challenge of non-circular products being cheaper than their circular equivalents.
The social impacts of some circular economy solutions were also highlighted. For example, what the community impact could be in communities where chemical recycling plants are built or the challenges of collection and trackability of recycled materials.
Systems Thinking
The final theme I want to highlight is systems thinking, two words that I heard a lot throughout the conference. The concept of systems thinking for a sustainable and circular economy underpins my PhD research. It is vital that the connections between, and consequences of, our sustainable and circular economy solutions are understood to avoid burden shifting or unintended consequences. Without systems thinking, a sustainable, circular economy transition will be very challenging. Systems thinking underpins all the other themes I've mentioned in this post, and it was great to hear these words mentioned in so many different conversations across the three days.
Overall, Circularity 22 was an amazing experience. Every day was filled with inspiration, hope and enthusiasm and I left with energy, ideas and optimism.
I am very grateful to the CSCT and the Santander Mobility Award for the funding support and I look forward to attending Circularity 23!