Our anonymous Physicist shares snippets of their life in the Chemistry labs.
---
What do you think of when you hear the word Physicist? What do you think of when you hear the word Chemist? Do you think of two very different people? Do you think of men (…hang on I won't go there).
In many areas of research there is such an overlap between different areas of science that, often, the boundary between different disciplines becomes blurred. In fact, huge leaps in scientific understanding can be made by taking advantage of cross disciplinary work, but what does this mean for the lowly PhD student? Apart from getting that all important step count up on the iPhone by running between departments, it also means venturing where few physicists have dared venture before, the chemistry labs. On first inspection I found myself surprised by the number of things in one room that could kill me. "Don't breath that in it'll suffocate you, don't spill that it'll burn off your hand, don't put that in that it'll explode," were just some of the first snippets of advice on entering the lab. So, with my nerves calmed, I promptly started work.
Through my time working I became acutely aware of the 'learning curve' I was on (shown Figure 1). The period of time where you learn so much about your new lab that your confidence level takes a little while to catch up.  The same period of time where I would probably be surprised that I'd actually managed to make sodium chloride by reacting together sodium and chloride. The same period where, when I was told I would be working with seven molar acid I thought "seven, that's a small number".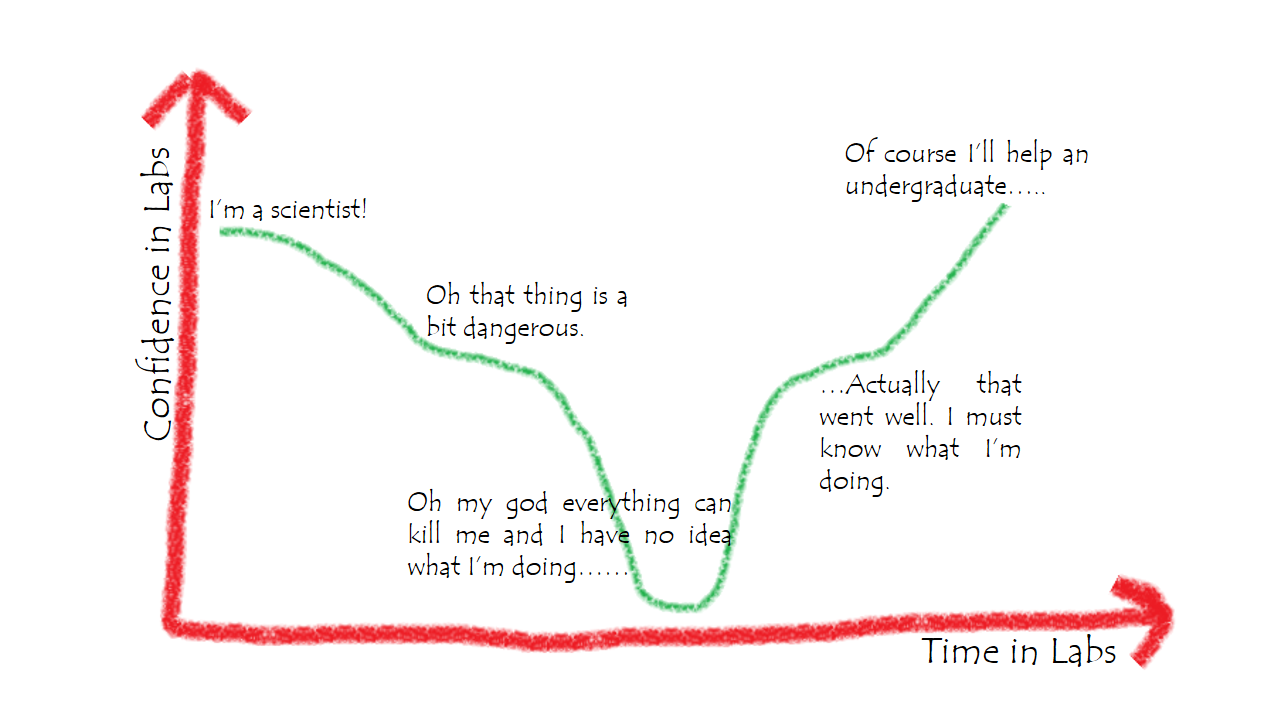 Of course there's the language, physics speaks the language of maths.  Does a page full of equations scare you? Well a page full of words scares a physicist. All of a sudden I was thrown into a world of mechanisms, and schlenks, and rotavaps, not to even start on all the solvent acronyms; people might as well have been speaking Russian (why are there arrows everywhere?!). I never thought I'd find myself longing to solve a good time dependent Schrodinger equation, but sometimes a full page of complex mathematics does wonders for the soul.
Despite the lab's best efforts, I find myself still alive to tell this tale, not only that, but advocating the importance of more scientists leaving the comfort of their familiar lab for an unfamiliar one, learning new skills and becoming rounded researchers able to tackle almost any problem. If you can't tackle it, working across departments will almost certainly mean you know someone that can.
For now I have to remember not to put water into acid, or was it acid into water……