We speak to Isabella Poli, an MSCA-FIRE fellow at the CSCT who was selected as a finalist in the ITWIIN 2017 competition. She received an honourable mention for the sustainability aspect of her innovation.
---
What is ITWIIN? How did you come across it?
Everything started when I received an email which read: "Are you a woman? Are you Italian? If so, keep reading!". The ITWIIN prize is awarded by the Italian Association of Women Inventors and Innovators to Italian entrepreneurs, professionals and researchers. The prize promotes inventions and innovations in the working environment and in education. It creates networking opportunities for creative women, as well providing guidance and training. I came across this prize from the Marie Curie Alumni Association and I decided to accept the challenge and I sent my application! Incredibly, I was selected as a finalist and to compete for the prize I attended the ITWIIN two-day annual conference in Turin to exhibit my invention and present it in front of a jury.
Can you tell us more about your project?
My innovation consisted of an 8-week sustainability course designed for primary school students. The idea was inspired by the Public Engagement training received during my MRes in Bath offered by the CSCT. Five different topics are addressed during the 8-week course: Waste, Water, Energy, Renewable Sources and Sustainable food production and consumption. The experiment is the central part of the lecture, where kids become little scientists and learn how to observe a phenomenon, how to draw conclusions and project them into their everyday life. At the end of the course, kids take part in a local science festival as proper scientists. Three of the lectures focus on the preparation of the stall that will participate in the public event. In this way, kids become science and knowledge bearers.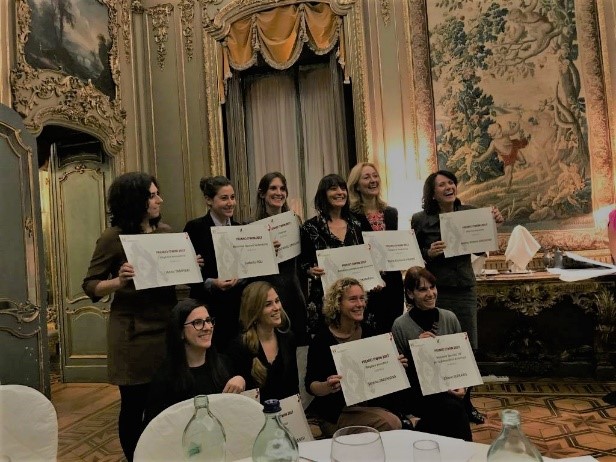 ITWIIN finalists at the dinner and award ceremony at the Industrial Union in Turin. Best inventor prize, Best innovator prize, Honourable mentions and finalist certifications.
What is the takeaway message?
The environmental awareness has been raising recently through actions such as the recycling, local food companies and energy saving guides. However, these actions often speak to adults and less to kids and teenagers. Moreover Italian primary schools usually see scientific subjects left behind. As a result kids tend to grow up being biased against science and thinking, incorrectly, that it is difficult and boring!
And what about your competitors?
There were 12 finalists (obviously all Italians), I was the youngest participant and the competitors' expertise was all very broad: there were chemists, biologists, physicists and medical doctors. Some of them were at an advance stage of their career with already three startups and several patents behind them! I found this extremely scary initially! However, the jury was really impressed with my enthusiasm and I received an honourable mention from them for the sustainability aspect of my innovation.
The prize for best inventors were given to two exceptional women: Dr Anna Tampieri who presented a multi-step process to convert wood hierarchical structures into scaffolds for bone tissue engineering and Dr Serena Zacchigna who developed a therapeutic approach to induce cardiac regeneration.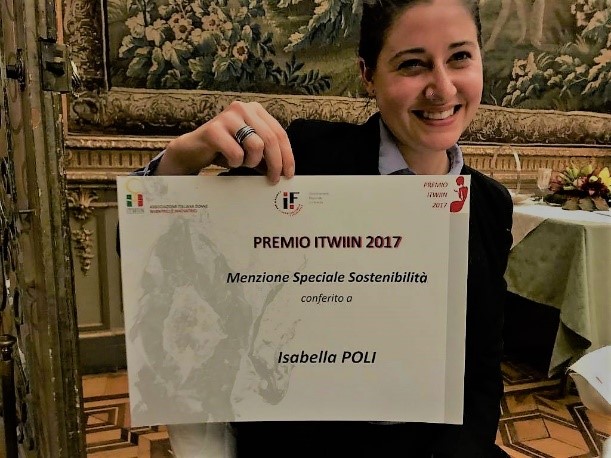 Isabella proudly showing the Honourable mention certification received
Is it important to praise women in science? Do you think this experience will broaden your research horizon?
Today's scientific environment is very competitive and particularly hostile towards women. In Italy only 22% of the highest academic position are occupied by women. This experience is a great chance for women to take the advantage of current and emerging opportunities. Interacting with women at an advanced stage of their career has been an extraordinary source of inspiration for me and my future as a scientist! Being recognised for my achievements from the jury and the other competitors has been a real encouragement to keep me going!!
---
Isabella is currently working on her PhD project: "Exploiting perovskites for the generation of solar fuels" with Dr Petra Cameron and Dr Salvador Eslava; Industrial Partner: SPECIFIC.