The Royal Society, or rather, the President, Council and Fellows of the Royal Society of London for Improving Natural Knowledge, to use to the full name, was established in 1660. In the early days of the Royal Society, membership was primarily composed of scientifically minded gentlemen (physicians and natural philosophers) with an aristocratic background. Whereas today, the Royal Society is a large establishment with various roles in the world of modern science, such as promoting scientific research and excellence, dissemination of scientific knowledge through publishing and public engagement activities, promoting inclusivity and diversity in the world of science as well as examining existing policies and suggesting revisions as new scientific knowledge and technologies emerge. One interesting example of this is the development of artificial intelligence technology… but I will leave that here as I could write a whole blog post on this after an interesting discussion with a member of staff at the Royal Society!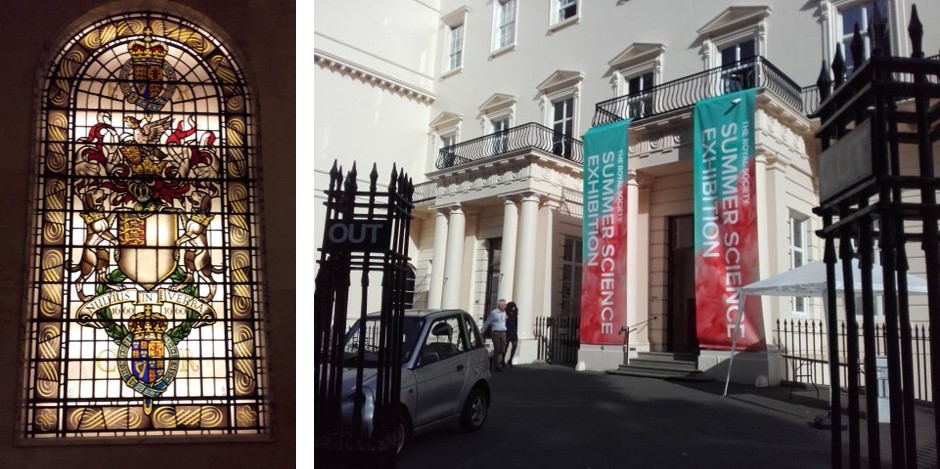 The motto of the Royal Society, Nullius in verba (Latin for "on the word of no one" or "take nobody's word for it"), is shown in the stained-glass window in the building and was chosen soon after its founding. It is a statement of the drive of Fellows of the Royal Society to seek scientific truth. Many aspects of the original foundations and motivations of the Royal Society have remained the same over time, with commitment to scientific excellence and developing scientific understanding. However, just wandering around the building and looking at the dates on paintings is like walking along the timeline of the changing face of science! The Royal Society changed it headquarters in 1967 and is now located at 6-9 Carlton House Terrace, which is a Grade 1 listed building in central London. During the Summer Science Exhibition, the doors of this stunning building open to the public, literally and metaphorically opening the doors of Science to the public!
This year I applied to be a volunteer at the event so that I could experience it all first-hand. Our doctoral training centre also brings an exhibit to the weekend of the Royal Society Summer Science Exhibition every year, so that's another way to get involved too! Before the event, all volunteers were given an induction day. This was a very well organised day where we were given an overview of policies, guidelines and roles for the event. We were also given a tour and talk on the brief history of the Royal Society Summer Exhibition. Apparently, it originally was more of a 'show of scientific oddities', held in the living room of one of the members… whereas today it's a large event, opening the whole building to the public with events and exhibits on various areas of cutting edge science. We were also treated to the archives at the Royal Society including Isaac Newton's lab book and Robert Boyles' to-do list! He had some pretty ambitious aims including 'The art of flying' and 'Potent drugs to alter or exact the imagination'.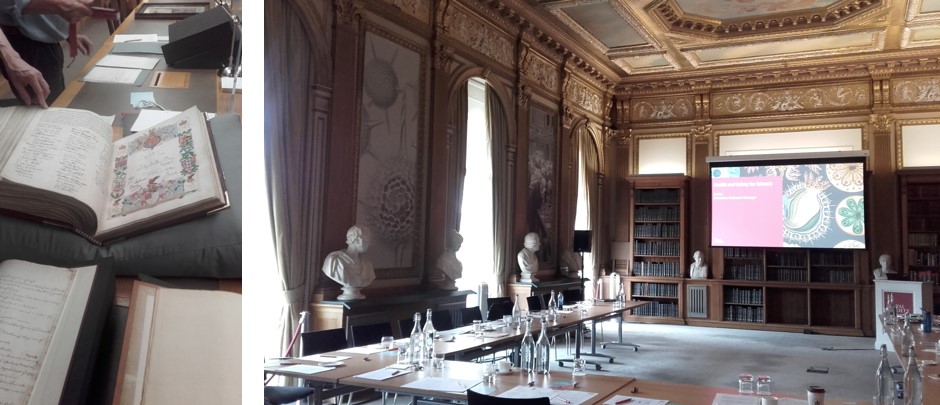 The Summer Science Exhibition consisted of over 20 different exhibits from various universities and science institutions with research related to areas spanning from quantum computers, dark matter and gravitational waves, all the way to the science behind our voices and how crows use tools and what we can learn about human evolution and tool use from this! Find more details on the various exhibits this year.
In addition, there were many events going on during the week such as special talks and an adults-only event the Monday evening before the exhibition, which involved 'poisonous cocktails' and eating insects. Find more details on the various events this year.
It was a pretty busy and exciting atmosphere during the exhibit with many schools visiting, members of the public and the occasional Duke or two. Whilst on 'patrolling duty' on the first floor, I took a couple of quick photos of the exhibits just before opening time, which are shown below. These exhibits included using virtual reality to help us understand mental health problems (top left), how to make a supernova (complete with an air canon) and how to store solar energy using water splitting (bottom left), climate modelling and Microsoft's virtual reality stand (right).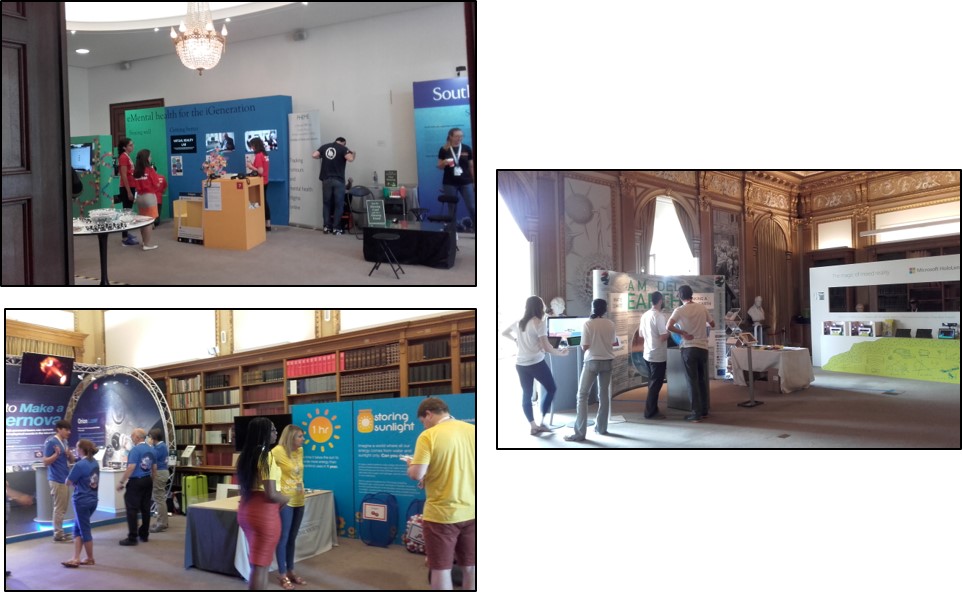 For me, I would say a couple of highlights from the exhibits were the quantum computer research from the University of Bristol (shown below on the left), since this could really revolutionise the future of my area of research (simulating solar cell materials on supercomputers) by greatly increasing the power of computers. Another highlight was University College London's exhibit on 'smart surfaces', which can be made to be super hydrophobic (repel water) or hydrophilic (attract water), and they demonstrated this brilliantly with a silicon disk, half coated in one surface and half coated in the other (shown below, bottom right). They highlighted applications for this technology for antimicrobial and self-cleaning surfaces to prevent the spread of infections in hospitals, but also from when I was speaking to an exhibitor at this stand, it sounds like another potential use could be to keep the surface of solar panels clean, to help sustain high performance through self-cleaning to prevent dirt on the surface from blocking out sunlight from the solar cells.

Other highlights for me during this event were various interactions with visiting members of the public. It was lovely to see and speak to so many people enjoying the event from school children, to families to scientists and Fellows of the Royal Society. I found it particularly interesting to talk to a couple from Cairo who were interested in renewable energy and to learn that solar power doesn't seem to be utilised there at all – despite all the sunshine there! I also very much enjoyed speaking to exhibitors with a solar fuels project that was a collaboration between a university and a secondary school (supported by the Royal Society), which is involving school children in real, contemporary research. I thought this was great since I remember back in secondary school (somehow!) having the impression that 'we knew it all' in science, everything we needed to know was already in textbooks… how wrong I was! In contrast, I'm now of the opinion that the more I learn, the more I realise there's so much we still don't know! So, I love that school children are being introduced to real research… especially for solar power!
The Royal Society in general seems to be the embodiment of how the face of science has evolved and is currently evolving. Being involved in this event, the purpose of which is to showcase and share some of the latest developments in science with a broad audience, left me feeling very fortunate to be part of the 'world of science' and how important it is to share the enjoyment of it. I really enjoyed being involved and would highly recommend signing up as a volunteer at this event, going along with our doctoral training centre to help out at the exhibit… or both!
---
Suzy is working towards her PhD on 'Overcoming the efficiency bottleneck of metal sulfide solar cells' with Professor Aron Walsh, Professor Chris Bowen and Professor Mark Weller.