Tenacity is an unquestionable hallmark of the academic world. For some researchers, this determination can be easily contained within the professional sphere. For others, it's a way of living.
Lecturer in Chemical Engineering, world-record holder, Ironman finisher Dr Bernardo Castro Dominguez also speaks several languages and has a music band. Although we still couldn't find out the secret to such high-energy levels, he did tell us more about his work and interests.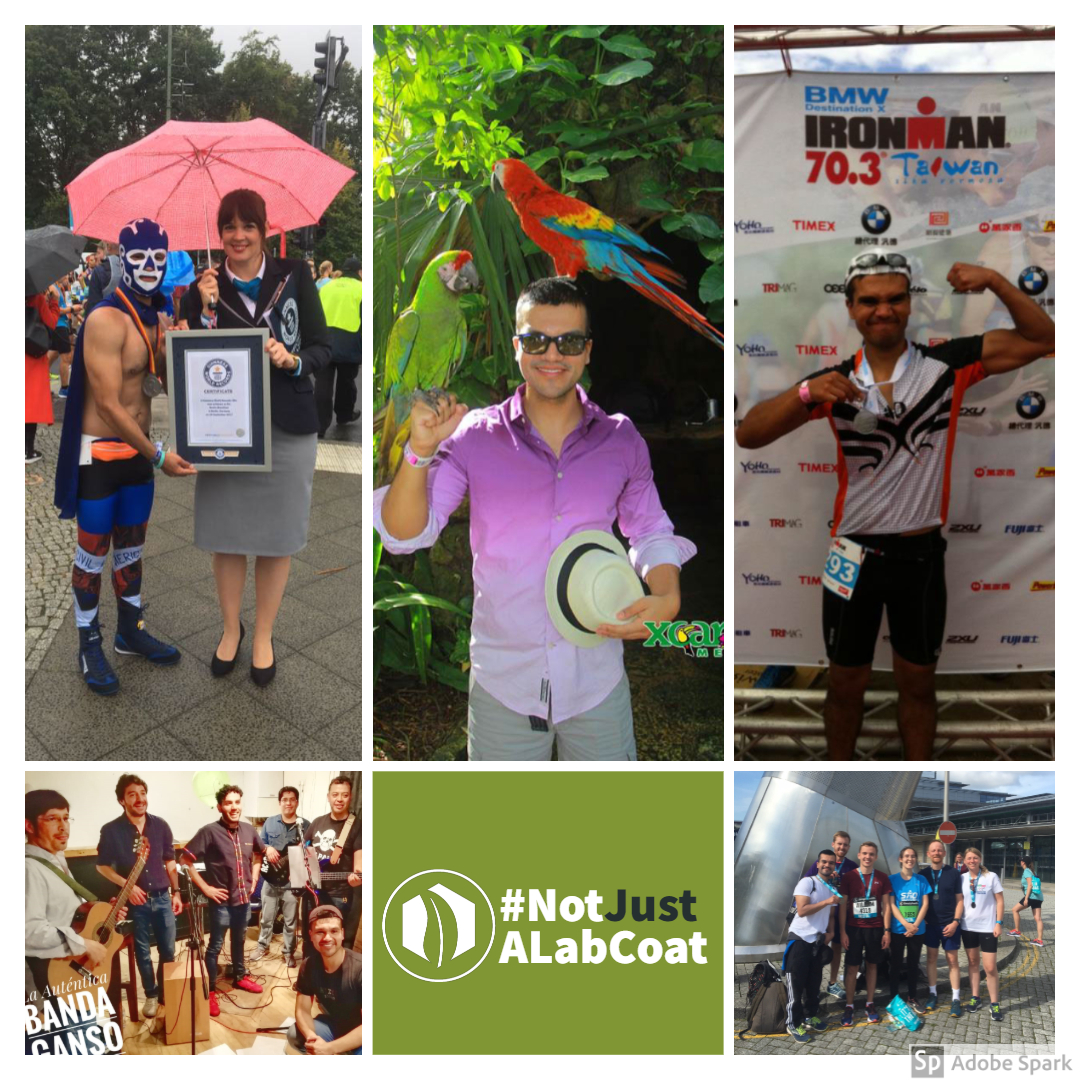 Can you tell us more about your involvement with the CSCT?
Initially, I became involved with the CSCT by collaborating with some of its associated members (Professors Chick Wilson, Janet Scott, Davide Mattia). My research has strong sustainability components and, therefore, my association with a centre that parallels my vision and objectives was quite natural.
Can you tell us more about your field of work?
My research efforts are directed towards developing new sustainable processes to improve how chemicals like pharmaceuticals, biofuels and advanced materials are manufactured.
I focus on designing strategies for process intensification, which means making processes more energy-efficient, safe and clean; and for material revalorisation, which means finding uses for materials that would otherwise be discarded as waste.
The following points are examples of projects where I am currently involved.
Membranes for process intensification: By using membranes to remove specific products during reactions; for example, in reforming processes for hydrogen production, we can reduce the energy requirements of the process and still improve product yield. I work on creating new membranes and using them in various chemical processes (e.g. dehydrogenation and hydrogenation of chemicals).
Mechanochemical processes: Using mechanical energy to induce chemical reactions, we can develop synthetic methods to avoid using solvents in certain chemical manufacturing processes, since solvents represent a major source of pollution, waste, energy consumption and costs. I use in-line analytical tools to identify how mechanochemistry can help finding clean, solvent-free alternatives to produce pharmaceuticals, and also to revalorise biological materials like food waste.
Process for material revalorisation: I am looking at utilising waste to develop materials and products. For instance, I am working on utilising spent agave leaves (tequila by-product) to fabricate membranes for gas separation.
What's a 'normal day at the office' for you?
Every day is different, but in a 'normal day', I try to allocate time to the different components of my job. I am a morning person, so I prefer to do what I consider the most brain demanding activities in the morning. Usually, the first thing I do — while having a cup of coffee — is focussing on writing new research ideas, sketching a research grant proposal and/or writing an academic paper. This is my creative time of the day.
Afterwards, I like to switch my focus and spend some time answering emails and/or completing any administrative work that needs to be done. For this task, I try not to spend more than 30-60 min, as I could basically spend all day answering emails.
Usually before lunch, I like to prepare any teaching-related activities and materials. Since by then I am already tired and getting hungry from the morning work, I position myself better as a student trying to focus. So, usually, the resulting material tends to be more direct and easier to convey.
After lunch, I like having meetings or coffee with colleagues, as these activities tend to be more dynamic and keep me awake.  The afternoon is allocated for completing tasks with an approaching deadline. I have no fixed time to leave the office; I usually leave as soon as I feel that my productivity declines or whenever I feel like it.
What do you think are the biggest scientific breakthroughs in your lifetime?
Developments in technology are the biggest breakthroughs in my lifetime. Big data, Internet of Things (IoT) and AI are fantastic developments of engineering that are influencing many fields (natural and social sciences, engineering, etc.)
I am excited about the possibility of utilising these techniques to develop novel sustainable chemical technologies and for discovering new materials.
What has been the biggest challenge you have encountered in your academic career?
Being patient with research. We all want great data, papers, grants, etc., but it is important to take it easy and enjoy the process.
Your studies and career have taken you from Mexico to the US, Japan, Ireland, and the UK. What do you think the advantages and disadvantages are of going through so many different (higher) education systems?
Advantages: Your network becomes quite large and you become more aware of how research is done in different countries. Some countries work longer hours and tend to challenge students in different manners. I learned to take the elements that suit me best and use them in my own career.
Disadvantages: Being away from family.
What have you found most rewarding about the academic world?
The flexibility you are given to explore your thoughts and creativity in research. In contrast with industrial research and research in other contexts, I feel that academia gives me the intellectual freedom that I need to be happy. Maybe it is because I feel that I am not tied to anyone's agenda.
Also, sharing that 'Eureka' moment with students and colleagues — with colleagues when we come up with new research ideas, and with students when they understand whatever I am trying to convey.
What are the best memories of your PhD?
Seeing the person who would become my life partner for the first time. She visited my lab on Friday 11 March 2011. Exactly at 14:46, when we saw each other, the 2011 Tōhoku earthquake and tsunami occurred. At that moment I felt how horrible a 9.0 earthquake feels like, but at the same time I met Jieun J.
What tip would you give your PhD self if you could go back in time?
Be patient, enjoy your daily struggles and learn from them.
When did you start running, and how did this evolve into a passion for triathlons and marathons?
I started running in college, at the University of Utah. Salt Lake City is surrounded by gorgeous mountains with beautiful trails, so It was impossible to resist going for a run and explore the natural resources and landscapes.
I have done many races — I do not really know how many but I do know which one was the most challenging: Taiwan Ironman 70.3. Mainly because of the humidity, the heat and all the hills.
However, I find that the biggest reward in the world of running is the sense of connection and understanding you get from anyone that 'just' runs. It is quite interesting that such a simple activity can give a sense of belonging to people and break any prejudices. Sharing a struggle is a great way to connect with people.
What's the story behind your World Guinness record running the fastest marathon dressed as a Mexican wrestler?
I tend to take most of the activities I tackle too seriously. This has drawbacks as there is a fine line between enjoying what you do and starting to despise it. When training for the Berlin 2017 Marathon, I found myself being quite stressed because I wanted to break the three-hour mark.
During that time, Guinness World Records were promoting Eliud Kipchoge's world record (fastest marathon runner, at 2h 31m 39s), so they displayed a list of other records that could be broken in Berlin. I spotted that the fastest marathon ran as a Mexican wrestler was held by a Scotsman, and being lucha libre part of the Mexican folk culture, I decided to reclaim the title for Mexico and simultaneously release the pressure of completing the race in under three hours.
I finished it in 3h 24min 15sec… I just didn't take into account that running with boots was quite tricky and the Record was actually quite tough.
You speak fluent Spanish, English and Japanese. You can also hold a conversation in Italian, German and French, and are currently learning Korean and Mandarin. Is there a language you'd never tackle?
Learning a language has become a routine for me. Before going to bed, I like learning a new phrase, word or even reviewing what I learned previously. I am not really concerned about speaking fluently or holding a whole conversion. One phrase in someone else's native language is enough to break the ice.
I think the best phrases are always related to doing something with someone. My personal favourite: 'do you want a beer?'
In your opinion, what's the most interesting thing about experiencing so many different cultures?
The most fascinating thing that I have discovered is that the fundamental perception of the world is the same everywhere. Yes, culture predetermines certain ideas and believes, but the basic perception of the world remains the same.
Who are you inspired by?
My mother. In general, I admire people driven by selfless purposes. However, my mother takes this feature to levels that I just hope someday I can match. People claim that "day after day, ordinary people become heroes through extraordinary and selfless actions"… well, my mum is my hero.
If you won a million pounds, what would you do with them?
I would use the money to support local businesses that create local employment — indirectly driving a nicer city, a better economy, and of course some return on investment.
If you hadn't been a chemist, what would you be?
A neuroscientist. I have always been fascinated in understanding how the brain works and how we acquire knowledge and produce new ideas.
What makes you smile?
Dinosaurs.
Fun facts about you?
I am a member of a Latin Rock Band named Banda Ganso, and I am not the only Bath academic in the band. Dr Uriel Martinez (Lecturer in Robotics) and Dr Andres Sandoval (Lecturer in Education) are also part of it.