What to say about Glastonbury Festival that you have not already heard? Being one of the most important contemporary arts events in the UK, it gathers hundreds of thousands of people year after year. Since 1970, festival-goers come from all around the globe, equipped with their best mud-ready kit, streaming into the Somerset farm where the Festival is hosted.
Being the sustainability flag carriers that they are, some of our Cohort '17 students identified in Glastonbury a wonderful opportunity to tell the crowds about the CSCT's work in plastics.  So, they packed their wellies, tents and some bioglitter (all Glasto essentials), and off they went. 
Sustainability with a very special guest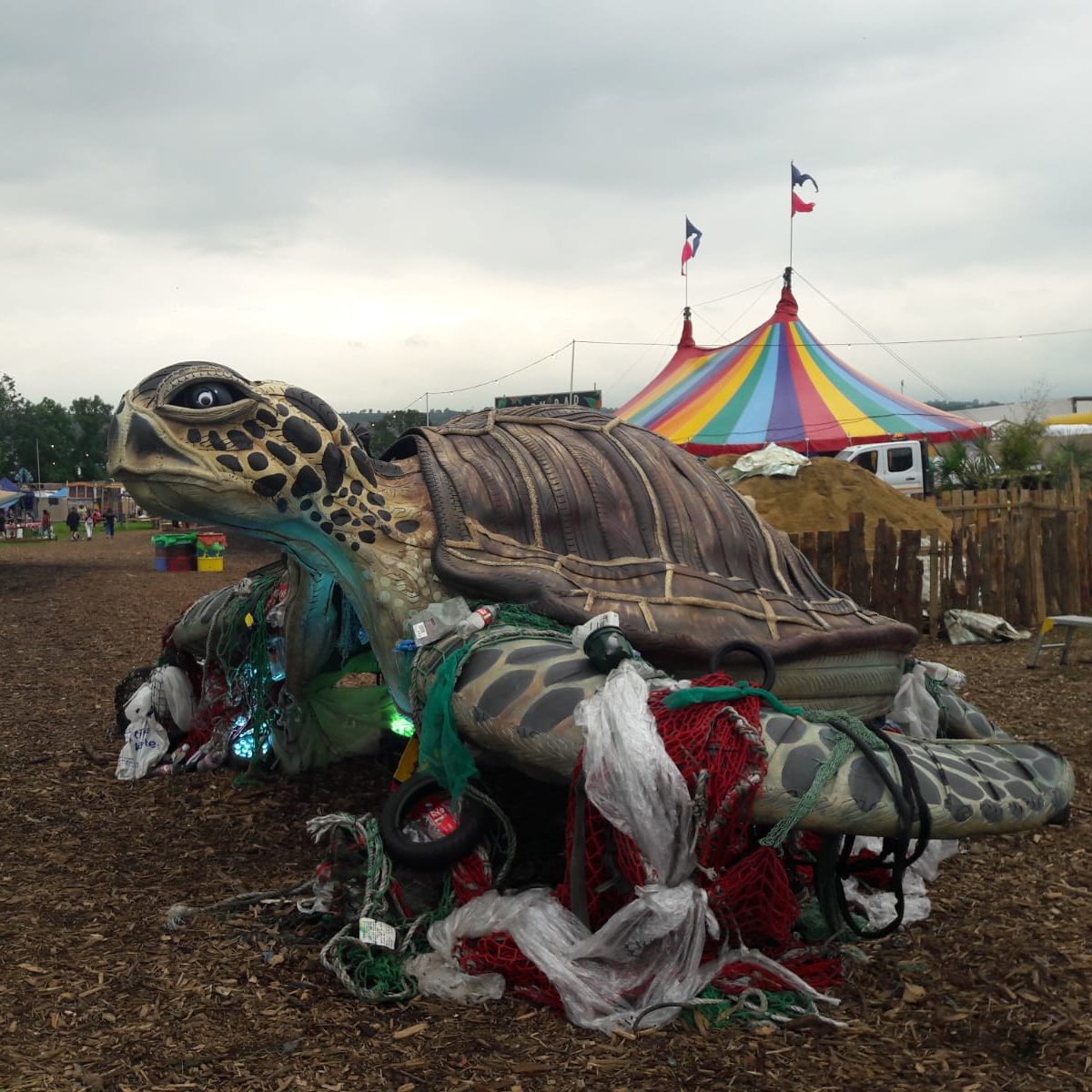 The 2019 Glastonbury Festival aimed to be the most sustainable yet. Alongside a purpose-built recycling plant to handle the waste from the festival and a 'green pledge' for all attendees, this year's festival featured a range of sustainability-themed talks and a climate protest march. The artwork and decoration at the festival were also chosen to highlight key sustainability issues. These included plastic-entrapped turtle sculptures, a large 'jungle is not massive' tree, art installations powered by bee noise, and The Park stage, which was surrounded by a patchwork of artwork warning of the impacts of climate change.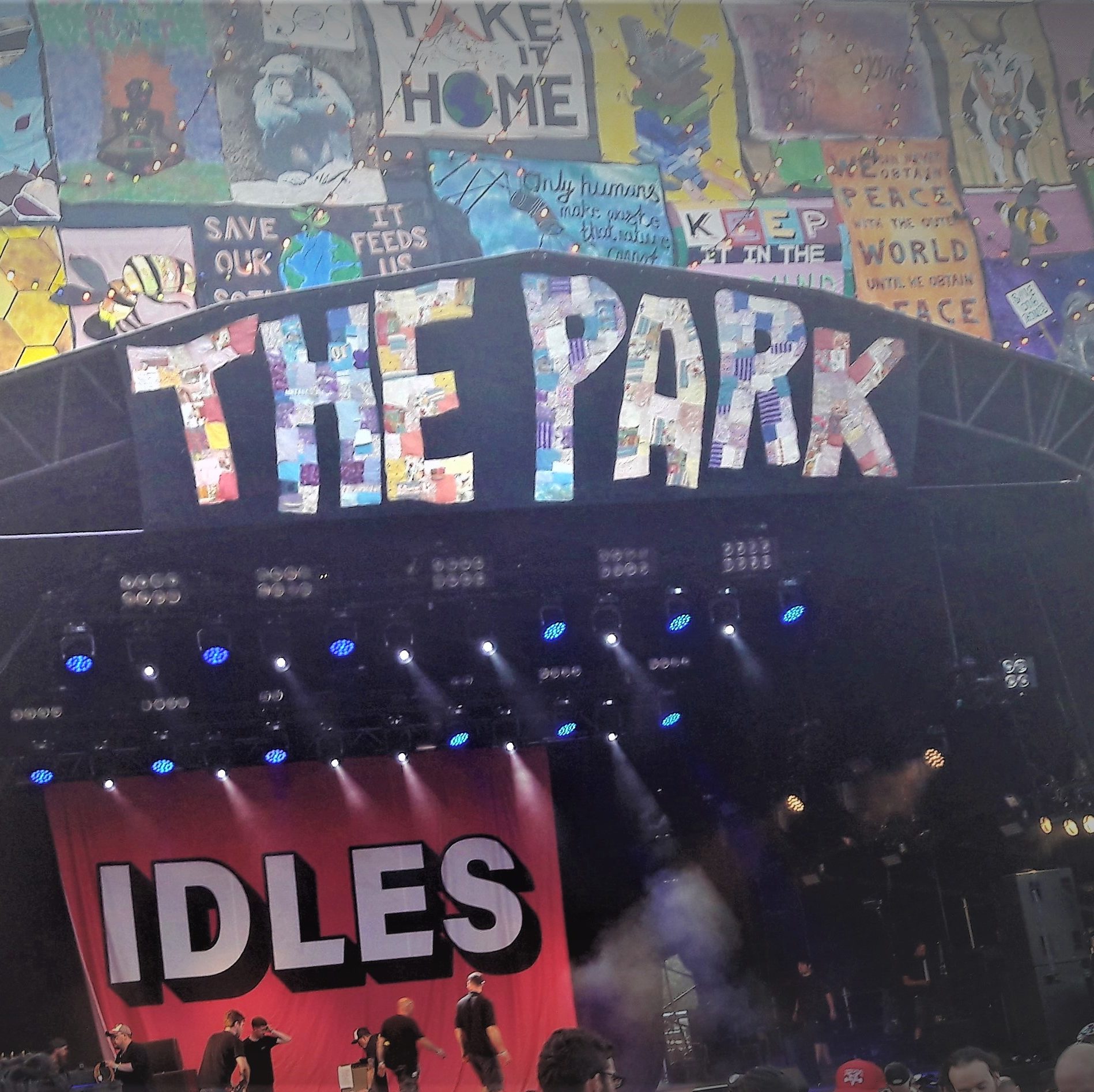 One of the significant changes for this year was the ban on the sale of plastic bottles, disposable plastic cutlery and non-biodegradable glitter. In addition to this, volunteers from the festival collected plastic waste from the environment across the South West of England and used it as building materials for the Shangri-La Gas Tower stage. To top things off, Sir David Attenborough made a surprise appearance to champion the collective attempt to reduce waste and improve the sustainability of the festival.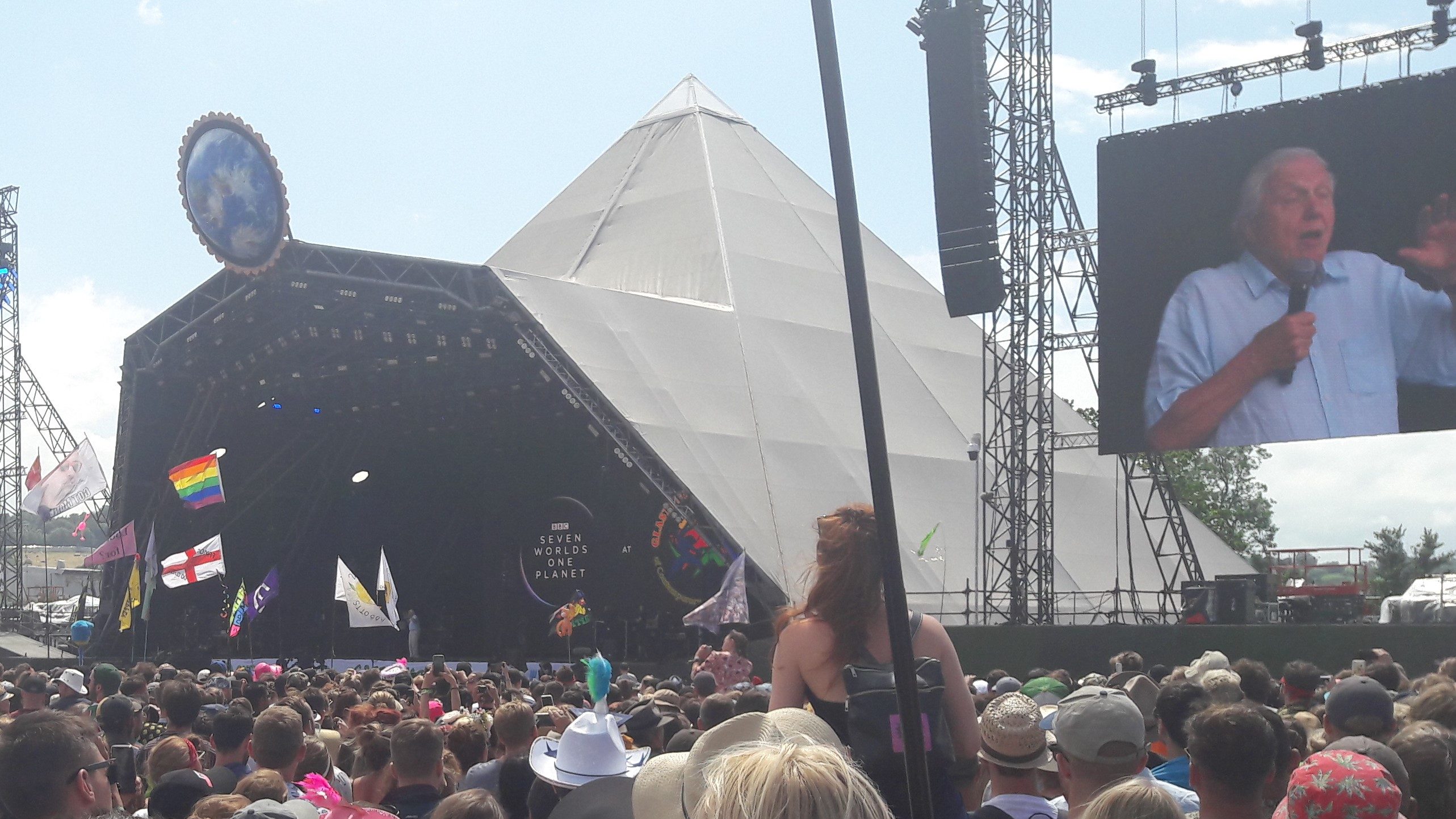 Over the course of the festival, discussions about the sustainability of live music events, the Glastonbury farm and the scale of our plastic waste were common themes, both amongst festivalgoers and for those who followed the event online or in the media. As a result of a raised profile for sustainability issues, people who attended the festival were keen to discuss a range of aspects of sustainability and their views for the future.
With so many festivalgoers already engaged with the issues surrounding plastics, we were thrilled to be given the opportunity to bring a plastic-themed stand to the Glastonbury's Green Futures Field. We wanted to create discussions around the impacts of plastics on our lives, the history and future of plastics, and the role of our scientific research in developing sustainable solutions to many of the problems we face.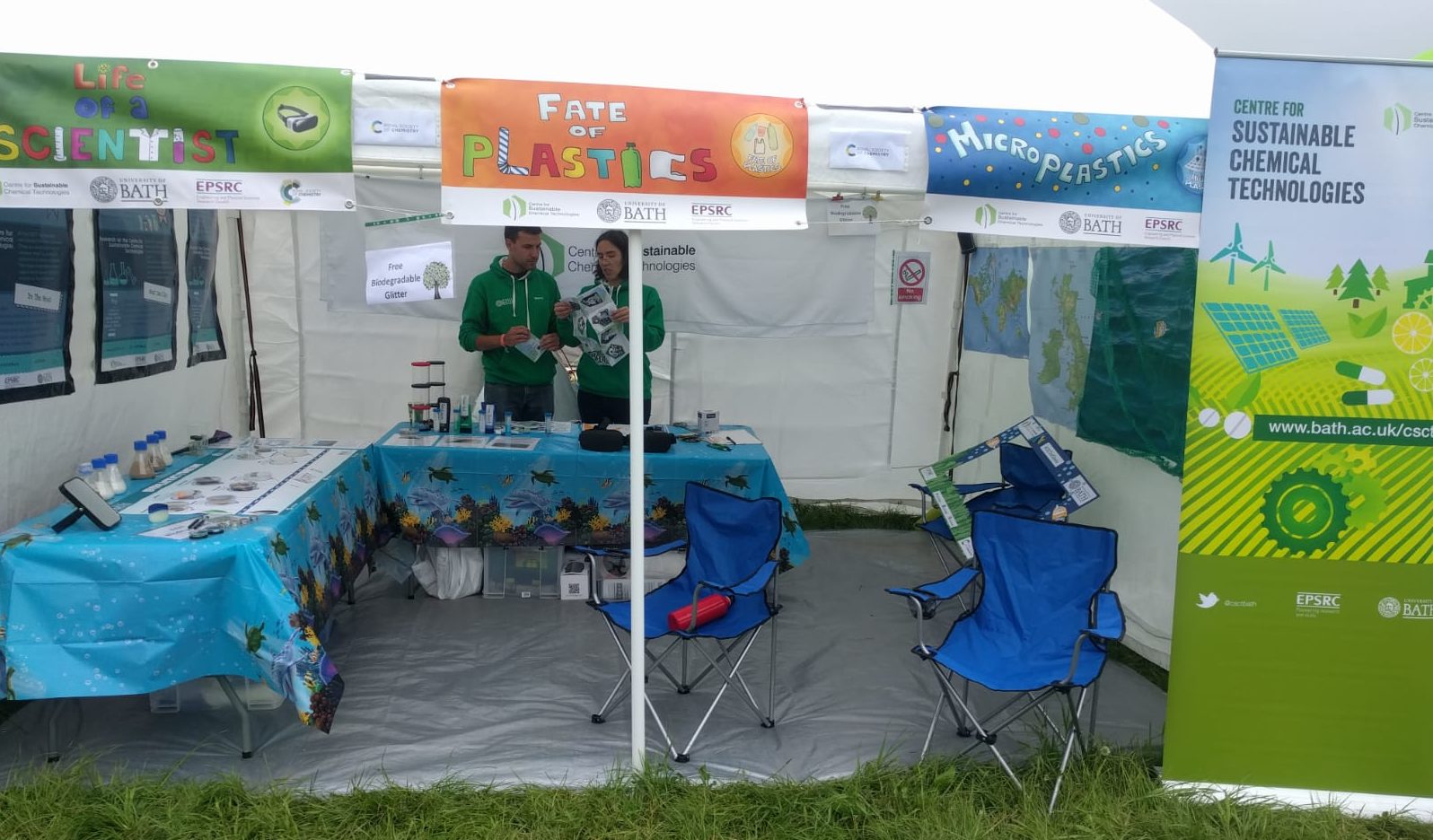 Our stand at Glasto
Glastonbury would not be Glastonbury without glitter. So, to lure people into our stand, we offered some adequately biodegradable glitter made from cellulose. As we hoped, our bioglitter was a fantastic draw for many and a great conversation starter to talk about bioplastic research.
Besides the glitter, another cunning bait we had was our history of bioplastics timeline. With several bioplastic samples for people to hold and inspect, we walked them through the evolution of these plastics, from the pre-petrochemical plastics such as cellophane through to modern-day bioplastics such as PLA and other new polymers synthesised by Marco and the Buchard group. Thanks to this exhibit of samples, we had many discussions about the difference between oil-based and bioplastics, the challenges on bioplastic development, and when we can expect bioplastics to become mainstream.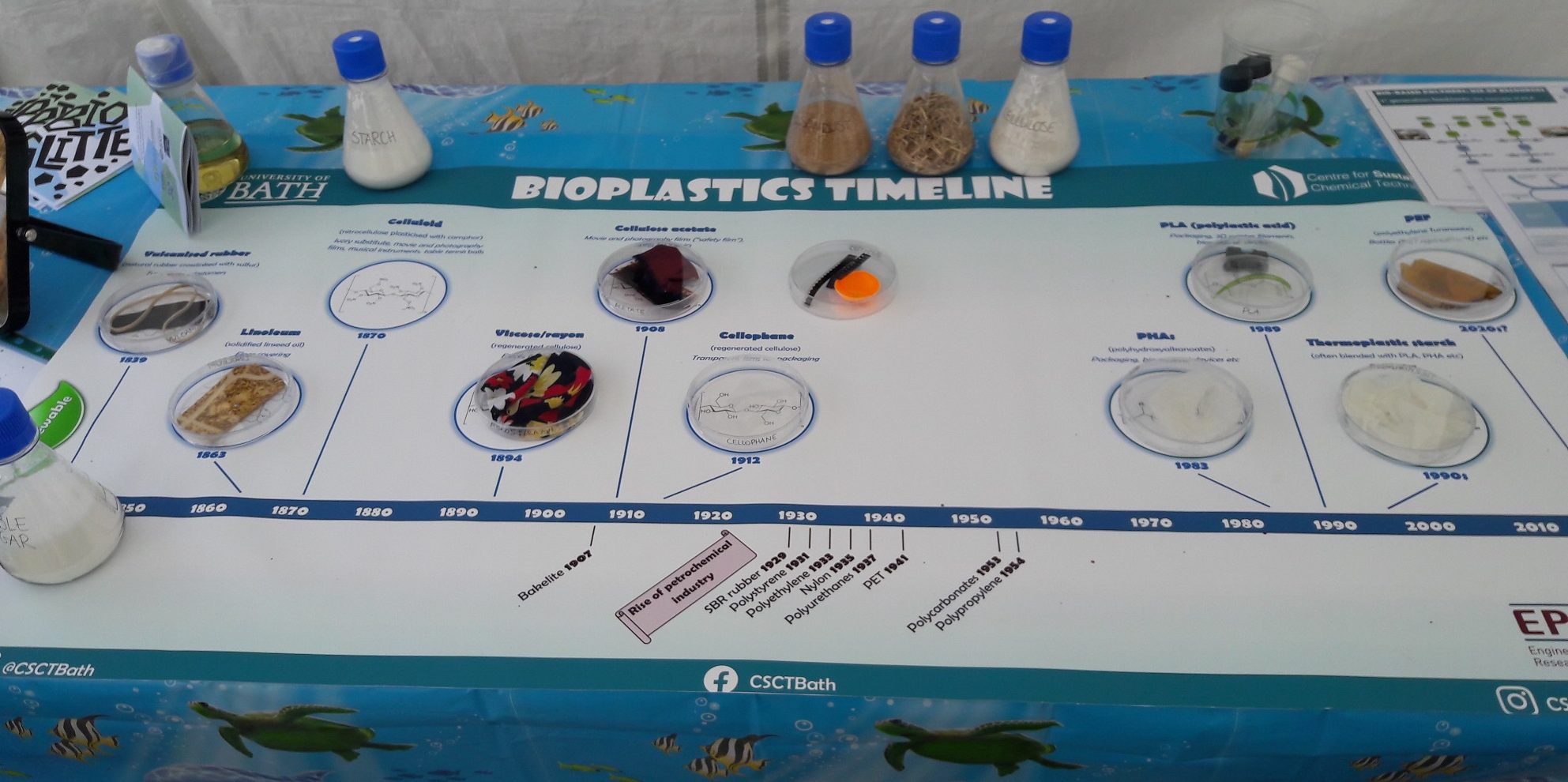 We also had an activity about microplastics in consumer products, which was complemented with a useful demonstration of what happens to plastics during the water treatment process. We discussed the recent ban on microplastics in wash-off products and how it does not go as far as completely banning all microplastics in household goods. For this activity, we had a sample of biodegradable microbeads synthesised by Janet Scott's group, which led the discussion onto the research-based solutions developed by the CSCT.
Finally, we had a couple of 360-degree virtual reality 'Life of a Scientist' videos. With these short videos, which showed several CSCT labs, we were hoping to take those who have never been in a science lab closer to what we do as scientists.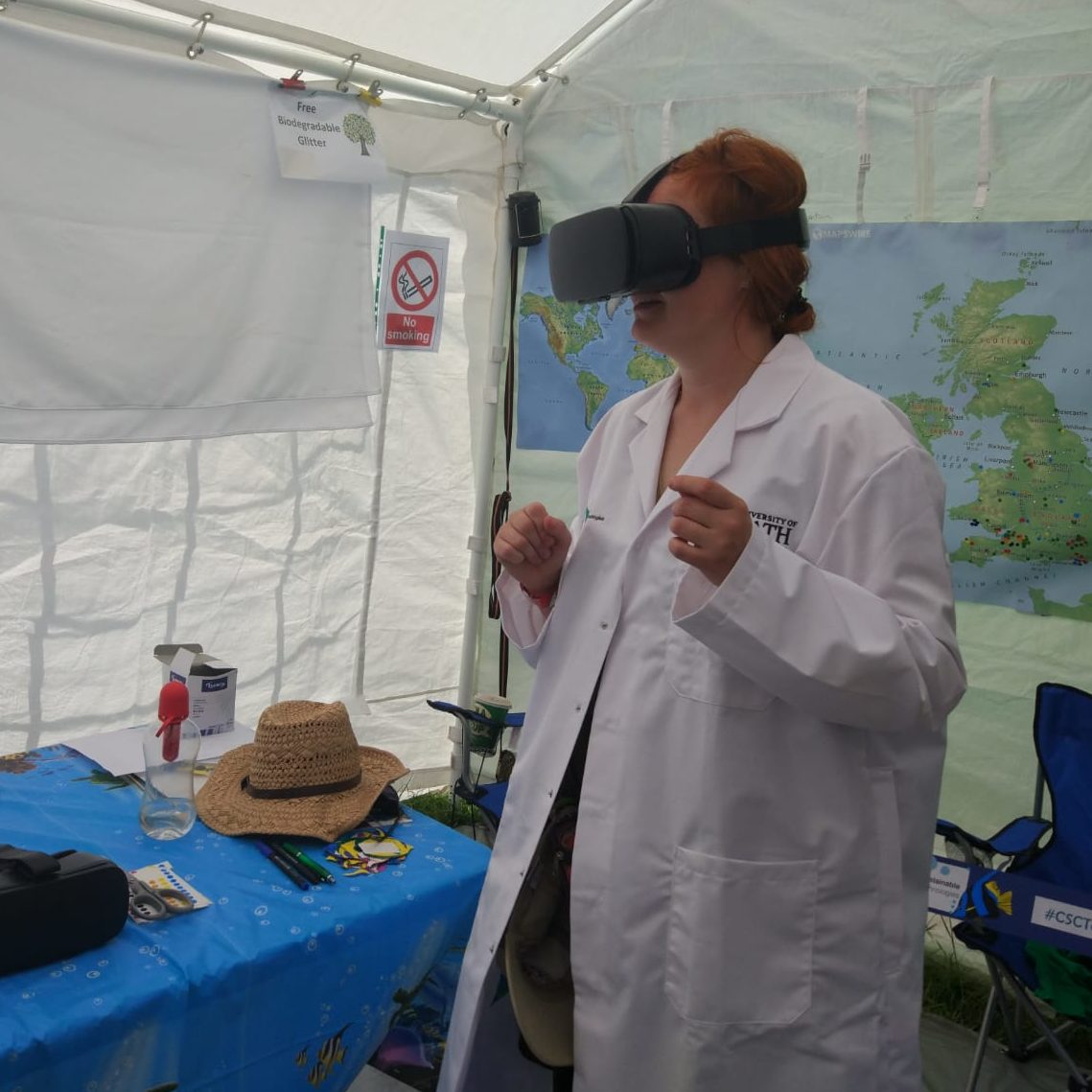 Instead of our usual rather-hands-on approach when we do public engagement at the CSCT, this time what we really wanted was to spark conversations by creating a relaxed environment where we could talk about problems (e.g. plastic ocean pollution) and the research-based solutions that we develop. Using sugars to make bioplastics, or sourcing them from waste by-products from industry, were topics we spoke about at length.
So, how did it go?
We loved our time at Glastonbury. Alongside running the stand, we enjoyed exploring the festival grounds during our breaks, catching some music and even throwing ourselves into drop slides or early morning aerobics classes! However, what really made the experience for us was the amazing people we met.
It was wonderful to have in-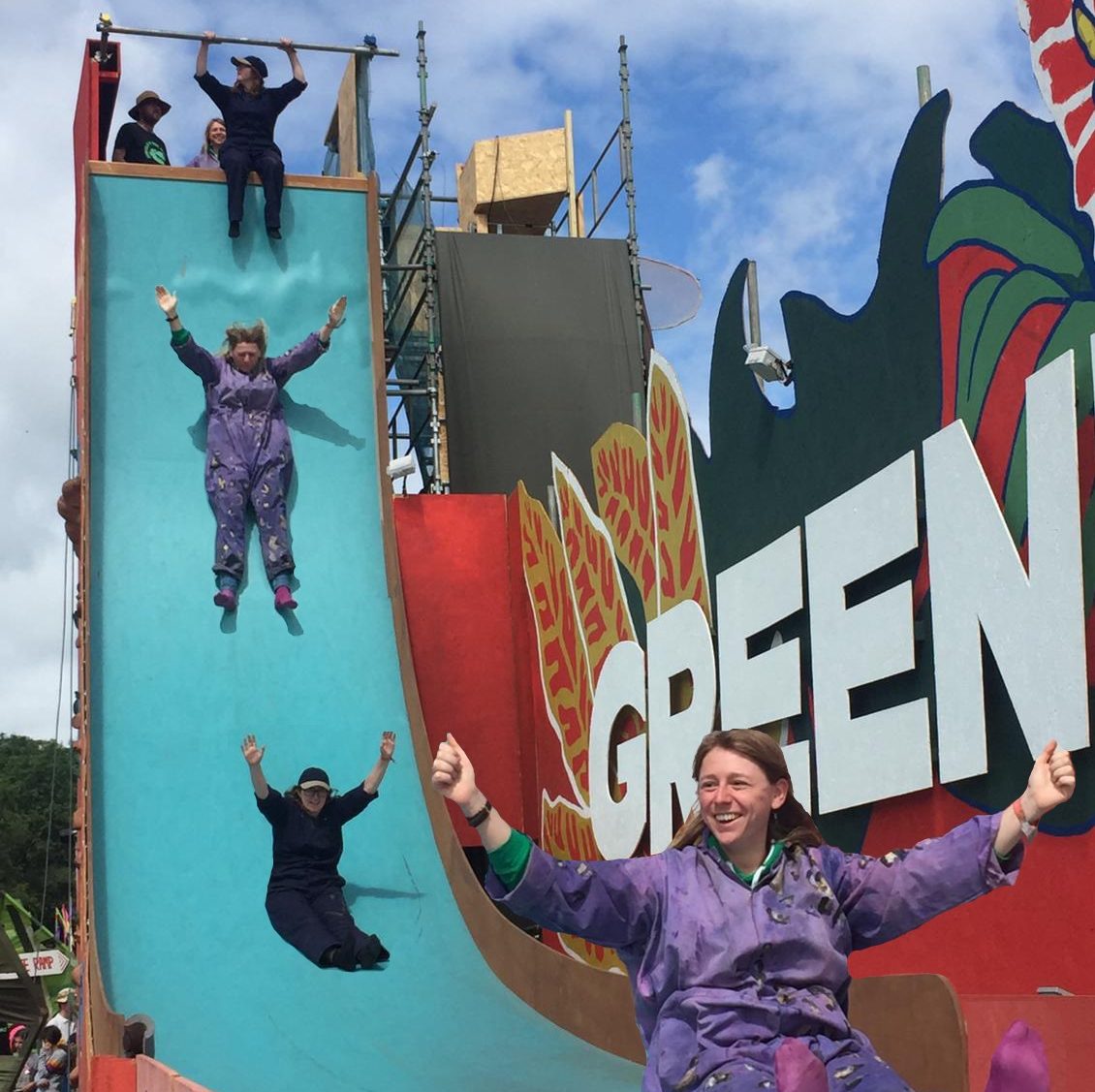 depth sustainability talks with a diverse range of really engaged people who we may not otherwise have the opportunity to interact with. In stark contrast to many of our other public engagement activities, where we reach parent and child groups, at Glastonbury we mostly interacted with those who we usually miss, i.e. late 20s to early 30s, 18 to 21 year-olds and people over 60. And it was an incredible opportunity to focus on the specific research that takes place at the Centre.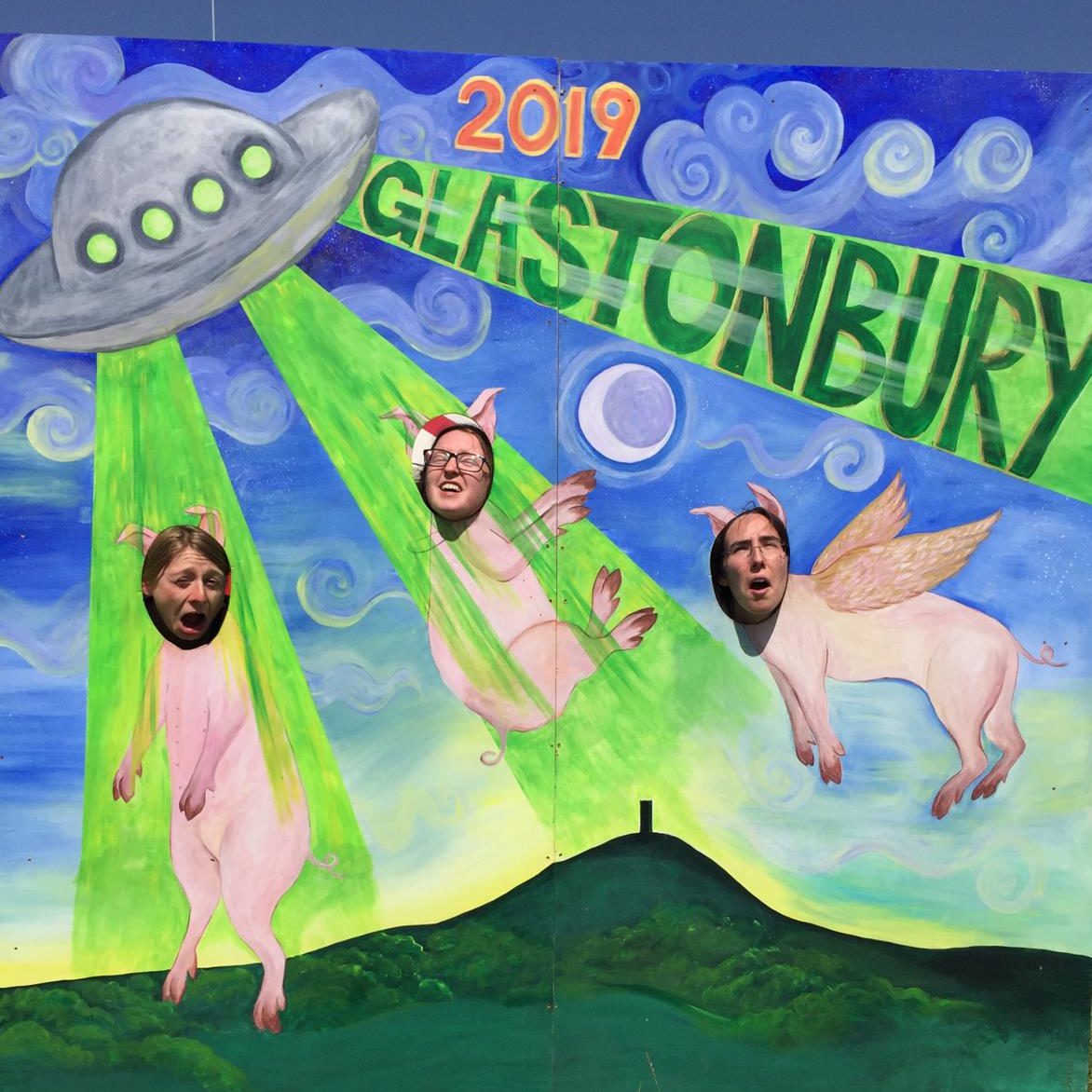 We spoke to so many different people, including several undergraduate students who showed a real interest in our research (watch this space for future CSCT students!), other researchers (from academia and industry), charity volunteers and journalists (including one from the Blue Planet team). Also very importantly, there were many with no scientific or sustainability background — just a genuine interest in what we do and in how they can do their part, too. Even Michael Eavis, Glastonbury Festival founder, stopped by our stand!
What a fantastic experience this was for all of us! We hope that by taking our research beyond our usual scope of engagement we will increase public familiarity with our work, perhaps encouraging further collaborations with local companies and an increase in future CSCT researchers.
Thanks to everyone who stopped by and thank you Glasto Festival for having us!