Rebecca Furlong is a second-year PhD student in the CSCT, where she investigates the sustainability and circularity potential of the chemical recycling of plastics.
In January 2020, Rebecca was accepted into the Ellen MacArthur Foundation (EMF) From Linear to Circular Programme, in which participants had the opportunity to learn more about the circular economy, meet experts in the field, complete project work and network.
Back in January 2020, I was thrilled to find out I was going to Atlanta to be a part of the EMF From Linear to Circular Programme. The course was organised in two phases: an online project phase in April and a face-to-face workshop in Atlanta in May. At the end of the programme, I (and all other participants) would become a 'Circular Economy Pioneer' in the EMF community.
However, when Covid-19 became widespread in March, it quickly became clear that overseas travel and large group meetings were no longer a viable option. EMF made the decision to postpone the Atlanta workshop and transfer the whole programme online. The revamped programme began in April, with ten weeks of webinars covering a whole host of different circular economy topics. Sadly, they also confirmed that the project phase would take place online later in the year.
Despite the deviation from the original programme and the disappointment that I won't be travelling to Atlanta any time soon, my experience on the programme has been amazing so far. I've learnt a huge amount about the circular economy and have already formed connections with people all over the world (without leaving the comfort of my desk!).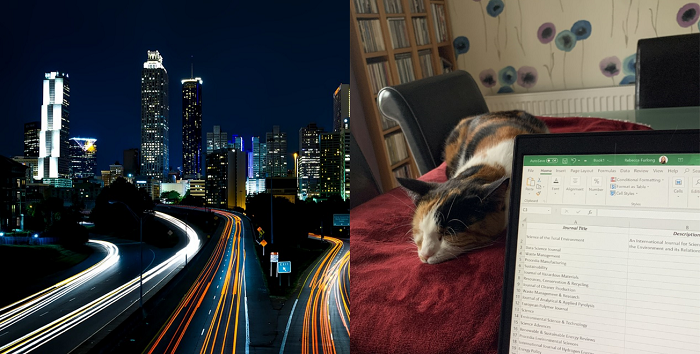 So, what did I learn during my lockdown circular economy experience?
What is the circular economy?
To understand the circular economy, we must first understand our current economic system. Presently, our economy works on a take-make-dispose model. We take raw materials and energy, create a product and when we're finished using it, we throw it away as waste.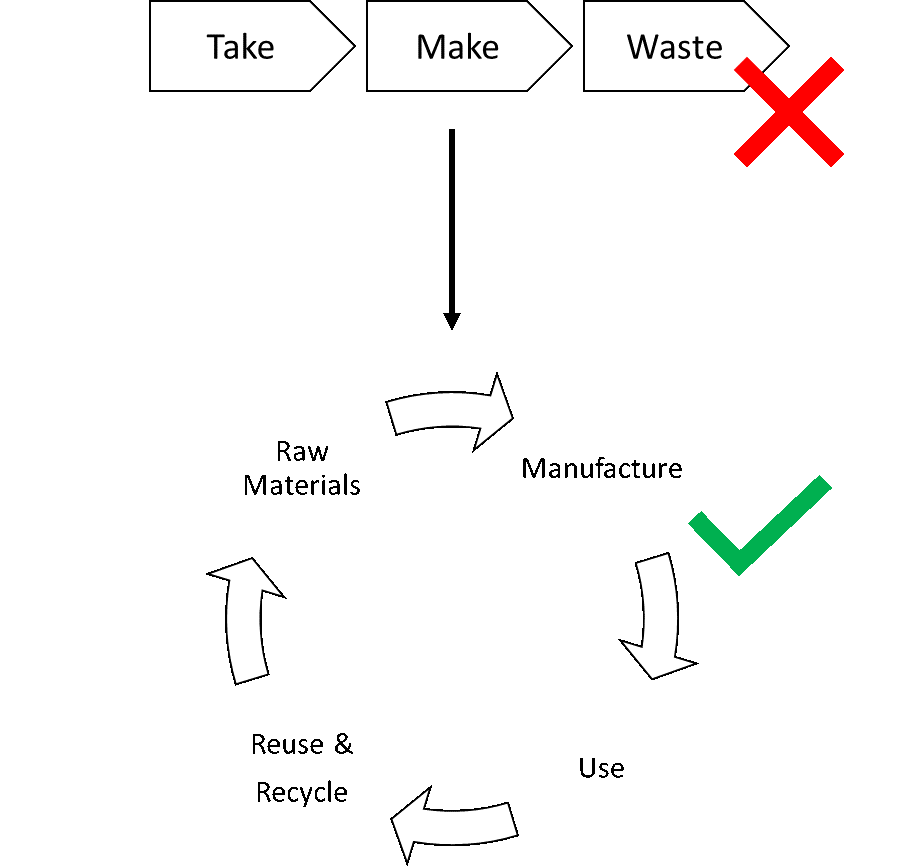 The problem with this model is that it is incredibly wasteful and polluting. Many of the raw materials we use to create products are finite and will eventually run out. Furthermore, the production processes we have designed are energy-intensive and polluting.
Despite this, most products are not reused or recycled but instead end up in landfill or are incinerated when they are thrown away. The result of this is that all the raw materials, energy, and time spent making the product are lost or wasted. To replace this loss, brand-new products are manufactured, utilising more finite resources, consuming more energy and creating more pollution. All the while, the perfectly useful materials from previous products are lost from the system, stuck in landfill or destroyed in incineration.
In a circular economy, this wasteful, polluting model is replaced and three key principles are introduced:
Waste and pollution are designed out
Materials are kept in use
Natural systems are regenerated
Essentially, in a circular economy, all products are reused or recycled, and nothing becomes waste. Materials are no longer sent to landfill or incinerated but instead are reprocessed or repurposed at end-of-life. As a consequence, raw materials and energy no longer rely on supplies of finite resources, which leads to the generation of natural environments.
How will we achieve a circular economy?
Thinking about how to achieve the aims of a circular economy seems like a mammoth task and, to be frank, it is. Completely removing waste and pollution, ending reliance on fossil fuels and creating an economy that restores natural systems seems almost impossible when thinking about it on a large scale. Where do you even start?
This isn't a 'one-size-fits-all' solution. To address the overwhelming scale of this task, the circular economy principles are broken down and tailored to different areas of the economy. There are EMF circular economy plans for plastics, fashion, food and even cities. EMF also works with businesses to help them create their own circular economy targets.
And it's not just EMF who are creating circular economy plans - the European Commission has just launched its Circular Economy Action Plan which outlines circular plans for a number of supply chains including plastics and textiles.
To achieve a circular economy, action must be taken at all points in the supply chain. There is no starting point in a circular economy transition. Instead, work should take place concurrently from product design through to waste management.
When will we achieve a circular economy?
One of the key points that was emphasised during the EMF webinars was that there is no circular economy silver bullet. We won't all wake up one day and everything will be circular. The transition is a gradual process. In fact, full circularity may never be achieved. There will probably always be ways in which systems, products or services could be improved.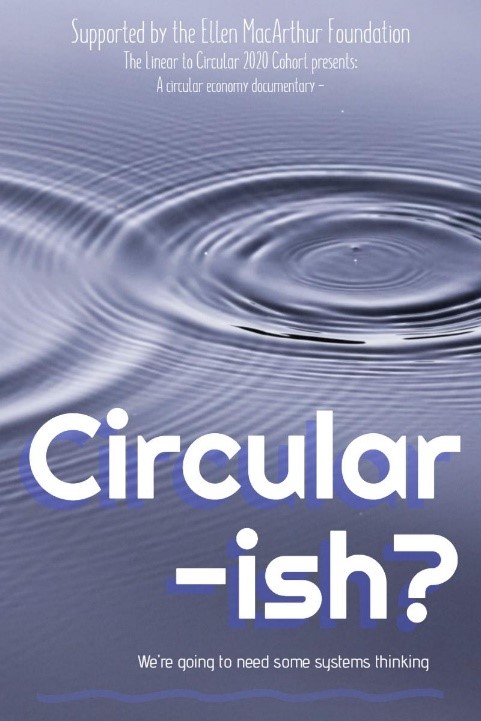 Who works in the circular economy?
The short answer is anyone can work in the circular economy!
The other participants of the EMF programme come from a huge range of backgrounds and sectors, including finance, fashion, food, consulting, design, government, policy, architecture and waste management to name a few. It is key in any project to have people with a range of skills, ideas and perspectives and, in the circular economy, this is no different.
How has Covid-19 affected the transition to the circular economy?
Covid-19 has caused huge economic disruption across the globe and concerns with virus transmission have led to a dramatic increase in the use of single-use items such as masks and gloves. Many people worried that, in the wake of this pandemic, health and economic recovery concerns would be prioritised over tackling waste, pollution and climate change.
However, the last four months of lockdowns and social distancing have proved that we are indeed capable of completely changing our behaviour when it is needed. As we go into an unknown post-pandemic world, there are increasing calls for a 'build back better' approach – one where economic recovery plans aim to improve on pre-pandemic models through increased inclusivity, more robust supply chains and a greater focus on sustainability and circularity.
The circular economy offers the opportunity to build back a more resilient economy and implement solutions to some of the issues highlighted during the pandemic – struggling supply chains for food and medical supplies, a lack of space in cities for walking and cycling – while also tackling the world's most pressing environmental issues.
On a personal level, even though Covid-19 made overseas travel impossible, during lockdown I managed to have conversations with like-minded, passionate people all over the world. I learnt new things, gained new perspectives and discovered that other people are just as keen as I am to drive change and make a difference – and that's enough to make anyone feel optimistic, even in a global pandemic.