Last summer, our student Alison Ryder was fortunate enough to attend not one, but four conferences up and down the UK. During those conference-heavy few months, she managed to win two prizes for her work (congrats, Alison!) and, most importantly, she had some time to reflect on various things. In her own words, "I am now very opinionated on different train operators and the importance of good conference catering." Read on to get her full reviews. 
Dial-a-molecule: enabling technologies for chemical synthesis (28 June 2019)
First up was catching the very first train of the day to Cardiff to attend the "Dial-a-molecule: enabling technologies for chemical synthesis" conference. The conference was divided into four themes, each with an academic and either a PhD student or a Post-Doc giving a talk. Mechanochemistry, electrochemistry, flow chemistry and photochemistry were the four themes, given their current and future potential as enabling technologies to further chemical synthesis. The nature of the talks was more tutorial than at most other conferences, giving a background of the technologies covered and then highlighting relevant and exciting research. Since my PhD research area is developing new photochemical reactions, I fitted right in. The pitch of the talks also gave me a good introduction to areas of chemistry I hadn't learnt much about in my undergraduate or master's degrees.
Food: 5/5 – based solely on the abundance of Welsh Cakes
Train: 3/5 – return journey was late
Conference highlight: Eating my body weight in Welsh cakes and winning the poster prize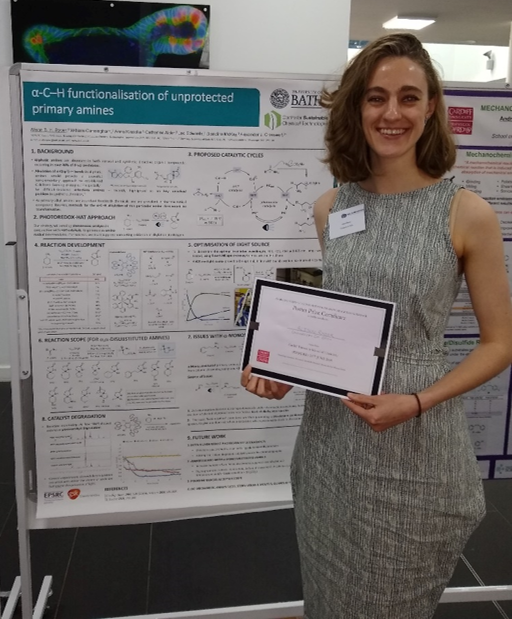 26th International Symposium: Synthesis in Organic Chemistry (15-18 July 2019)
The following month, I hopped on a much more pleasantly-timed train over to Churchill College, Cambridge, to attend the "26th International Symposium: Synthesis in Organic Chemistry", an RSC's event. This is a flagship event for the international organic chemistry community, with meetings alternating on a biennial basis between Oxford and Cambridge since 1968. The conference covers all aspects of contemporary organic synthesis and focusses on newly emerging and exciting methodologies and strategies. Due to the overlap with my research area, out of the daytime talks, the highlight for me was David Nicewicz's, who spoke about new avenues in synthesis enabled by organic photoredox catalysis.
Every evening, after the conference dinner, there was another lecture. The Wednesday night slot is historically open-ended, so the speakers can talk for as long as they want. Originally, this was to accommodate the famous chemist Robert Burns Woodward, known to many undergraduate chemists due to the Woodward-Hoffmann rules. Woodward was a colourful character, to say the least; besides being a powerhouse in mid-20th century organic chemistry with massive contributions to natural product synthesis, he was also famous for giving 3- to 4-hour talks in multi-coloured chalk, while chain-smoking with a martini in hand.
For this year's slot, Nobel prize winner Francis Arnold delivered a talk named "Innovation by evolution: bringing new chemistry to life". Arnold is famous for pioneering the use of directed evolution to engineer enzymes, or as she often put it: "So, I went to the fridge and tried some enzymes". I don't personally have a hero or a role model, but Francis Arnold is about as close as I get. She has a BSc in Mechanical and Aerospace Engineering, a PhD in Chemical Engineering, completed a Post-doc in Biophysical Chemistry …then won a Nobel Prize in Chemistry… doing biology. Interdisciplinary research – eat your heart out! I am not someone with a particularly large attention span, especially not for academic talks, but when her talk finished at a little over an hour and a half, I wanted it to go on even longer! Alas, no cocktails were served during the talk.
Food: 5/5 – solid lunch offerings from Churchill College
Train: 4/5 – no complaints with trains or buses
Conference highlight: Francis Arnold's after-dinner talk. They always say you should never meet your heroes, but she was every bit as impressive as my expectations. Also, drinking a G&T while being punted down the river Cam basking in the sunshine was not an altogether unpleasant experience.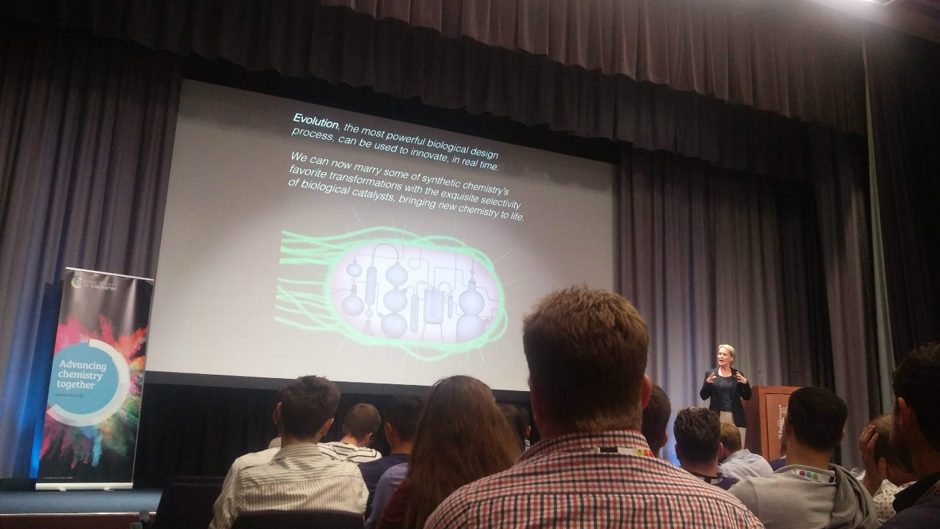 34th Postgraduate Symposium: Heterocyclic & Synthesis Group (19 September 2019)
In September, I headed north to AstraZeneca in Macclesfield to present a poster at the RSC's "Heterocyclic & Synthesis Group 34th Postgraduate Symposium". To attend this symposium your abstract had to be selected, so I was quite pleased that mine had caught their attention and I was given an opportunity to present both a flash talk and a poster.
This conference kicked off with a joint lecture by Dr James Douglas and Dr Mairi Littleson, both from AstraZeneca, talking about how synthesis supports the development of new medicines. The main part of the day was centred on nine short lectures from final-year postgraduate students. My three personal favourites were:
A talk on late-stage functionalisation of drug-like scaffolds by electrochemically-generated free radicals by, Sophie Berrell (University of York, supervised by Peter O'Brien)
A talk on C-C bond activation, by Olivia Boyd (University of Bristol, supervised by John Bower),
The prize-winning talk, about oxetane based peptidomimetics, by George Saunders (University of Warwick, supervised by Mike Shipman)
A nice surprise was running into an old friend from my pre-PhD life, where I was working as a chemist in the petrochemical additives industry. He also made a bid for freedom (and poverty) shortly after I did, and is now two years into a PhD at Imperial College. It was lovely to have a catch-up and see what each other have been working on for our PhDs at the poster session.
Food: 4/5 – sandwiches were neutral, but point boost due to the little fancy cakes
Train: 2/5 – Virgin trains are fancy, but severe points penalty for the plug sockets not working
Conference highlight: Speaking to a final year PhD student who had conducted a 1.8 million experiment screen to find a molecule. It made the 250-experiment screen I conducted to develop my reaction seem cute in comparison.
Charles River Laboratories 2019 Poster Competition (27 September 2019)
Finally, I went to Cambridge, this time to Charles River Laboratories, a contract research organisation who specialise in a variety of preclinical and clinical laboratory services. A former PhD student who joined the company not long ago proposed starting this poster competition for final year PhD students whose work spans medicinal and synthetic organic chemistry – the idea being that the Charles River's team then get to hear about what all the exciting research coming up in the academic world. As with the last conference, presentation was by selection only. Once more, I was pretty pleased to have been chosen to present my work, and then absolutely delighted to be awarded first prize!
You have heard it before and you will hear it again – chemistry is a very small world and you cannot swing a cat without hitting someone who knows someone you know. This time around, I ran into two people! The first was a former placement student I worked with in my previous job, and the second was Rob Chapman, ex CSCT student and former Post Doc in the Bull group (the group I joined for one of my MRes projects).
Food: 3/5 – standard conference lunch offering of sandwiches. Points for the skewers but please note: a fruit platter is not a suitable sole pudding option
Train: 5/5 – I'd accidentally double-booked myself and needed to get back to Bath by a certain time, which meant a lot of running to make connections I technically shouldn't have been able to make. Still... British Transport came through: all trains on time! Tubes arriving at perfect intervals! Miracles do happen!
Conference highlight: Speaking to chemists in industry about my work and getting their thoughts and feedback on the project and its future direction. I was particularly flattered when one person told me that they came specifically to look at my poster after having seen the abstract.
I have been very fortunate to attend a lot of conferences in the second year of my PhD – this was just a small number of them. It has been really lovely running back into other PhD students and getting an update on how things have been going since the last conference! As always, much appreciation to the RSC, Charles River and the CSCT for support of both myself and the National Rail service (via funding my train tickets).