Yet another brilliant mind that the CSCT has the privilege to include among its ranks, Professor Saiful Islam is determined to captivate the public with the wonders of science. He will take every measure to ensure long-lasting effects in the minds of an audience — even if that entails getting the whole research group to cut over a thousand lemons to make a giant lemon battery.
Professor of Materials Chemistry at the University of Bath and 2016 Royal Institution Christmas Lecturer, Saiful tells us about public engagement, imposter syndrome, BBC6 studio takeover dreams, and more.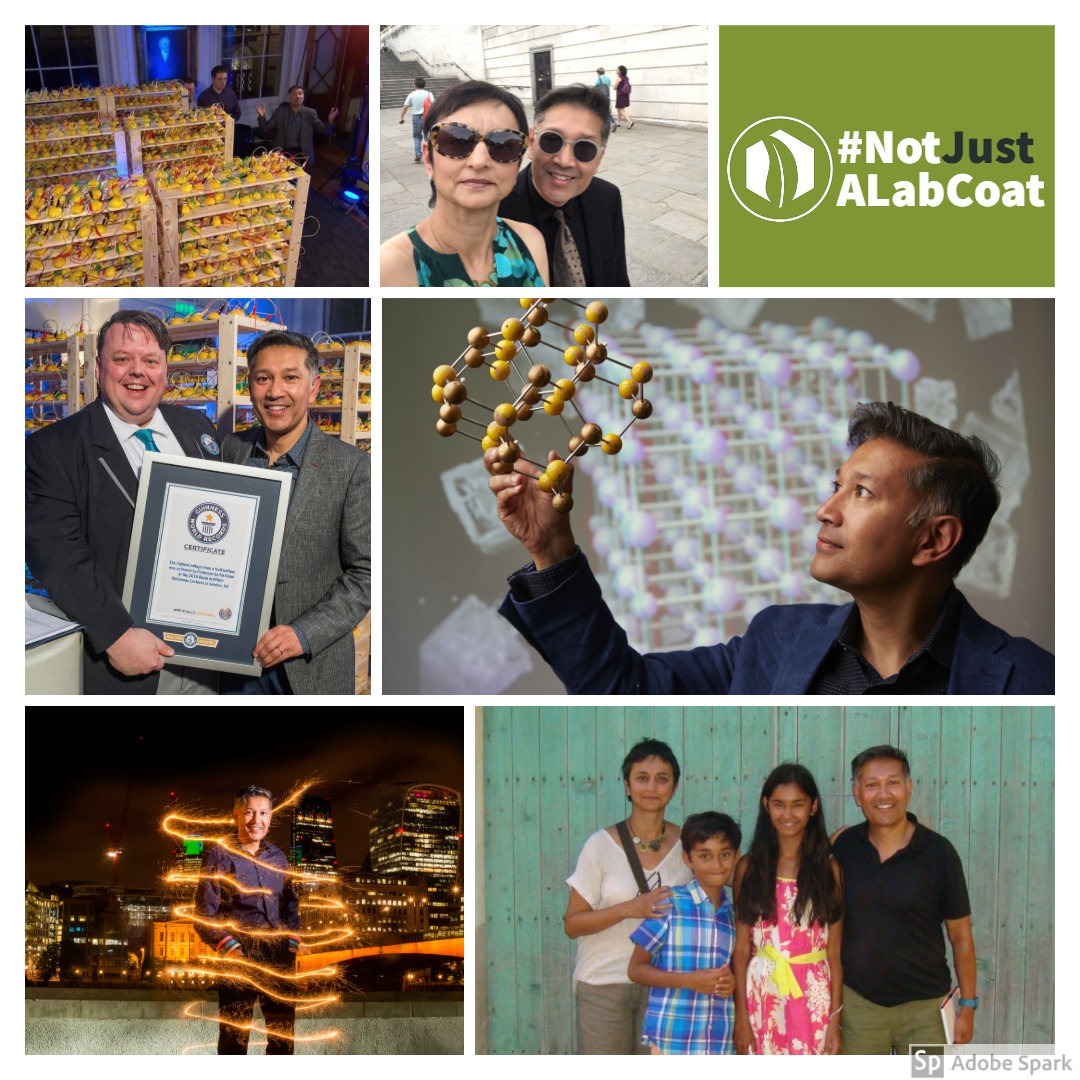 How did you become involved with the CSCT?
I joined the Department of Chemistry at Bath in 2006 as a new Professor. Soon after, Matt Davidson mentioned his plans for the CSCT. I then got involved with Matt's first proposal on the CDT in Sustainable Chemical Technologies and helped to write the part on Energy Materials.
Can you tell us more about your field of work?
I'm a materials chemist working on understanding the fundamental processes in new materials for green energy applications, especially lithium-ion batteries and perovskite solar cells. My research philosophy is to combine an underpinning atomic-scale understanding of energy materials with experimental discovery.
I'm also a chemist who doesn't wear a white lab coat. My research involves using powerful computer modelling techniques to investigate — acting like virtual microscopes — how battery and solar cell materials behave at the atomic level.
What's a normal day at the office for you?
There is never a normal day. There's a nice variety of activities as an academic. For example, today:
Started with an espresso at the 4 West Café, making a short list on a post-it;
sorted out emails including a few about a new multi-million Faraday Institution grant on a battery materials project that I'm leading;
met with two postdocs in the research group to discuss a new paper we're about to submit;
had lunch at about 12.15, reading a bit of The Guardian and the Tory chaos;
met a PhD student writing his first-year report;
began to sort out my invited talk (and travel stuff) for a conference in Japan I'm flying off to this weekend;
finished writing this Q&A;
and finally walked home down North Road listening to some indie music.
What do you think are the biggest scientific breakthroughs in your lifetime?
In my field of energy materials, I'd have to say it's the major advances in materials chemistry going into rechargeable lithium-ion batteries, which have helped power the worldwide revolution in portable electronics (mobile phones, laptops, tablet computers). They are also critical to next-generation electric vehicles to lower carbon emissions and improve air quality.
Is there a scientific advance you really wish you will see in your lifetime?
Again in my field of energy materials, it would be exciting to see big advances in materials for solar cells with much better efficiencies, long-term stability and cost. This is partly happening but more needs to be done.
We know why: the supply of low carbon energy is among the most urgent challenges of our time to help deal with climate change.
What's the biggest challenge you have encountered during your academic career?
Research-wise, getting grants especially in the early days as a young lecturer. Workload-wise, balancing all the research, teaching and admin activities. Also dealing with 'impostor syndrome' when I first became a Professor. It's always a confidence thing.
What have you found most rewarding about the academic world?
Having the relative freedom to carry out fascinating research and to talk about the results to lots of people in nice conferences around the world.
Guiding, mentoring and nudging younger research group members into successful careers.
What are the best memories of your PhD?
At the end of the first year of my PhD at University College London, I went to a great 10-day summer school on defects in solids, in a nice big hotel in Calabria, on the south-west coast of Italy. I have fond memories of the people I met, the science, the 4-hour breaks in the middle of the day, the socialising and the tasty food and drinks.
Near the end of my PhD, I started studying the exciting topic of high-temperature superconductors based on copper oxides, materials that show zero electrical resistance. That was great fun and led to a postdoc in the USA.
What tip would you give your PhD self if you could go back in time?
Be more confident. You know more about that specific topic than you realise.
How does one end up delivering Royal Institution Christmas Lectures?
It was a real surprise and a huge honour to get invited to present the prestigious Royal Institution Christmas Lectures on the theme of energy for BBC TV in 2016. Being considered for the same role as some of the scientists I had grown up reading about and watching on television, like David Attenborough, Richard Dawkins and Carl Sagan, was a real privilege. It was also amazing to think that I presented the Christmas Lectures 80 years after they were first televised in 1936 at Alexandra Palace, London, within walking distance to where I grew up in Crouch End.
The lectures were stressful to put together but one of my highlights was getting a Guinness World Record for the getting the highest voltage from a lemon battery — more than 1200 volts. I got my research group to help and they used 1008 lemons, cutting them in half to get 2016 lemon slices — true cutting edge technology!
How did you get involved in public engagement?
I've always been strongly committed to making science more accessible to people from all backgrounds. I've served on the Diversity Committee of the Royal Society and I've given talks at science cafés and Pint of Science events. I've given lectures to more than 4,000 A-level chemistry students using 3D glasses.
I also want children to understand that the pursuit of science is the proper way to unravel the mysteries of the world around us, and that it is full of beauty and exciting discovery.
Who are you inspired by? 
On the academic side, my PhD supervisor at UCL, Professor Richard Catlow. He has been a great mentor, champion and friend.
I don't know about being inspired, but I do like reading/hearing the following people outside science: Barack Obama (on US politics), Richard Dawkins (on humanism), Gary Yonge (on UK politics).
What would you do if you had an unlimited amount of funding to do research?
It would be nice to return to my PhD topic of superconductivity and to try to discover a room-temperature superconductor.
Do you have any 'wild' public engagement dreams?
I already have a world-record lemon battery!
Perhaps if I had unlimited time and money I would create the largest physical ball-and-stick model of my favourite crystal structure — the perovskite structure.
Any other big dreams outside of research?
Since I love listening to indie music, it would be great to have a short one-off slot on BBC Radio 6 music to play some of my favourite songs; for example, by The Smiths, New Order, The Cure, REM.
If you hadn't been a chemist, what would you be?
Playing football. I was pretty good at school but not committed enough (and probably not tall enough either). Or a member in a jingly-jangly guitar band, but sadly I can't sing!
What makes you smile?
The things often said by my teenage daughter (Yasmin) and teenage son (Zak). In terms of laughs, the film Life of Brian and the TV show Brooklyn Nine-Nine.
What do you enjoy doing when you're not at work?
Family holidays. Reading a book or newspaper in a café. Watching films while eating ice-cream.
What 3 things would you take to a desert island? 
An iPod with all my music, a comfortable bed and a TV connected to Netflix.
Fun facts about you?
On my webpage, I have a page dedicated to chemistry-related songs, band names and album titles.
In my teaching lectures, I include a short break half-way through that I use to present dodgy science jokes, puns and poetry. For example, I'm currently reading a book on helium. I can't put it down!