Have you ever wondered who's behind cutting-edge scientific advances that are shaping the future of our food habits? Scott Allan, from Dr Marianne Ellis's group, is one of them.
A 2nd year PhD student at the CSCT, and New Harvest Research Fellow awardee, Scott is an accomplished early career researcher whose work in lab-grown meat gained notable media attention at the start of 2019. He's determined to make a difference, runs on caffeine and adrenaline, and has a soft spot for his dogs, Jozi and Sam.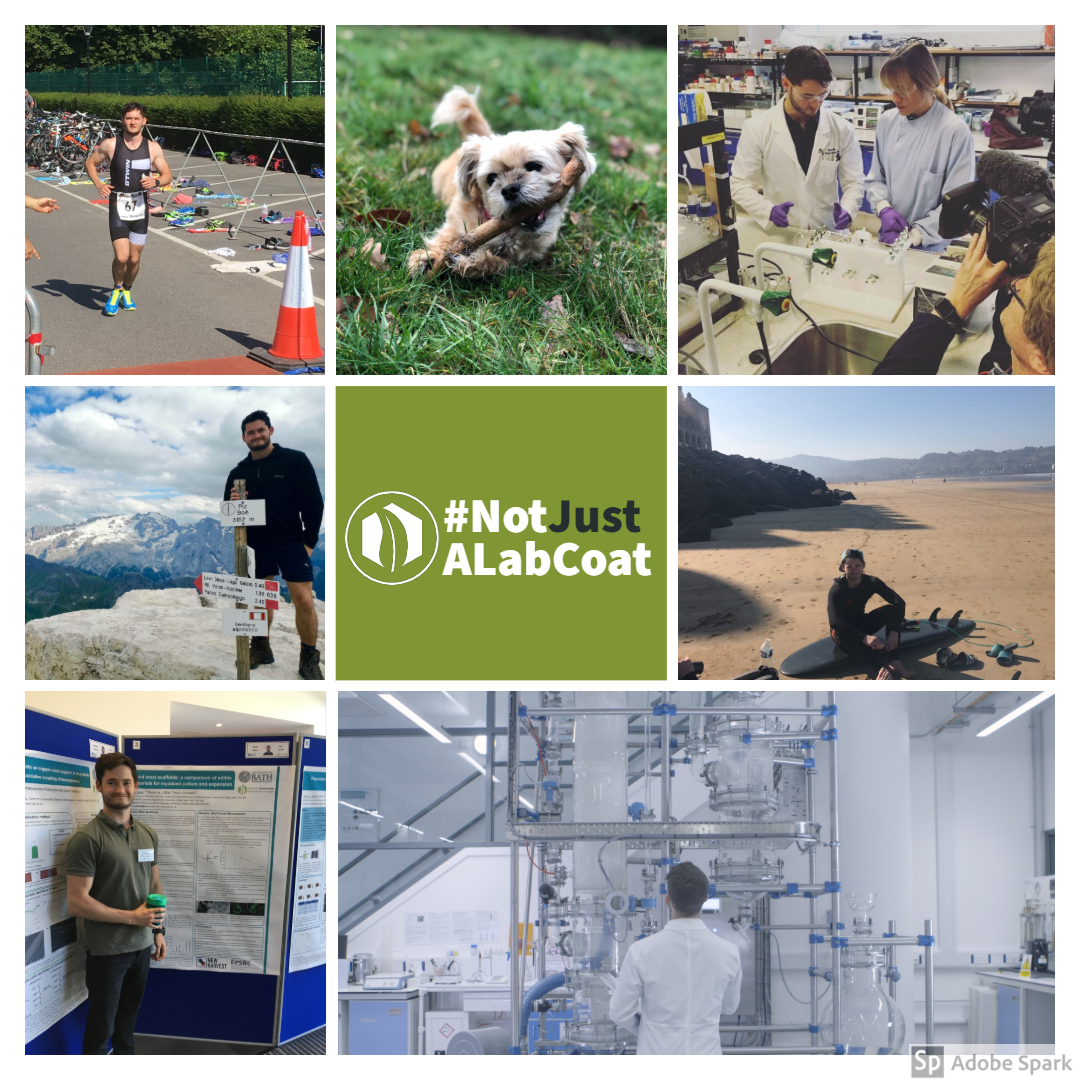 Why did you choose to study at the CSCT?
I was attracted to the CSCT because of the unique opportunity it offered to carry out an MRes and a PhD as part of a centre for doctoral training that focused on sustainability.
The interdisciplinary nature of the program and the compulsory courses in the first year allowed me to extend my knowledge from chemical engineering to chemistry, biology and sustainable practices.
I liked the fact that during my first year — the MRes year — I would get the chance to develop new lab skills as part of the two projects included in the programme. Doing this before starting the 1st year of my PhD would allow me to hit the ground running.
I also liked the idea of being part of a cohort of 10-20 PhD students and be actively involved in public engagement activities.
What was the reason you chose to work on cultured meat?
I grew up in Johannesburg and my family and I moved over to the UK when I was 13, just in time to start GCSEs.
As a South African who has grown up in a heavy culture of meat consumption, I want to be able to eat meat in a sustainable manner. Cultured meat has the potential to help diversify our sources of protein and contribute to global food security. It also has the potential to combat a number of environmental, health (such as through reduced antibiotic use) and animal welfare concerns. Plus the idea of working on this novel technology and making science fiction a reality appeals to the inner-nerd within me!
Can you tell us more about your research?
Currently, the field of cultured meat is still considered nascent, and a number of 'prototype' products such as individual burgers, sausages, chicken nuggets and shrimp dumplings have been made. However, all of these have been produced at the lab-scale and have not been commercialized yet, so as a chemical engineer I am working on designing a bioreactor to scale-up the production of cultured meat. This is necessary to bring these products to market, by taking advantage of economies of scale to reach the prices of traditional meat products.
Your work attracted a fair amount of media attention earlier this year. How did this impact your career?
It has been an invaluable experience and very useful to gain insight into the worlds of TV, radio and published articles. I was positively surprised by how far the stories can reach and how multiple articles can be spawned from just a single interview.
On the other hand, I now know that editors can be quite ruthless — they have an audience to satisfy so they will look for soundbites, which means that you need to refine your message and be as clear as possible, so that your words are not taken out of context. From this I learnt not to take everything personally, and accept that you won't be 100% in control of the final published piece. Still, the media is still incredibly useful as a platform to raise awareness of the impact your work can make.
So far, what have you found challenging in your PhD?
Coming to terms with the fact that, at the end of the day, you are only one person and there is a limit to how much can be done within a working day and a PhD, no matter how many ideas you may have. I think it is important to learn the limitations of your current situation and to set realistic goals and targets.
Best PhD piece of advice received so far?
Make use of your annual leave, especially either side of international conferences. With my part-funders, the non-profit organisation New Harvest, I have had the fantastic opportunity to visit Boston several times during my PhD and have attended conferences in Washington D.C. and in the Netherlands. Travelling and being active is a passion of mine, and I've made use of my holiday to go skiing and surfing in France, hiking in the Dolomites in Italy, and have taken city-breaks in Venice and Barcelona. Having holidays planned is a great way to motivate yourself through the tough times and rejuvenate yourself before getting back into the lab.
You are a highly driven student and professional — what fuels this?
I am just very passionate about my area of research, and as a perfectionist at heart, I always try to do my best. I find it hard not to be motivated when I'm working on fascinating stuff that intersects the fields of biology/tissue engineering, biotechnology, food science and chemical engineering.
During  'moments of darkness', what makes you smile?
Taking myself out of the 'current situation' and trying something new. One thing I love about Bath is that it's a small city, making it easy to wander around on foot but still with plenty to do and see. It's the ideal combination when you need instant 'relief' from your work duties.
Going home to my parents' house and getting to see my dogs (and I guess my parents are alright too) definitely helps.
What are you planning to do after your PhD?
Currently, my plan is to continue working towards bringing cultured meat or an alternative cellular agriculture product to market. As the field of cultured meat and cellular agriculture is still in the early development phase, I'm of the view that I will re-evaluate the state of the industry nearer the end of my PhD, and make the decision on research/academia vs start-up/industry based on where my skills and experience will have the most impact.
What are the best moments of your PhD so far?
Dancing and singing (admittedly awfully) in the lab when good/cheesy songs come on our radio, much to the dismay and humour of my lab colleagues. The cèilidh at the dinner after the CSCT Summer Showcase, our annual event, is always a good laugh.
What do you do when you're not in the lab?
I love to push myself and find sport a fantastic way to do so — currently I am focusing on maintaining fitness in the gym and participating in triathlons, although I must admit that my swimming still leaves much to be desired.
Everyone in the CSCT is great at organising recreational sport and casual games of squash, bouldering and recently even basketball.
I also enjoy chilling with a good cup of coffee in one of the many cafes in Bath — a great way to fuel my caffeine addiction and relax.
Any fun facts about you?
I'm a bit of an adrenaline junkie and I've been fortunate enough to do a slack-line parachute jump and a couple of bungee jumps. I also attempt to surf and love scuba diving (favourite spots are the Red Sea and the Caribbean).
Oddly, as these can be a bit on the pricey side of things, a similar rush can be gained from giving presentations and interviews, probably due to the instant relief after they are over!
Read more about Scott's work in his recently published review article in Frontiers in Sustainable Food Systems.