Simon Freakley is an early career researcher at the CSCT, where he is trying to establish the grounds for his independent academic career. His work involves using materials and renewable energy to improve the efficiency of large scale chemical reactions.
In this interview, Simon talks more about his projects and his life outside the lab, where he may be found fantasising about fossil-fuel molecule simulations over a cup of coffee, cycling around, or running (reluctantly).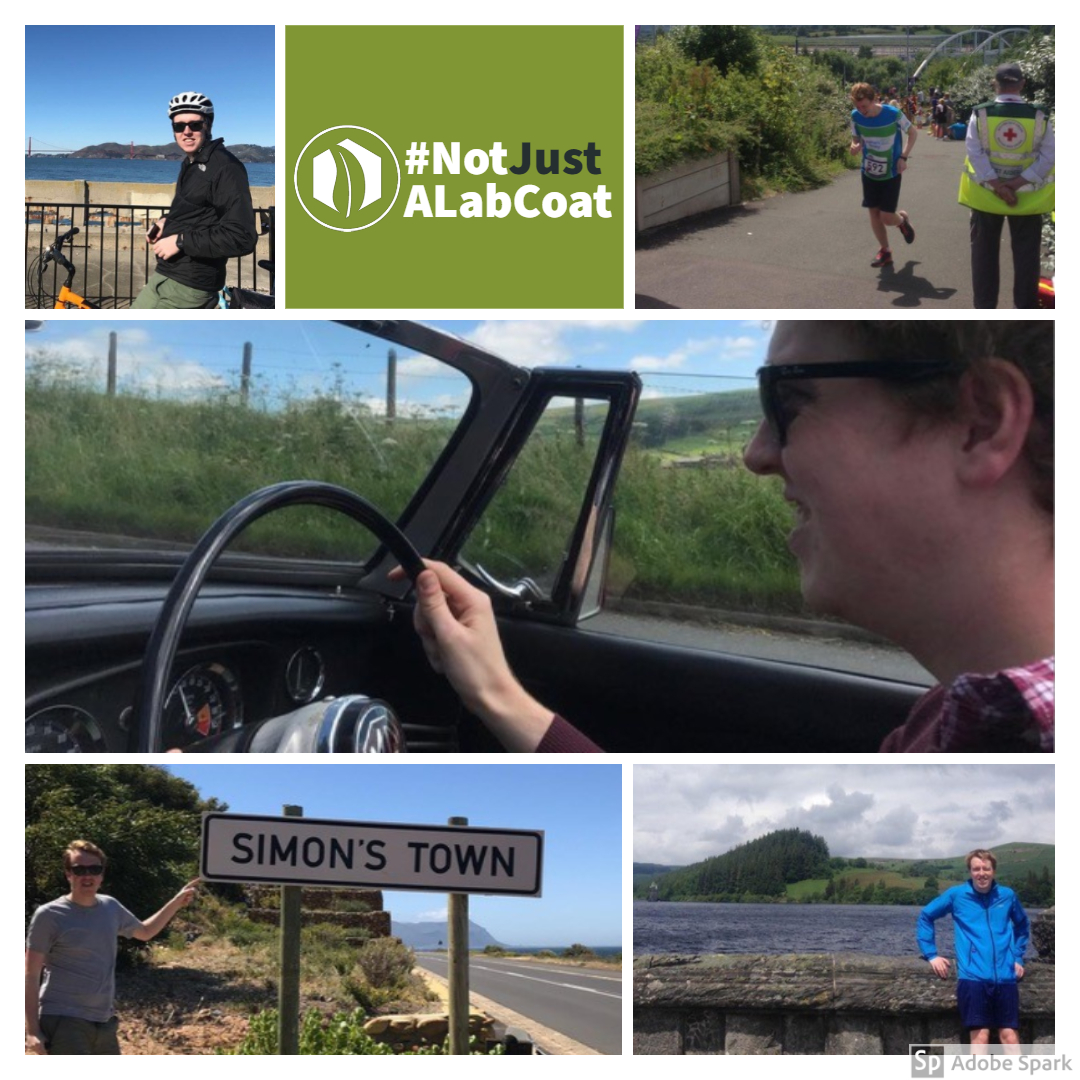 Can you tell us more about your involvement with the CSCT?
I am currently a Prize Research Fellow in Sustainable Technology associated with the CSCT. This position is designed to be a stepping stone between being a postdoctoral researcher to becoming a permanent member of academic staff, such as a lecturer. The position is research-focussed, so I spend most of my time setting up independent research projects and developing collaborations.
Being a part of the CSCT allows me to interact with the wide range of research happening in the centre and gives me lots of support in setting up my projects and applying for funding. The CSCT community and associated infrastructure is a great platform to develop my career with people who have similar research interests.
What made you follow the academic career path?
I was lucky enough to spend a year in industry at Johnson Matthey during my undergraduate degree, so I was able to get some experience working in a commercial research department before deciding to do my PhD at Cardiff University.
While I can really see the pros and cons of both the academic and industry career paths, working at a university gives me the freedom to work on projects that might not immediately be a commercial prospect. In industry, research projects can often be dictated by commercial forces and focus on development rather than discovery.
On the other hand, I have worked on many industry-related projects and have always enjoyed interacting with people with a very quick problem-solving approach. So, I think a career in industry is something I would have possibly pursued if I had not been lucky enough to get a relatively stable postdoc position that allowed me to work on a really wide range of projects for five years.
Can you tell us more about your research field?
I focus on developing what is known as heterogeneous catalysts, to use in sustainable chemical processes. Heterogeneous catalysts are materials that can speed up the rate of chemical reactions, and they are crucial to almost all industrial processes and products in today's society. My research tries to understand how the structure of these materials can affect their activity, specifically while they are 'in action'. By understanding how they behave and change while they are actually working, we can infer how to improve them and make them more efficient.
My current focus is using heterogeneous catalysts and renewable energy — electricity and light, for example — to transform resources like CO2 or bioethanol into valuable chemicals such as biofuels and higher-value commodity chemicals.
What are you working on at the moment?
At the moment, I am working on various projects, including:
Designing new materials that can use light, instead of heat, to power chemical reactions. This a very interesting approach to reduce the energy required to carry out reactions in large scale, because instead of having to heat up a huge volume of liquid to get the chemical reactions going, we would just illuminate the catalyst surface.
A second project is to develop more efficient catalysts to store the hydrogen that is produced using the renewable energy, by being able to add and remove this hydrogen from molecules which are easy to handle and transport more efficiently as a means of energy storage.
Understanding iridium water-splitting catalysts. These are a specific kind of heterogeneous catalyst used in splitting water into hydrogen and oxygen, and they play a key role in storing renewable energy as chemicals. Since using iridium is extremely expensive in large-scale energy applications, the aim is to understand how this process works to eventually reduce the amount of iridium needed in these materials.
What are the specific challenges of being a young researcher in your position?
One of the main challenges is gaining some momentum in a new research direction, as this might need access to equipment you don't have funding to buy or expertise you don't yet have.
More specifically, the challenge is deciding where to allocate your time. Often, you have a research idea that might, or might not, lead to something exciting. It takes a significant amount of time to plan and kick-start a project, and then get some results to help you decide if your idea is worth pursuing. Deciding what to pursue and what to leave behind can be quite difficult.
What have you found most rewarding about the academic world?
I find working in teams to be extremely rewarding. I have worked in collaborations with people in Japan, South Africa, Germany and the USA, and it is really satisfying to come together as a team to produce work that combines everyone's expertise.
I also find it fascinating to work with such a diverse range of people with different approaches, which I think can be quite unique to academia (or at least it's not as common in other workplaces).
Finally, I often feel amazed that we are doing experiments that no one has ever done before, and that we are the only people who know the results – until they're published, of course. Getting to see your results out there for other people to read is also very rewarding.
What tip would you give your PhD self if you could go back in time?
On a practical note: "Keep better notes — when you are writing up your thesis after three years of work, deciphering old notebooks is a pain."
On a more general note: "Read more widely than the specific research question you are trying to answer, to get a much wider appreciation of the latest developments in a wide range of scientific fields."
And also: "At big conferences, try to go to some talks outside of your research area." I did this a few times and found it very interesting.
What are the best memories of your PhD?
My best memories are about the people I shared the lab with. We were one big community who helped each other out, not just people doing their own individual project. We would advise and support each other even in simple things like cleaning up, helping with experiments when someone wasn't around, or teaching each other research techniques.
It's the small things that make it an enjoyable experience.
Who are your mentors, or who are you inspired by?
I've been lucky enough to work with many great people. During my PhD and postdoc, we had a core of people who went through the whole process together, so we were able to act as a kind of mentor to one another.
My PhD supervisor was a great inspiration — while a very distinguished scientist, it was his communication skills that I wish I could emulate. Over the years, I saw them talk to everyone — from University Chancellors and Nobel Prize winners to industrial partners and Bachelor's students — and, each time, they were able to quickly strike up a relationship and either communicate an important point or make people feel at ease.
What would you do if you had an unlimited amount of funding to do research?
It might be a little way off yet, but I would like to be able to see chemical reactions occurring in real time and how dynamic these chemical systems and materials are. How this can be achieved, I've not worked out yet.
Is there a public engagement activity you'd spearhead if you had unlimited resources?
I would design a project to show people the real lifecycle of a fossil fuel molecule. I would follow the molecule through all the chemical processes it goes through, from digging it up to it ending up in a consumer product. Then, I would continue to follow it through the recycling processes.
I would like to help people appreciate the huge scale and infrastructure needed to produce things like plastic bags and water bottles — then, maybe, not so many would be thrown away.
One thing about the world of academia that took you by surprise?
The freedom we get to try out our ideas. It was quite strange at first, when I suggested things that had nothing to do with my project and was told to just go, try them, then let my boss know how it went afterwards.
What three things can't you live without?
Music/podcasts (anything sports-related), a bike (anything that can get me off the roads to somewhere with nice scenery) and, of course, coffee.
What other things do you enjoy doing when you're not at work?
Although I will deny enjoying it, I run a few times a week and have done a few half marathons and one full marathon. On Tuesday evenings, I also run with a group called GoodGym, which combines running with doing good deeds for the community. There is a group in Bath and Bristol that you should all join.
I like to travel and explore new places whenever I can. Luckily, with my job I've been able to see some amazing places, but I particularly enjoyed travelling around South America and Japan.
Also, when I get the chance to get back and see my parents (just outside Shrewsbury), I spend some time helping my dad tinkering with a classic car.
Fun facts about you?
When I was about 12, I got a black belt in the martial art Jiu-Jitsu but didn't carry it on for much longer. I don't remember any of it now, so don't test me when I'm walking down the corridor.