I wondered this when I was at the recent seminar on Designing & Managing Sustainable University Estates that was hosted by NCUP – the National Conference of University Professors.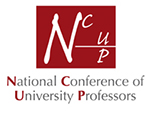 I came to the conclusion that a 'concatenation' might be appropriate, given how much carbon seems to feature in their preoccupations and deliberations.  I found the (rather poorly attended) seminar more stimulating than I'd anticipated, and was particularly engaged by presentations from ...
Sue Holmes – AUDE Perspectives – The Sustainable Estate – The Challenges and Conflicts of Greening our University Estate
Marcella Ucci – Sustainable Development: Impacts on Space & Place in Higher Education
Richard Jackson – The Importance of Caring for our Universities Estate with Effective Facilities Management
William Box – Smart Metering and Behaviour Change; and
Jo Kemp – Student Participation in the Universities Green Agenda
I had the task of commenting at the end from the perspective of student learning, and I was gratified by how many mentions that students got during the day – though their learning was less of a focus; Jo Kemp was an exception, here.
I also used ideas from the Economist's Schumpeter column which, last summer, said that a few pioneering businesses are now developing "sustainability policies" worthy of the name.  The point being made was that many sustainability plans are just attempts at greater efficiency in terms of energy, waste, and logistics.  These are obvious things which increase sales and profits, and enhance shareholder value in the immediate term – or, if you're a university, help financial margins and bring institutional prestige.  And, on a good day, bring educational value.
But, Schumpeter says that these are not about sustainability because they have little actual effect on the environment or social equity.  They do nothing, in other words, to restore natural or social capital. This seems a good test.  Schumpeter says that, currently, few organisations put sustainability at the heart of what they do.
The point of the article was to identify those that are starting to go beyond this limited point and which are part of "a new wave of sustainability plans".  Here, targets relate, not just about the organization itself, but to suppliers and customers, and are about society at large and not just the environment.  Another test, I think.
In this, sustainability becomes "a core part of their strategy" and not just a "green way to cut costs".  Schumpeter says that whilst these new policies may not pay for themselves in the immediate term, they do act to boost the long-term fundamentals.  The column ends with this:
"The first wave of sustainability rewarded itself.  The new wave will not do that.  It is more akin to investing now to have a licence to operate in future, when consumers, lobbyists and regulators will be ever more demanding about the way firms behave."
It seems obvious that all this applies as much to universities as to other businesses.  Note, in particular, notice that word, consumers, which brings us back to students and learning, and the communities universities serve.   As Jo Kemp had pointed out students are rightly becoming more demanding of everyone in universities.  They are developing higher expectations in a wide sense which apply, not just to what they learn, and how, but to how the institution interacts with them.
I concluded by saying to those who'd survived to the end that, whatever a university job title may say, students are now everyone's concern, and everyone has a role in educating them.