Reuters chose an apt photograph of Paris to illustrate a report on the dim prospects for COP21.  It begins: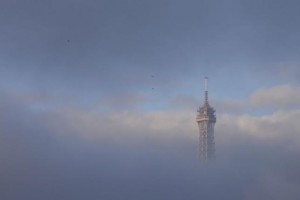 Before a summit on climate change in Paris next week, many governments are citing scientific studies indicating that their plans to curb greenhouse gas emissions until 2030 will come within 0.7 degrees Celsius of an agreed 2 degrees C target for limiting global warming this century.  Yet the studies they choose to quote are only the most optimistic of a range of projections, and presume that governments will go on to make even deeper emission cuts after 2030, which is far from certain.
Indeed, but there is so much pre-meeting celebration of success that all this is being ignored.  Reuters continued:
Bill Hare, one of the scientists behind Climate Action Tracker (CAT), a group of four European institutes that first estimated 2.7 C, said promises for action until 2030 "mark progress, but current policies are far from enough".  He said the CAT estimate required all countries to continue deeper curbs on emissions right up to 2100 - far stricter than the assumptions by most other research institutes.  

The International Energy Agency also estimates an increase of 2.7 C, but projections by at least 10 research groups range up to a rise of 3.7 C.  Thomas Spencer, of the Institute for Sustainable Development and International Relations in France, noted that there were huge uncertainties in all projections beyond 2030: "It's like trying to predict the winner of a marathon after only the first 10 km."

Bjorn Lomborg, head of the Copenhagen Consensus Center who won fame with his 2001 book "The Skeptical Environmentalist", reckons current national plans will only make a fraction of a degree of difference to warming this century.
And that's assuming they do as they promise, which would be a first.   There's more in similar vein on the Reuters website.