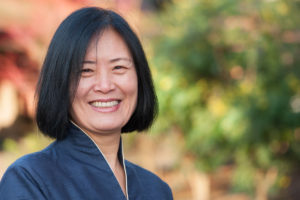 As part of the ESRC Festival of Social Sciences, our Family Language Policy research team (Prof Xiao Lan Curdt-Christiansen and Dr Jing Huang) ran a 'Multilingual Story-telling for Children by Children' event at the Bath Central library on the 3rd of November 2018. The event was opened by the Mayor of Bath, Councillor Patrick Anketell-Jones, and supported by colleagues from UCL and local schools in Bath and Bristol. More than 60 parents and children with various ethnic and sociocultural backgrounds attended the event.
There were three parallel sessions: a creative story-writing-and-telling workshop for children aged from 7 to 11, led by prize-winning novelist Candy Gourlay; a Q&A session with case study discussions for parents; and a fun activity session for younger siblings.
The event celebrated multilingual children's achievements and provided them an opportunity to creatively present their multilingual and multicultural lives in story-writing-and-telling. It also helped parents interested in raising children with more than one language to find answers to questions like 'what are the best methods to manage children's bi/multilingual development at home?', 'what are the consequences of bi/multilingualism for the brain and for cognition?', and 'how do migrant families maintain their minority languages?'
The event was highly valued by parents as inspiring, informative and practically helpful.
Student volunteers from the Department of Education were Luyao Li (PhD); Hala Khaled (PhD); and Hanan Alhai Yonis (BEd).