Hannah Hogarth and Eliane De-Bastos are PhD students in the Department of Education, University of Bath.
'This is our moment. We can grow ourselves, define our stories and belong in relation with our environment.'
A group of PhD students in the Department of Education, University of Bath, who, despite never having met face-to-face due to COVID-19, have met regularly online to share their belief that education can transform humanity's relationship with nature. Here, they respond to provocations inspired by World Environment Day 2021 and World Ocean Day 2021.
2021-2030: Action is now
The next 10 years will be pivotal in preventing catastrophic climate change and biodiversity loss. In 2021, World Environment Day and World Ocean Day strongly emphasise the urgency to focus on action and ecosystem restoration, whilst also marking the launch of global initiatives such as the UN Decade on Ecosystem Restoration and the UN Decade of Ocean Science for Sustainable Development.
Ecological Restoration
From the smallest pond to the largest ocean, ecosystems are places where the web of life unfolds through complex interactions between living organisms and landscapes. All life on the planet (including humans), are part of, and depend on, the Earth's ecosystems for survival. However, through extraction of minerals such as coal and iron ore and exploitative practices such as factory farming, humans are hindering the natural ability of ecosystems to play their role in supporting life.
Education - let's get active, not anxious
Urgent action is needed and education has the potential to transform humanity's relationship with the environment. Consequently, education that simply delivers information about climate change leads to anxiety but does not inspire the changes in behaviour that are needed to help save the planet. Here we engage with World Environment Day's call to 'reimagine, recreate and restore' and draw on our own research to explore ways that education can support #GenerationRestoration and #GenerationOcean, to value our role in the world we inhabit.
Reimagine
Environmental education needs to be embedded in and encompass all elements of the curriculum, rather than an 'add on' to a limited number of subjects. It is imperative that we challenge practices in education that privilege humans over everything else.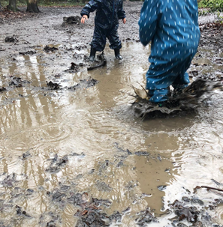 Hannah Hogarth's research explores the way that young children (or, more-than-humans) play and learn together when they encounter one another. Currently there are huge inequalities in terms of access to green and blue spaces, and the time children spend outdoors. It is important that all children spend time in and with nature. However, we acknowledge that even in urban areas, nature can thrive when we learn to make space.  When children and educators come face to face with other species, instead of asking what we can get from them, we need to acknowledge the broader ethical issues in these relationships. Elisabeth Barratt Hacking and Carol Taylor explain the concept of 'relational becoming' to reconsider who matters and what counts in education.  Rather than simply thinking about children as biological and cultural individuals that develop through standardised stages, we need to see children (and ourselves) as part of the entangled webs we live in. When we attend to the living and non-living beings and things we share our world with, we emerge as response-able relational beings that need to act by addressing, for example, how we eat, consume, speak, vote, etc.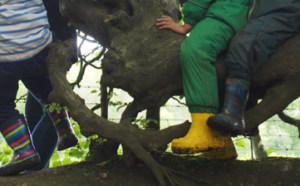 Recreate
Eliane De-Bastos' research explores how our own stories can become entangled with the story of nature. The 'Anthropocene', generally referring to the time when human activity is irreversibly influencing the planet, emphasises using our rational brain to understand interactions with our surroundings, largely dismissing the role of unconscious responses (e.g. emotions) as motivation and behaviour regulators.
As we expose heels on bare ground and wade bodies through water, we all experience a swell of information, balancing the fear of cold and currents, with the ecstasy of feeling in connection with our surroundings. Equally, the joy of learning about how life thrives has the potential to arouse strong messages from within. Yet many of us lead lives without ever considering the role they play in sustaining and defining us as individuals.
As in ecosystems, we all have a role in a diverse and entangled existence. Our ability to observe these interactions compound to create a new story of ourselves and our ecosystems, defined by the unique 'relational becomings' of each creature celebrating their role in the web of life. There is huge potential for learning that serves a harmonious existence of humans in their ecosystems in the space that emerges that is stress and anxiety free.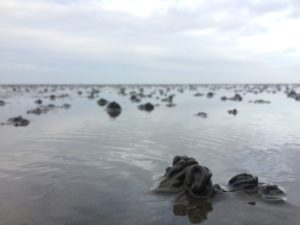 Restore
Celebrations such as World Environment Day and World Ocean Day encourage us to ask, 'What will you restore?' We need to restore ourselves and through education reimagine our relationship with nature, recreate our story and restore our planet's life support systems. Humans have caused unimaginable damage to our ecosystems. Yet, focusing on what can be done, rather than what has been lost, presents us with hope for a future we want.
We end with a provocation: tune into your journey, find your ecosystem and commit to restoration (here is some inspiration from the World Environment Day 'playbook').