Author: Hemant Chudasama -
---
Over the past year, 8 Aerospace and 4 Integrated Mechanical and Electrical Engineering final year MEng students, have been working together as Team Bath Drones to design an autonomous drone for the annual global IMechE Unmanned Aircraft Systems challenge. This year's competition required the drone to undertake three separate missions: endurance, a 6 lap time trial; aid delivery using flour bags onto a target; and reconnaissance, identifying the location of targets on the ground.
Developing our drone Artemis
We (under Project Manager Alex Powell) opted for a blended wing body entry this year because of its benefits compared to conventional aircraft in addition to its novelty. Each member had an individual technical role integrated within their degree's Final Year Project and a management role to assist in logistics. For example, my technical role was responsible for wing aerodynamics during stall.
We decided to name this year's aircraft Artemis, after the Greek deity for hunting. Inheriting lessons learned from previous years, we knew that to score well in the competition 2 evolutions of the aircraft were essential. The first attempt would identify any unconsidered issues and obstacles with the second model lighter and better made. We were able to do this to its full extent, although long nights and many greasy pizzas played their part!
Although serious about the technical challenges involved, the team also aspired to enjoy the process and maintain a lighthearted atmosphere within the team. For instance, we paid homage to the general election by calling our MkII aircraft "strong and stable" and our MkI aircraft "wibbly and wobbly"; this drew quite a few laughs at the competition!
First day of competition
The 2017 IMechE UAS competition was held in Llanbedr, Wales, a 4 hour drive from Bath, with accommodation in the form of camping on the airfield. We arrived the evening before the competition after a minor disaster in the morning when one payload door broke during the final flight test (many thanks to the folks at Charmy Down for allowing us to test there). The problem was rapidly fixed at Llanbedr within a torch lit tent late into the night (thanks Jon!).
During registration, we volunteered ourselves to go early in the hope that we would be able to conduct more flights if time permitted.
The first morning of the competition was incredibly busy but exhilarating. We were selected to fly third and this required us to pass the scrutineering tests quickly. Scrutineering ensured our aircraft was safe and included a close inspection of the aircraft structure, fixings and systems. Thankfully, we passed with flying colours (pun intended)!
Next up was our first flight. This was an incredibly nervy time for us all because we had limited flight time on MkII as well as the issues of the previous morning. We chose to perform the endurance mission first as that was our strongest event. We knew that rotorcraft would perform badly in this mission as they are less efficient and other fixed wing aircraft may struggle to carry as much payload at our speeds.
The flight went well, with manual take-off and landing accompanying the autonomous laps that the aircraft completed. Whilst the event was originally stated to be endurance, the competition organisers chose to change the rules last minute and limit us to a maximum of 6 laps. The aircraft completed these without breaking a sweat.
Getting to know the other teams
Once back in the hanger, we set to work preparing for the next flight. This was also a great opportunity to meet the other teams and see what they had brought. The atmosphere was incredibly positive, with everybody enthusiastic and welcoming towards each other. It was unfortunate to hear that the ITU team from Turkey had their batteries confiscated at customs, so we attempted to help by donating one of our batteries for them to use. They greatly appreciated it and we soon became especially close friends for the duration of the competition.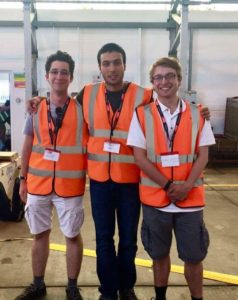 Evening social
In the evening, there was a "mandatory social" for all the teams to attend after flying ended for the day. The social consisted of a quiz and so we took part in order to grab some extra academic pride. Unfortunately, we did not win but had a lot of fun and the team was able to grab the extra crates of beverages to have our own party out of the back of our truck after the social.
Second day of competition
We certainly were not ready for the heatwave that swept the country over these few days, but were ready for the final day of competition. We opted for the payload drop mission, our next best category. For this flight, we set Artemis to fully autonomous in the knowledge that this would be our final flight (as the organisers again, in a last minute change, limited everybody to 2 flights). We had yet to achieve a full autonomous mission without incident, but if anything were to go wrong, we had our MkI (wibby wobbly) as a willing replacement.
Brilliantly, the drone conducted the entire flight to near perfection. It dropped both of the payloads close to the target reminiscent of a bomber by diving down low to drop the payload and then pitching up to repeat the loop. We were happy that we had done everything that we could have, and just had to wait to see if we had won anything.
As the awards were being called out and the other universities were collecting them, we were happy for them yet disappointed that we were not winning anything. That is until the final three, major awards. The Design award (sponsored by GKN Aerospace), Innovation (sponsored by QinetiQ) and Overall Grand Champions (sponsored by Northtrop Grumman) were all awarded to us. Getting this clean sweep had not been done before and nor had Bath ever won anything! It capped off a truly memorable year in which we all bonded as a team and learned many valuable lessons we can take to the future.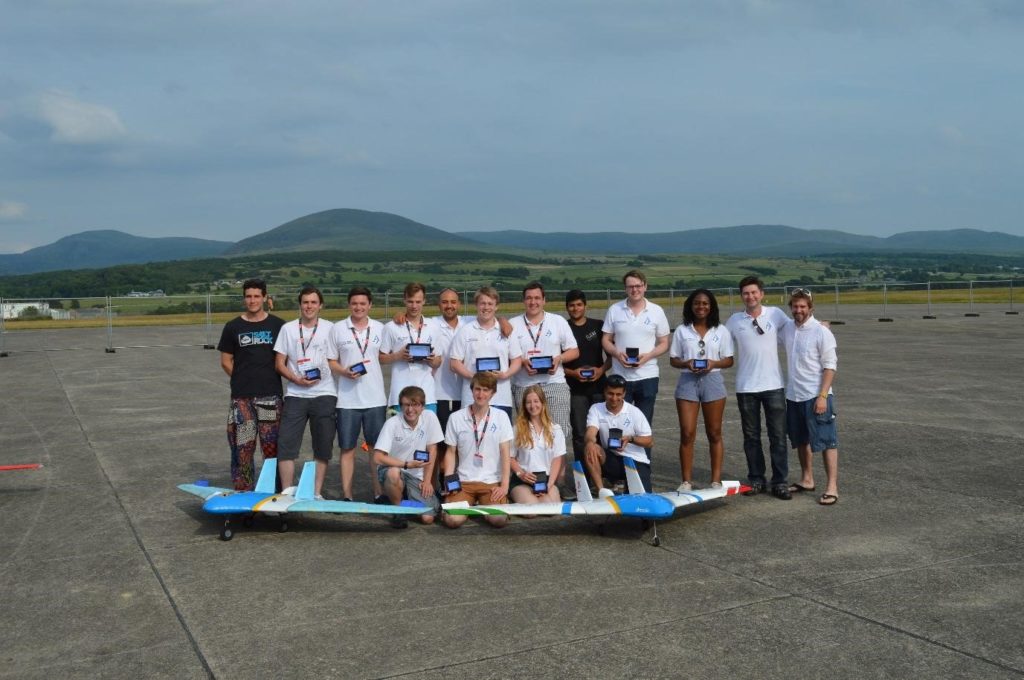 Thank yous
There were many people that we would like to give special appreciation to for helping us reach this goal:
Our supervisors: Dr David Cleaver, Dr Pejman Iravani, and Dr Jon Du Bois. Their input and advice was invaluable as well as their help in providing us access to novel manufacturing methods like 3D printing.
Test pilot: Wojciech Wasiński. Thanks for sharing your knowledge of composite manufacture and also for not destroying Artemis!
Postgraduate support: Chen Chen, Stefan Chindea and Fidel Fernandez. The RC model and competition experience of these three individuals was vital in order to predict problems before they arose, as well as helping us make the finished product looks as professional as possible.
To everyone at Charmy Down for providing access to their airfield and allowing us to test.
I'm incredibly proud of the entire team and am sure that any future endeavors they take will follow the same path of success as with this competition. Whilst we enjoy this success and leave university on a high, the pressure is firmly upon next year to continue the achievements of the generation before them.