Author: Azmina Gulamhusein -
---
The BSc Architecture course at Bath is a thin-sandwich course, where we are required to complete two 3 – 6 months placements in the second half of our second and third years. As I write this, I am coming towards the end of my second 6- month placement at an architecture firm in London.
The firm I have been working at is called HFBT architects and is very centrally located at Oxford Circus. On average, there are 4 to 8 people working at the office, and while this does make it a relatively small practice, I found this to be rather beneficial. This is because I have had the opportunity to work on many different aspects of varying projects all at different design and construction stages.
Following are brief descriptions of some of the work I have been doing during my time at HFBT Architects:
Initial design development for a private new-build house in Essex, preparing the project for planning permission.
External Envelope Details, Window/Door Schedules and other construction drawings for a Social Housing project that has just begun construction on site.
Assisting to write the specification for a Student Housing project
Although the location of my office is ideal in terms of ample of varied lunch options and high-street shops right at my doorstep, the morning commute is far from it. Never having experienced rush hour on the tube (last year's placement was in Hammersmith hence I had a quiet commute) I was unpleasantly surprised at the prospect of starting my day being squished like a sardine into what's essentially a metal can, hundreds of metres underground. However, soon enough I grew accustomed to this daily routine and can now take pride in saying that I have nailed the quickest route from the door of my house to the door of my office – by figuring out which carriage to take so that the doors open directly in front of the way out at Oxford Circus Station.
I can safely say that I have loved living and working in London for the past 6 months, I guess the same can be said about my last 6-month stint in the city, hence why I returned for a second time. I'm no expert on the city, but I do believe I can call myself a Londoner and suggest a few tips for anyone considering doing a placement in the city.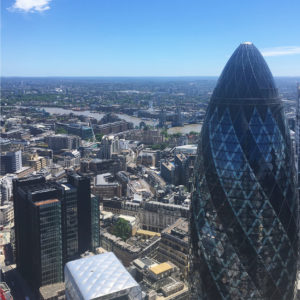 Don't isolate yourself
Living in London can be slightly overwhelming at first- it isn't called the Big Smoke for nothing! At university, you are constantly in the company of your friends, whether it be at home, during lectures or in your free time, so you may find yourself feeling lonely when you move to the big city you they may not know anyone. Personally, I have been lucky enough to be living with family in London, but one thing I suggest is make sure that you make the effort to keep in contact with your old friends and even make new ones- it'll make settling into the city much easier.
CITYMAPPER
Another daunting aspect of London is getting around the city and deciphering the tube map. I have a simple solution to that- Citymapper. Download the app and I promise it will be your best friend- especially after
Budget well
It's no secret that living in London is expensive, and chances are a large percentage of your salary will be going towards your rent. On top of that, London is such a happening city, that there's always some new pop-up or rooftop cocktail bar that you'll be wanting to try. If you're not careful, you could find yourself slipping further and further into your over draft. So how do you avoid this whilst still having fun? Just be clever about it; a lot of places will offer student discounts so make the most of them! Furthermore, there is a huge emphasis on early-bird discounts so be organised and plan your weekends in advance. Lastly, keep your eyes peeled for free events and freebies, there'll always be something cool happening somewhere.
Take a break            
As awesome at the city is, it is refreshing to take a break every now and again, whether that be as simple as going back home for mother's cooking for a weekend, or something more exotic like flying to Barcelona for a bank holiday weekend. They say distance makes the heart grow fonder – this is certainly true for me and London because as much as I enjoyed my mini-getaways, I just couldn't wait to be back every time.
Writing this, I have truly had the chance to reflect on the last 5 and a half months and all the amazing memories I've made and things I've experienced. I am sad to be leaving the working city life behind, but I am simultaneously excited to head back to my final year at Bath with the knowledge that I will be ready to enter the 'real world' after graduation.