Author : James Parry -
---
As one of the Group Business & Design Projects from 3rd year Aerospace Engineering, 15 students were selected to become members of Team Bath Drones, the student led Unmanned Aircraft System (UAS) research and development team. This year, the Search & Rescue Aerial Association - Scotland (SARAA) needed a UAS to help locate people in need in the Scottish Highlands. The brief provided us with a list of tough requirements to meet. In particular, the design must consider the extreme weather that is common during winter in Scotland.
With the Group Business & Design Project a success, our team was invited by the engineering department to continue our work over the summer by prototyping our design. Maximising the electronic payload drove the design towards a complex lightweight structure.
As the project industrial partner, GKN Aerospace offered both their machines and expertise to help develop and produce these parts using Additive Manufacturing (AM), commonly known as 3D printing. As the team began the physical build of the UAS, I was offered the chance to spend three weeks at the GKN Aerospace Additive Manufacturing Centre in Filton, Bristol. With state-of-the-art AM machines at their disposal, GKN Aerospace is one of the frontrunners in AM aerospace parts. In addition to the technology available, I was able to talk with the advanced team of experts to identify areas of weakness within the designs. We used Finite Element Analysis software to determine where stiffeners and other internal support structure could be printed to help reinforce the design.
Alongside the AM team I worked on improving the designs of the front motor mount and rear motor and fin mount. The advanced capability of the machines allowed these complex assemblies to be reduced into single parts, saving time in assembly.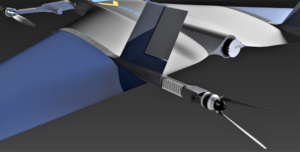 GKN Aerospace have a variety of AM methods available to them on-site, including Selective Laser Sintering (SLS) and Laser Powder Bed for metallic parts as well as plastic based Fused Deposition Modelling (FDM). While metal parts would give exceptionally high strength parts, the team decided to go for polymer printed parts due to the lower weight. Following the guidance of the AM team, the front motor mount was printed using SLS and the rear motor mount printed using FDM on GKN Aerospace's largest plastic 3D printer.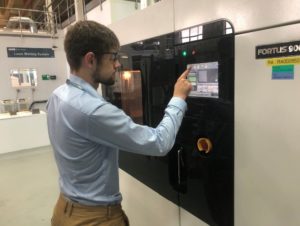 While the university has 3D printing capability, thanks to GKN Aerospace support the strength and surface finish of the of the printed parts was much improved, noticeably so with the SLS printed parts.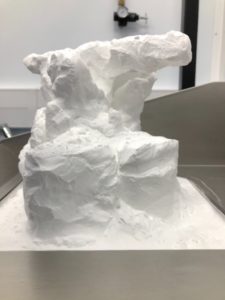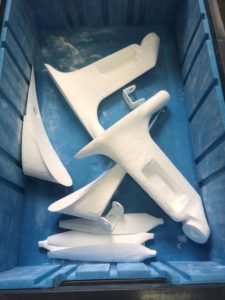 The AM team were fantastic to work alongside and really welcoming, making my time on-site fly by! While I was only there for a short period of time, I was kindly invited to many activities outside of work with the team including recreational drone flying and football.
By the end of the placement I was not only able to both design and print two crucial components of the aircraft, but I was also given an invaluable insight into the use of Additive Manufacturing in aerospace.